Form Ones report amid complaints of financial difficulties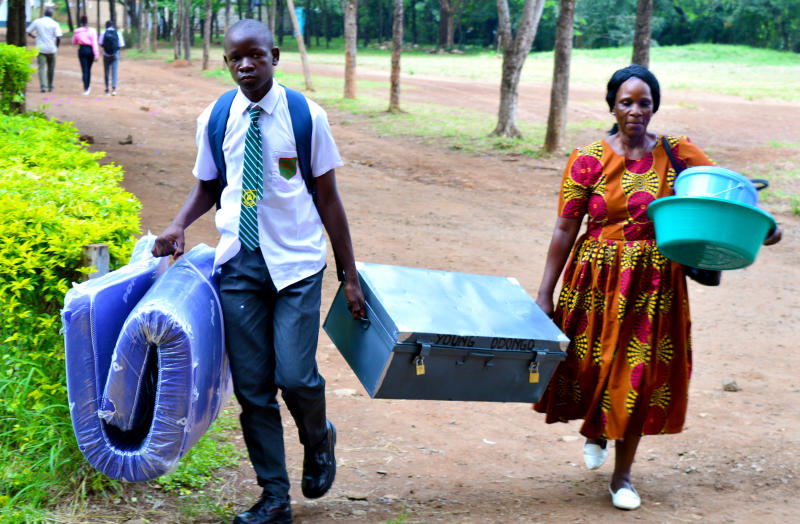 Form One students reported yesterday, with many parents complaining of difficulties in paying fees and buying school requirements.
In Nyanza, a number of schools had to bend some rules to allow learners from poor backgrounds to get admission. This came as parents complained of tough economic times.
Kisumu Boys principal Mr Erick Duya said they accepted all learners selected to join the institution despite some parents not paying some fees. "We'll admit about 600 students and allow parents to pay the fees in bits," he said.
Mr Joseph Baraza, a parent, said even the most basic learning materials were expensive.
Maseno School anticipated 700 students, but 651 turned up. Deputy principal Mr Peter Nyawach said the exercise was seamless, though several parents struggled to pay fees. Elizabeth Ouko, a guardian, said she settled the fees with the help of a well-wisher.
For private schools, however, the process was a sharp contrast. At Mudasa Academy in Kisumu, Mr Kidia Bernard, the head teacher, said they expected 80 students.
Nyamira Boys received over 500 learners, a high number to ever enrol in the school, according to principal Mr George Onkundi.
At St Anthony's Boys, Kitale, parents and learners turned up as early as 6am to queue for admission. Deputy principal Mr George Onsare said they expected 600 students. Mr John Mwangi commended the school for admitting his son even though he just paid part of the fee.
Ms Carol Okech, a parent at St Monica Girls, sought support from well-wishers. The public was also informed through notices that there were no vacancies at St Brigid Girls in Kiminini, St Joseph's Boys, St Anthony's Boys Kitale and St Joseph's Girls.
At Nakuru High, admission started by 6am. Principal Mr Jesse Kamau said the school expected 340 learners.
In Bungoma, parents whose children were to get Governor Mr Wycliffe Wangamati's scholarship, said money was not paid to schools. Some had "promissory letters" saying "the scholarship will take effect from 22nd of May."
In Kakamega and Vihiga, parents lamented the high cost of school items. Kakamega High had by yesterday admitted over 500 students according to principal Mr Gerald Orina.
In Migori, parents at Nyandago Mixed protested poor performance. Mr Odhiambo Ojuki said the school has for the last two years performed miserably, with the best candidates for the last two years KCSE exams scoring C- while just a few had Ds and over 20 students got Es.
[Yvonne Chepkwony, Bernard Lusigi, Harold Odhiambo, Caleb Kingwara, Osinde Obare and Omelo Juliet]