It isn't the end, says man behind 'E' students lobby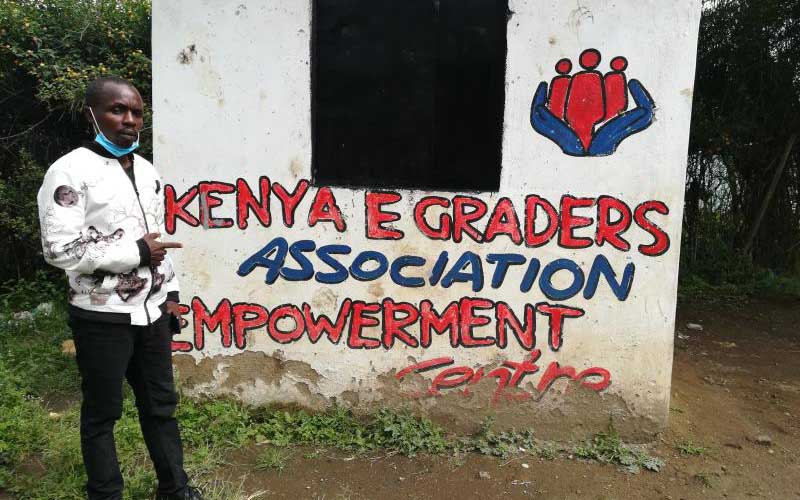 For more than five years now, Ayub Simba Njagi has been at the centre of attention when the Ministry of Education released KCSE results.
Njagi is the founder of Kenya 'E' Graders Association, a group that brings together learners who did not perform well in their final secondary school exams.
"I have been the chairman since 2015 and our office is located at Civil Servants area in Nairobi," Njagi said.
"I came up with the idea after realising that thousands of students score the grade and no one talks about their plight or what they will do afterwards," he said.
Njagi said the stigma that comes with the grade kills career dream many. "Many suffer in silence. We try to discount the narrative that has been pushed over years that once you fail to score C+ and above, you are a failure," said Njagi.
Hew said some of the association members have ventured into artisan works, including sewing leather footballs and making wood carvings.
Njagi argues that learners should know that scoring Grade E is not the end of life.
"The number of those scoring low grades should not be taken for granted and it has been increasing every year yet the ministry shies away from offering a lasting solution. If some of these students are empowered, they can still do better in other areas," he said.
The just-released 2021 KCSE results indicated that 46,151 students scored grade E.
According to the data, majority were male students at 26,578 while 19,573 were female. This is an increase compared to the previous years.
Njagi, 39, sat the Kenya Certificate of Primary Education (KCPE) in 1997 and KCSE in 2011.
"My mother died in 1998 and my father was jobless but I hustled and save money to join secondary school in 1999," he said.
Njagi says the group has more than reliable 50 members. He says hundreds of others are in touch with him.
He said members wishing to join the association pay Sh200. "There are no further requirements. However, those with skills and talent in various fields are encourage and train others," he said.
The group runs a library in Kariobangi where they receive used books from local donors and children are allowed to access them for free.
The association wrote to the NYS management asking that some of its members be absorbed into its programmes to help them make a living.
"We are depending on well-wishers as we aim to expand the library and get funding to train more of those willing to pursue short courses in future," said Njagi.