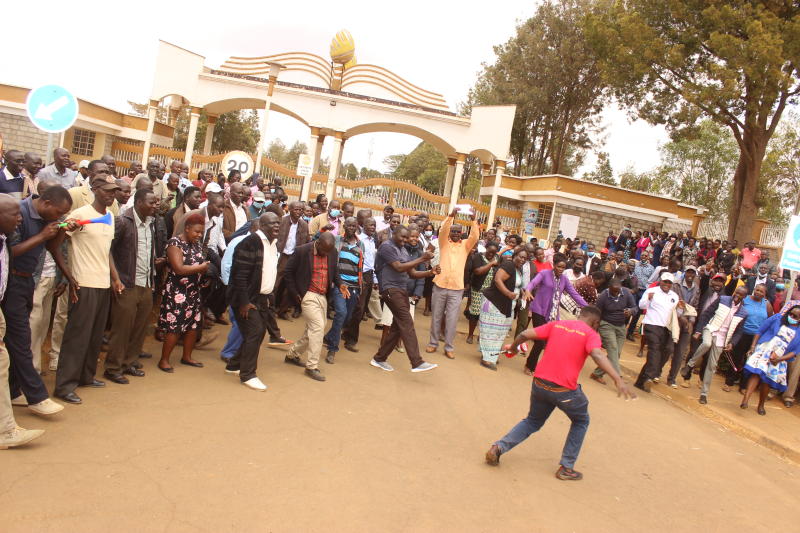 Operations at the University of Eldoret have been disrupted following the decision by workers to go on strike to push for the implementation of the Collective Bargain Agreement (CBA).
More than 1,500 workers have been protesting since Wednesday last week.
They were locked out of the university gate on Monday by a contingent of 50 police officers deployed to the institution in Uasin Gishu County.
Only students with identification cards were allowed access.
The staff is accusing the university of failing to implement the 2017-21 CBA.
University Academic Staff Union secretary Phillip Chebunet said workers have been demanding implementation of the previous CBA to be cleared before embarking on the 2021-24 CBA.
"We are shocked to find police officers manning the institution, the university can use them to lecture because those who are supposed to work are on strike," Chebunet said.
The union official said they have been calling the officials to release their pay in vain.
Chebunet accused the university management of frustrating the workers instead of implementing the deal.
The university management through Dr Wambui Ng'ang'a, the head of Corporate Affairs and Marketing, said the institution has set aside Sh73 million for partial implementation of the 2017-21 CBA.
Ng'ang'a said the management regrets not fully implementing the CBA due to financial challenges. She said the university workers will receive their money by the end of March.
"Today's demonstration lies squarely on our side and the management has responded with humility. We are asking the union is to remain calm as we respond to their demands," she said.
The University of Eldoret will implement a fully signed CBA in three financial years.
Ng'ang'a said the institution has played its role in paying statutory remittals and salaries on time.