Teacher makes music, dance and drama fun for deaf pupils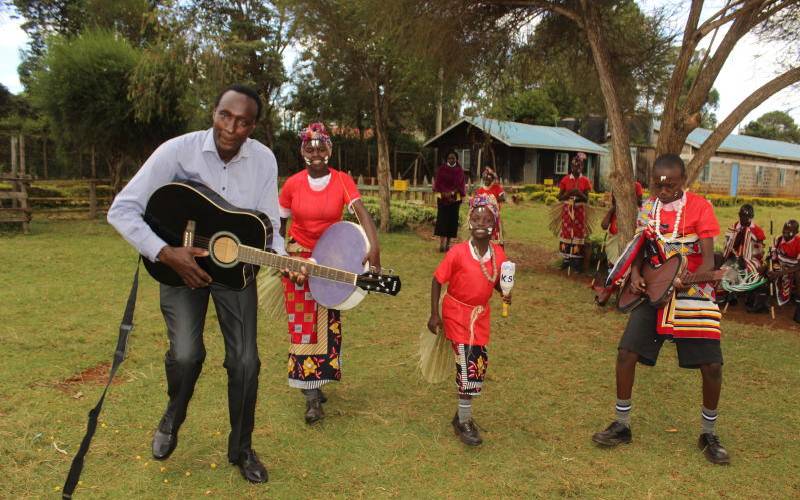 Two things stand out about Juxmcquinyx Koech: His unique name and passion for teaching.
Koech, a teacher at the Kapsabet School for the Deaf, uses music and dance to enable his pupils with hearing impairment to learn and gain life skills.
After years of teaching in various primary schools in Nandi County, Koech sought to transfer to Kapsabet School for the Deaf in 2009 where he would impart music, art and other skills to learners with hearing impairment.
"I realised there is an isolated group of children who are living in their own world and cannot hear and have difficulty understanding their environment," Koech says during a recent interview with The Standard.
Koech, 55, born and brought up in the tea belt region of Nandi Hills, went to Kipkeibon Primary School and later to ACK Tegat Primary School in Kapsabet town where he sat his Certificate of Primary Education in 1978. He then joined St Patrick High School-Iten, then a missionary school.
"I liked teaching and I joined Mosoriot teachers College for a P1 certificate course in 1988. Soon after completing, I was hired as a teacher and taught in several primary schools," Koech says.
He says during his secondary school days, he decided to change his name from Julius to Juxmcquinyx after he found he was sharing the name with a number of students.
Koech has a passion for music, which is part of his teaching profession. He led pupils to the national competitions in the early 2000s.
After 18 years of teaching, Koech says he was touched by the challenges children with disabilities were facing. In 2009, he was transferred to a school for the deaf.
On many occasions, pupils from the school feature in a programme with entertainment items, including cultural, poetic music and reggae.
The Standard caught up with Koech while leading his learners to perform during the recent celebration of International Day for People Living with Disabilities at African Inland Church in Kapsabet.
Koech led the pupils to the stage, dancing "I am not ashamed with the Gospel of Jah", a reggae song sang by Shasha Marley.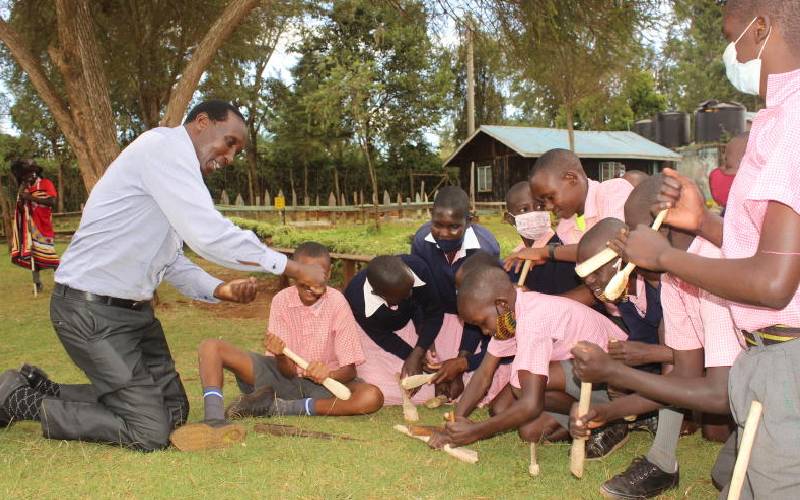 "Art and music is what portrays the culture and ideals of every community. These children with hearing impairment cannot understand until they are made to be part of it. That is why empathise with them," he said.
When the government introduced vocational training at the Kapsabet School for the Deaf, Koech transferred to the institution to teach music and other skills, including art and carpentry.
"I started having entertainment sessions for deaf students. I scripted music and poetry for them, and they illustrated it through sign language. It was so interesting how they memorised and demonstrated they internalised songs, and they could be seen by their emotions and facial expressions," he said.
To upgrade his skills, Koech went back to class and pursued a diploma in Gifted and Talent course at Kenya Institute of Special Education (KISE) between 2012 and 2014.
"When I was given a chance to teach primary school learners, I saw there was a need to identify children potential based on their interests and talents. One has to closely stay and interact with them to monitor and know what they like and what they don't," said Koech.
Koech said he has devised his own way to articulate cultural messages through music, drama and dancing.
A father of three, Koech, said teaching hearing-impaired learners is not a walk in the park, and he takes more time with learners to make them joyful.
"Music is an emotional aspect that is in every human. And the deaf listen and express themselves by dancing and illustrating through sign language. I spent time training them," Koech said.
He added: "The transition to the Competency-Based Curriculum is a perfect learning model that would benefit deaf students who basically learn through environmental sciences to solve their challenges."
Koech said lack of resources has undermined special education in the country and called on the government to increase allocations to technical institutions offering tailored courses for learners living with disabilities.
Joy Gacheri, the headteacher, Kapsabet School for the Deaf Primary section, said integrating music and art have enabled the children to acquire what the other children do in the community and boost their self-esteem.
"They can perform and feel appreciated by the community. They feel able despite their hearing challenges," she said.