University gets new vice chancellor after waiting for three years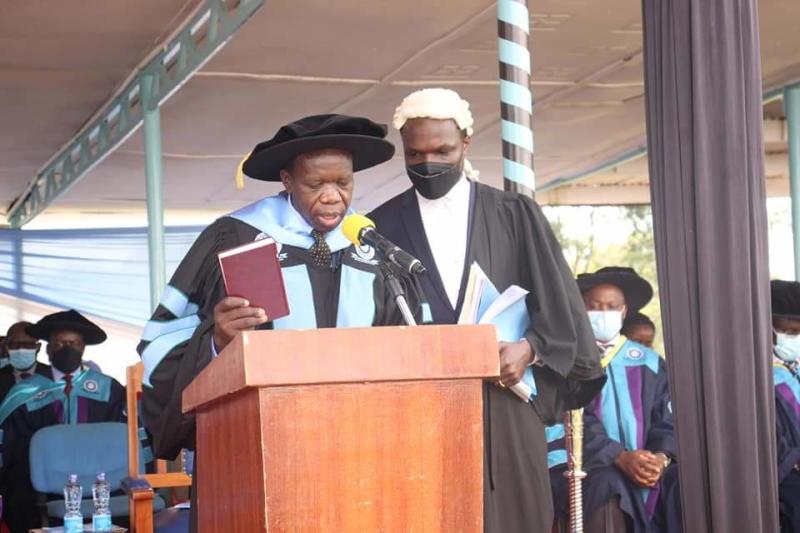 Masinde Muliro University of Science and Technology (MMUST) yesterday installed its third vice chancellor after three years without a substantive manager.
Prof Solomon Shibairo was installed at the Graduation Square on the main campus in Kakamega alongside his three deputy vice chancellors in a ceremony conducted by the university council, led by Chancellor Peter Muthoka.
Shibairo, the former deputy vice chancellor in charge of Academics and Students Affairs at Kibabii University, now takes over from Prof Fredrick Otieno who died in 2019, a year after being ousted. Shibairo will lead the university for the next five years.
Masinde Muliro University has been without a substantive VC and top management since December 1, 2018.
The institution has had three acting vice chancellors since 2018. Shibairo took over from Prof Asenath Sigot who was at the helm for nine months. Prof Sigot succeeded Joseph Bosire in July last year.
The university has also been without three deputy vice chancellors since October 2018.
The new MMUST vice chancellor said he would collaborate with stakeholders in running the university to bring about unity and yield results in research, science and innovations.
"I am taking up the mantle to lead this great institution to greater heights and realise its precious space on the international stage of fundamental research as the foundation of innovation and technology in solving current world problems," said Shibairo.
The university has for a long time been facing fights between union members and top management over leadership wrangles which saw the institution operate for four years without substantive top management.