Police crack mystery of five dorms burnt in one school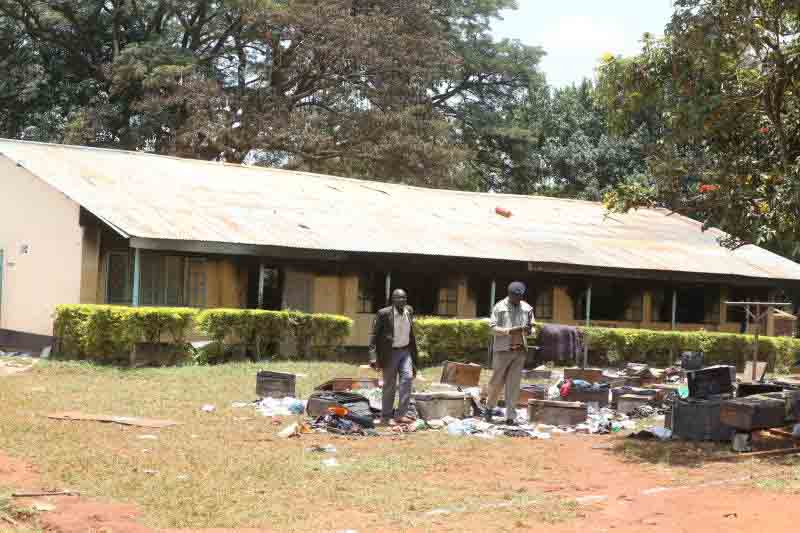 At least five dormitories were torched at Sigalame High School between July 26 and October 26.
Simply put, a dorm went up in flames at the boys-only public school after every 18 days.
Police had a hard time identifying suspects until October 28 when eight students caught on CCTV attempting to burn a sixth dormitory were arrested.
Busia County Police Commander Maxwell Nyaema confirmed the arrests.
"They are in custody as we continue gathering enough evidence against them. We have an outsider among them."
According to Mr Nyaema, the suspects could be arraigned at the Busia Law Courts this week if investigations are completed.
"We relied on CCTV footage in identifying the suspects. Previously, it has been frustrating to nab the culprits behind the arson but we are now on the right track," he said.
On October 28, the boys allegedly wanted to burn Masiga Annex dorm but the attempt was thwarted by the school's administration who relied on footage from a recently installed CCTV camera.
The suspects were handed to the police immediately. Earlier, the police had recorded at least 47 statements from students, teachers and people living near the school.
In the earlier incidents, Nyaema disclosed that the officers had listened to phone conversations between the suspects and combed the arson scenes but were unsuccessful at getting the persons behind the fires.
Kilimo dormitory was set ablaze on July 26 followed by Haile Selassie on August 10, Lenana on August 25, Ndenda on September 20, and Okampo on October 20.
John Nyoike, who replaced Nyaema as the county police boss, ran into similar hurdles like his predecessor and had no suspects to take to court or any evidence leading to arrests.
Frustrated, Nyoike organised a talk with the learners just in case one of them was involved and encouraged them to desist from burning the school, which was established in 1965 in Funyula constituency.
"I was taken aback because some two weeks after we spoke, there was yet another dorm on fire. The worst bit was that no one from the school was cooperating with investigators," he said.
The school of 1,780 students sits on 42-acres and enjoys round-the-clock security patrols by 14 personnel, with each dormitory assigned a guard.
After Ndenda House was set ablaze on September 20, the Board of Management (BoG) proposed to Teachers Service Commission boss Nancy Macharia to transfer school principal Peter Auma, who was replaced by Gabriel Asomba.
An extraordinary BoG meeting attended by Western regional directors of education and their county and sub-county colleagues also resolved that any administrative officers adversely mentioned in investigations on the fires proceed on leave.
A number of teachers and non-teaching staff, including an accounts clerk, bursar, caterers and storekeeper, were moved in what was viewed as far-reaching measures to stem the arson cases.
"I am not allowed to speak on behalf of the school on these fire incidents, please bear with me," BoG chairman Victor Odongo told us when we asked why the dorms kept burning even after the implementation of the extraordinary meeting resolutions.
None of the teachers was also willing to speak, only citing the directive of "not speaking to the media" issued by Education Cabinet Secretary George Magoha.
Busia Director of Education Thadeous Owuor, who spoke to The Standard, expressed optimism that the school, which had a mean score of C+ of 6.7 in last year's KCSE exam, will soon return to normalcy after the arrest of the eight.
"It is said that there was another attempt at torching the sixth dormitory. I call for calm from parents as we get to the bottom of the cases," said Mr Owuor.
He added: "We will not shut down the school. We have done so before and the students lost a lot in study hours. Parents, too, have lost much in replacing the burnt property."
The school's Parents Teachers Association once involved private investigators who came up with a report that still failed to nab any suspects.
"As the community, we are happy to hear that students behind the fires have been arrested. We want our school to return to its former glory," said Camulus Obada, a parent who hails from Sigalame.
Area MP Wilberfoce Mudenyo donated blankets to the school and called for speedy investigations into the fires.
In 2016, when there was a wave of fires in schools, the State appointed Claire Omollo to head a task force that gave recommendations on how to address the arson menace.