CBC critics are busybodies, says Magoha on new system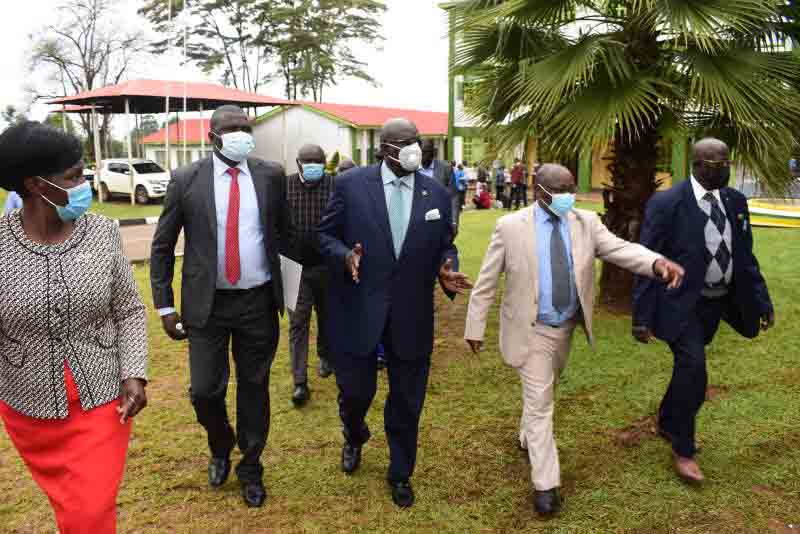 A tough-talking Education Cabinet Secretary George Magoha dismissed critics of the Competency-based Curriculum even as the implementing agency pleaded with parents to exercise restraint.
Prof Magoha stressed that nothing would stand in the way of the CBC rollout.
Addressing journalists in Kakamega after a Form One students' mop-up exercise yesterday, Magoha said the government would not allow toxic politics to interrupt smooth implementation of the programme, which guarantees learners new skills.
"CBC is the best thing this country has ever had and we will not allow ill-informed politics from busybodies and those with no education background to derail rollout of this programme," argued Magoha.
Magoha spoke on the day Kenya Institute of Curriculum Development (KICD) announced that it was taking note of the ongoing flood of feedback and complaints on the CBC.
"Let us not throw the baby out with the bath water. CBC is being implemented in phases to pave way for a smooth transition and to fix emerging issues. Parents, we have heard you. We need to exercise restraint as the issues raised are being reviewed by the relevant entities," KICD said on its official Twitter handle.
The agency said the relevant players within KICD are reviewing the responses that touch on its mandate and taking appropriate interventions, including clarifying what has not accurately come out.
They singled out the issue of assignment as a major concern.
"As we said, parents should not do the assignments on behalf of learners. They should just guide them. Last week, we agreed that, the homework is not yours. We also said teachers must give out adequate but not 'excess' assignments," they said.
Implementation of the new education system has elicited mixed reactions from players in the education sector with some claiming it is costly and cumbersome.
Some teachers have cited lack of preparedness, inadequate infrastructure and poor staffing among other concerns as reasons that are making CBC implementation unrealistic.
However, Magoha dismissed those questioning the transition and implementation of the programme saying problems are expected in any curriculum reforms "but that should not hinder the government from supporting the noble idea."
"We are determined to ensure this wonderful and transformative system is successfully implemented because it is going to shape the destiny of our children for the current and future job market," said Magoha.
He said the programme is not costly as it has been claimed by some of those opposed to it.
"The government has already bought books for our learners, I wonder when people say schools are telling parents to buy books for the programme. From which position are they speaking because I am talking from the government point of view."
Magoha said the government is already procuring new books for Grade Six as it had done for Grade 5.
He however confessed that the challenge of infrastructure in most of the schools across the country is real but maintains that the situation should not affect learning.
"It is better for all our children to be in school than to be at home because of infrastructure, we are going to ensure that they access quality education as stipulated in our constitution as we deal with the issue of infrastructure," he stated.
He urged parents not to listen to those opposed to the new curriculum.
According to Magoha, the learners' mop-up exercise which began on August 23 had ended.
According to him, the coronavirus pandemic affected the 100 per cent transition plan.
Magoha said the pandemic has affected many parents economically, making them unable to raise school fees.
"With this in mind, we are warning head teachers not to send any student home for school fees, the government has catered for everything apart from school uniform, boarding fee and food which accounts for 25 per cent and can be met by the parents."