Most diaspora remittances are from menial jobs, says Magoha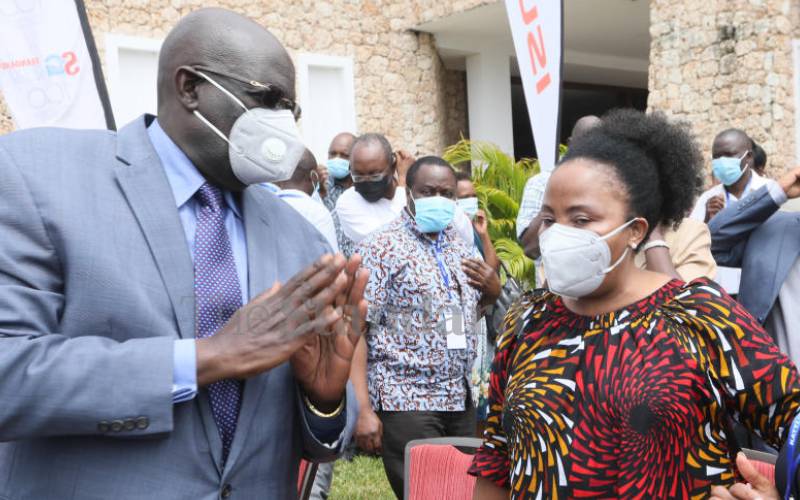 Education Cabinet Secretary George Magoha has called for the implementation of an agency to regulate the quality of training in Technical Training Institutions (TTI).
The CS said diaspora remittances are mostly from menial jobs that most youths in the country despise.
"The diaspora remittances are the highest in the country and they mostly come from menial jobs that are shunned by youths. So the narrative about courses offered by TVETs should change," said Magoha.
He said there is a need to focus on courses offered in technical institutions to ensure that they churn out well-established trainees.
Further, he called on principals of these learning centres to ensure that their institutions performed well. He was speaking during a training session for Kenya Association of Technical Training (KATTI).
Maghoha said with a regulatory authority, promotions at the TVETs will be performance-based. "We need a regulatory authority to supervise your performance because the promotion will not depend on the number of years one has worked."
Principal Secretary of State Department for Vocational and Technical Training (VTC) Margaret Mwakima said the Kenya Association of Technical Institutions had established centres of excellence at Kiambu Institute of Science and Technology, Thika TTI and Nairobi TTI to support the development of skills for the manufacturing pillar of the Big Four Agenda. The initiative is in collaboration with the German government at a cost of Sh3 billion
She said the government had increased the number of TVET institutions from 52 in 2013 to 238 in 2021 at a cost of Sh10.6 billion. Out of the 238 TVET institutions, 192 are operational, and 46 are nearing completion.
"Due to the Sh10.3 billion capitation government grants and Sh11.1 billion Higher Education Loans Board (Helb) loans to TVET trainees since 2019, there has been an increase in enrollment from 55,945 in 2013 to 249,316 in 2021," said Mwakima, adding that a conditional grant of Sh2 billion is given yearly.
She said the State Department is refurbishing four TVET institutions at Sh800 million.
"The government is keen on carrying out reforms in the TVET sector with a purpose to achieve equity and enhance quality in the sector," said Mwakima.
The PS said there had been a provision to equip 214 engineering workshops in the 192 operational institutions with state-of-the-art training equipment at Sh24 billion.
She said there are 12 national polytechnics, but plans are underway to establish nine others.
Mwakima said to make TVET an effective driver for social-economic development in Kenya, concerted efforts of all stakeholders are needed. "The private sector is one of the critical stakeholders since it creates jobs."
She said the Competency-Based Education and Training (CBET) concept, which is outcome-based, industry-centred and flexible, entails the involvement of industry in all aspects of training, and its implementation will help deliver industry responsive skills.
"TVET Curriculum Development Assessment and Certification Council (CDACC) have developed 406 CBET Occupational Standards and Curricula, in collaboration with the industry through Sector Skills Advisory Committees," said Mwakima.
She said when implemented, it will meet the demands of industry, business and help in bridging the skills gap.
The PS said, in collaboration with the World Bank, three centres of excellence have been established at Meru, Kenya Coast and Kisumu national polytechnics at Sh6 billion.
She said the partnership with the MasterCard Foundation, through the Young Africa Works (YAW-K) Programme, contributes to the development of training systems that prepare young people for the world of work.
She said ICT capacity needs to be enhanced by linking TVET institutions to internet connectivity, adding that reforms in TVET in the last 15 years revolutionized the sector in terms of physical infrastructure.
"But the public continues to associate TVET learners with poor performance in education. To change this mindset, there is a need to continue branding TVET institutions through positive strategies," said the PS.
She said the state department is planning to establish additional national polytechnics to have at least one in every county.
She said the institutions earmarked for upgrading include; Coast Institute of Technology in Taita Taveta, Jeremiah Nyaga TTI in Embu, Rift Valley Institute of Science and Technology in Nakuru, Michuki TTI in Murang'a, Kiambu Institute of Science and Technology, Bureti TTI, Mawego TTI and Masai TTI.
She said 3,000 trainers have been recruited through Public Service Commission to complement the rollout of the CBET curriculum and the establishment of new TVCs ongoing at Sh2 billion.