Push to achieve 100 per cent transition bearing fruit, says CS Magoha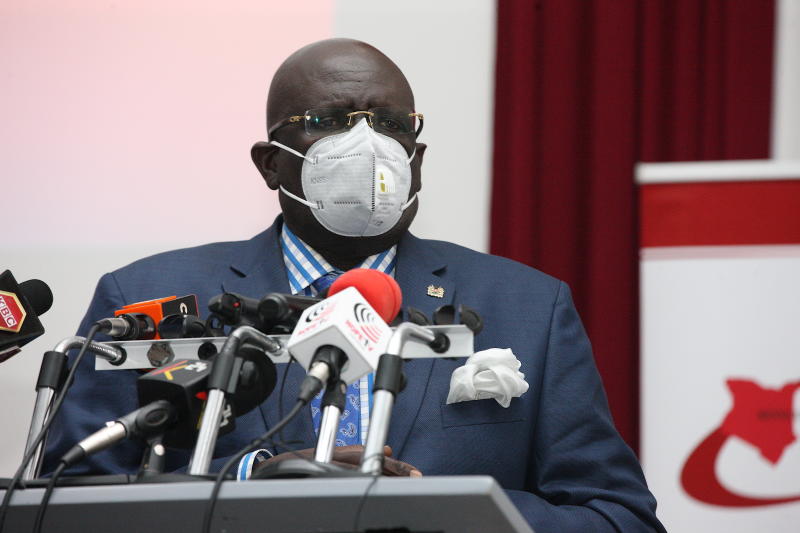 The relentless efforts by the Ministry of Education to ensure that there is a 100 per cent transition to Form One for all the candidates who sat the 2020 Kenya Certificate of Primary Education (KCPE) is slowly bearing fruit.
According to the Ministry, some three counties blazing the trail in the efforts have already clocked 100 percent while about 10 others have also achieved over 90 percent in transition.
Yesterday, Education Cabinet Secretary George Magoha said that the exercise has seen overall transition increase by about 10.8 per cent between last year and this year.
According to Magoha, several counties have performed exceptionally well in the exercise with Nyeri County blazing the trail with 102 per cent transition while 10 other counties have also clocked over 90 percent.
Magoha was speaking at Nyalenda slums in Kisumu where he took the drive to mop up learners from the informal settlement who were yet to report to school and escorted them to school.
"This is an exercise that must continue until all counties register 100 per cent," said Magoha.
The CS lauded several counties for making strides and ensuring that learners who completed their KCPE transition to form one. Among the top performers include Nyeri, Nyamira and Mandera that have registered 100 per cent transition. Kisii, Nyandarua and Wajir have hit between 95 per cent and 99 per cent.
According to records by the ministry, other top performers also include Homa Bay, Kirinyaga, Migori and Kiambu counties that have hit over 90 per cent in transition.
Magoha, however, raised concerns over the performance of the Coastal region which he said is still lagging behind in transition with its figures indicated that transition rates are between 50 per cent and 70 per cent.
He directed ministry officials to trace all the 2020 candidates who are yet to join Form One. The officials are also to follow up on and those who are expectant and ensure they continue with learning.
"One hundred transition started by President Uhuru Kenyatta has been very transformative. I want to ask the public to ignore all those people who are making noise outside," said the CS.
According to Magoha, the directive that was issued by President Uhuru Kenyatta on 100 per cent transition must be followed. He urged the public to ignore those against the exercise.
"We will continue to ensure that all children who have completed Standard eight transitions to Form one," said Magoha.
For the three learners who were picked by the ministry from Nyalenda slums, the ministry awarded them scholarships with Magoha saying that their fees will be catered for. They had scored over 350 marks, but have been unable to join secondary school due to lack of money.
Next week, ministry officials led by Magoha will pitch tent at Kiandutu slums in Kiambu to mop up learners who are yet to transition to Form One in the informal settlement. The CS also said that they have already started preparing for next year's national examinations and have already registered candidates.
Meanwhile, more than 540 KCPE candidates have not joined Form One in Homa Bay County. According to the County Commissioner Moses Lilan, of the 35,149 candidates sat the examination Only 34,352 joined Form One while 203 others joined vocational training centres (VTCs).
speaking yesterday Lilan said their investigations revealed that some of the students were married, some repeated Class Eight while others are sick.
"We have started the process of looking for them to ensure those who are in good health go to school," Lilan said.
The administrator directed all security officials in the county to begin tracing the whereabouts of the children in their jurisdictions.