Unions, varsities in fresh row over Sh8.8 billion pay deal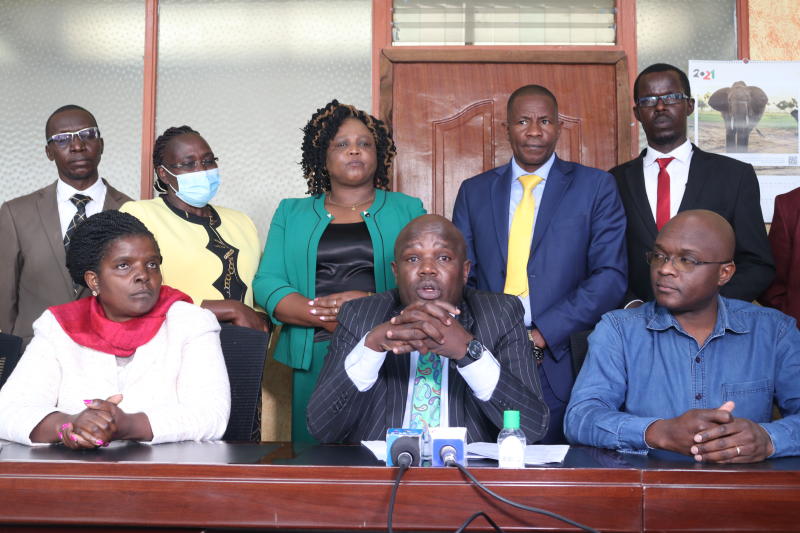 A fresh row has erupted over the distribution of Sh2.2 billion meant for staff of public universities.
While workers' unions maintain the money was meant to adjust salary scales of their members upwards, vice chancellors say it was meant to settle their salary arrears.
The money forms the last installment of the Sh8.8 billion awarded in the Collective Bargaining Agreement (CBA) for the 2017-2021 period. The first installment of Sh6.6 billion was released on July 3, last year to all universities.
The money was expected to benefit some 30,000 members of University Academic Staff Union (Uasu), Kenya University Staff Union (Kusu) and Kenya Union of Domestic, Hotels, Educational Institutions, Hospital and Allied Workers (Kudheiha). Officials of the workers' unions have accused vice-chancellors of using skewed formulas to shortchange their members.
The VCs, on the other hand, argue that the money may not have been adequate to adjust workers' salaries to new scales.
A VCs committee meeting on Tuesday heard that unions may not have understood that the money released could not be used to adjust staff salaries to new scales.
"The entire money was being used to settle salary arrears and there was no additional money to adjust salaries to new scales," said a VC who attended the Tuesday meeting.
Union officials say some universities have complied with the June 3, 2020 court order on adjustment of staff pay upwards and do not understand why others have not. Kusa secretary general Charles Mukhwaya said the union is keenly watching how universities will distribute the money.
"Let them do what they are doing. We shall get to it once they have completed their job," said Mukhwaya.
VCs committee chairperson Geoffrey Muluvi said he is not aware of the money in question.
"I am not aware of the Sh2.2 billion said to have been disbursed to universities for the CBA. I would appreciate if details are shared with me, including the distribution list, to enable me give an informed response," said Prof Muluvi.
VCs who attended the meeting said only Sh2 billion has been factored. Even then, the money has not been released as a lump to universities.
"We don't know why the Sh200 million has not been factored in. The money is being sent to universities per month as capitation, spread across 12 months," said the VC who attended the meeting.
The VC said the meeting heard that unions need to know that if there was going to be any adjustments to salary scales, then more money was needed.
Uasu secretary-general Constantine Wasonga has sent a petition to MPs arguing only seven universities, out of the 35, adjusted salaries to reflect new scales.
Universities said to have adjusted workers' pay to new salary scales are Jaramogi Oginga Odinga University of Science and Technology, Chuka University, Kibabii University, Masinde Muliro University of Science and Technology, Garissa University, Alupe University College and Kaimosi Friends University College.
"If these institutions complied, why did the rest not comply? What was their intention? Failure to pay basic salaries at the level of CBA is in clear breach of terms and conditions of service for the academic staff," said Wasonga.
Uasu argues if the salaries were adjusted, professors who earn a minimum salary of Sh170, 681 per month would have their pay increased to Sh180, 434 in the first year of implementation and Sh190, 187 in the second year.
The salaries would further go up to Sh199, 940 and Sh209, 693 for the third and fourth years, respectively.