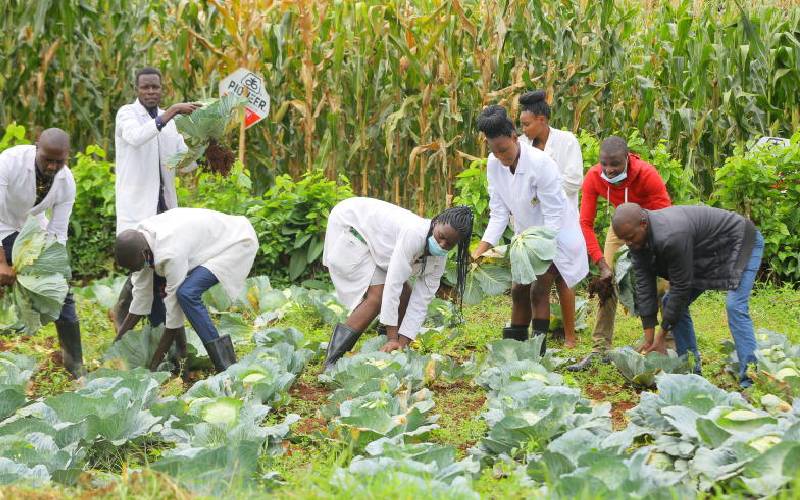 The past week or so has seen the University of Nairobi Council spell out radical and unprecedented governance reforms, including abolishment of offices, merger of functions, creation of new functions, and even raising tuition fees to "match new realities".
These measures seem to have been informed by the International Monetary Fund's recommendations more than anything else, because the university is among the "loss-making entities in the country".
In all fairness, university education in Kenya needs radical reforms. From unbridled appetites for opening satellite campuses to converting every polytechnic into a university; from over-populated lecture halls in some courses to loop-sided teacher-student ratios; from insecurity to squalid living conditions for students, the list is endless. Something ought to be done.
Let me try to contextualise this. Kenya has spent the last 40 years trying to 'Africanise' a nation whose formal institutions, language and bureaucratic practices were inherited from colonial times. Its system of higher education was established in the belief that an educated citizenry was essential to a meritocratic, independent and prosperous nation.
Economic problems
But economic problems and market-based reforms have exerted tremendous pressures on our universities to produce the educated workforce needed to lead the country to prosperity. Although Western universities are experiencing similar pressures, they tend to have way more resources, and a larger trained support staff to help manage the increase in students and their demands.
So what, exactly, is wrong with our university education model? The massification or the exponential growth experienced by Kenyan universities for the last fifteen years has negatively impacted on the quality of education being offered by our universities.
Their attempt to cater for the increase in student numbers has come with many challenges caused by overpopulation (in lecture halls and hostels, leading to atrocious living conditions), crumbling infrastructure, inadequate human and financial resources, declining quality of the professional courses on offer, and registration of courses by professional bodies.
Our education system needs to adopt a more holistic and proactive approach to providing services in the higher institutions of leaning.
Owing to these predicaments experienced by university students, they are overly preoccupied with survival, so much so that they cannot fully focus on what matters–studying, research and innovation.
Students have had to invent survival tactics, some of them being immoral acts, which are a threat to them while hampering their academic progress.
Rapid expansion
The rapid expansion over the years has also led to a rise in educational costs. The students' loan scheme, the Higher Education Loans Board, cannot deal with the increasing student numbers. Low incomes, especially in rural areas, have made it difficult for students to afford university education. Shortage of academic staff has also been an issue in financing higher education as well as the declining teacher- student ratio.
A decrease in State funding has pushed the universities to fight shamelessly among themselves in an effort to attract more students who can afford the fairly high fees. This has resulted in universities sidestepping the mandatory quality regulatory mechanisms as they focus on revenue generated from mounting courses.
Professional bodies whose courses are offered at university level are not happy with the quality of graduates being churned out and some, like the Engineering Board of Kenya (EBK), have refused to issue practicing certificates to graduates from certain universities who have since gone to court to demand the same.
Poor remuneration evidenced by constant strikes and salaries that often come late have demoralised lecturers. Many are decamping to foreign universities and research institutions, thereby contributing to the much-touted brain drain currently affecting many institutions of higher learning.
The World Bank estimates that some 23,000 qualified academic staff are leaving Africa each year in search of better working conditions. That is a lot! This has therefore deprived the universities of much-needed academic strength especially in the fields of science and technology.
Our public universities have therefore been forced to use part-time lecturers and to hastily upgrade the personnel they employ to fill the gap.
A survey carried out by the Commission for Higher Education reveals that although some public universities have not been adversely affected by the issue of part-time staff, their constituent colleges that recruit lecturers with low qualifications on part-time basis have been greatly affected.
The same survey concluded that lecturers rob students of real university education in these campuses because they are always on the move between campuses and come to class late and often exhausted.
Consider a lecturer who has been travelling all over the country teaching in other institutions, and he enters your class 30 minutes late. Not only will he lack time to research on the subject content, but he will also have shallow presentations.
How can we fix this? As long as funding is inadequate and quality is substandard, Kenyan universities may have no place amongst the best institutional rankings in Africa and on the global stage.
Mutual exchange of students and academic staff, and institutional collaboration on policies and curricula are some of the vital models we should shed light on to improve our institutions and their systems.
To be competitive in the international education market, institutions must offer modern or even state-of-the-art facilities and higher quality, relevant educational programmes taught by competent, motivated and highly qualified staff, who utilise innovative teaching methods that integrate local knowledge with international perspectives.
Countries and institutions that find ways to respond to and overcome these challenges have the competitive edge, and are on the path to noble status.
The governance of the system of higher education and private institutions should be democratic, representative, participatory and characterised by mutual respect, tolerance and the maintenance of a well-ordered and peaceful community (students') life. Structures and procedures should ensure those affected by decisions have a say in making them, either directly or through elected representatives.
It requires that decision-making processes at the systemic, institutional and departmental levels are transparent, and that those taking and implementing decisions are accountable for the manner in which they perform their duties and use disbursed resources.
Making efforts that promote inclusive policies and institutional reforms which narrow the sphere of influence is fundamental to providing the best university education practices.
A stellar example is South Africa, which has one of the best education policies in Africa (and undoubtedly the best universities in the continent. Little wonder a high number of our graduate students are flocking there).
Public accountability
South Africa's higher education institutions are currently regulated and monitored by legislative principle and procedure as contained in the Higher Education Act, 1997 (Act 101 of 1997) which states that: "It is desirable for the Higher Education Institutions (HEIs) to enjoy freedom and autonomy in their relationship with the State within the context of public accountability and the national need for advanced skills and scientific knowledge".
So what exactly does this mean? While autonomy is granted, the government, through the Ministry of Education, monitors, supports and regulates processes and policies applied in the HEIs since such policies must be in compliance with the administrative governance of the state.
In Singapore, a 2001 Ministry of Education report that reviewed the university governance and funding system was aimed at ensuring the three areas of talent management, organisational processes, and resource allocation are consistent with the missions and objectives of university education.
A comparative study of the university governance and funding systems between Canada, Hong Kong, the United Kingdom and the United States was undertaken in 1999 by a committee set up by former Deputy Prime Minister Tony Tan, and chaired by Chiang Chie Foo, Permanent Secretary of the Ministry of Education.
The review committee observed and concluded that top public universities in the aforementioned four selected regions were endowed with a significant level of autonomy in the discourse of accountability.
It was believed that flexible and market-sensitive appraisal and remuneration models were the pre-requisites to enhance the quality of university administrators and academics in order to compete with top universities around the world more effectively.
Apart from diversifying funding sources and enabling financial flexibility among the universities, the staff remuneration and management system is also included in the university reform agenda by the Singapore government.
Not only are the government and universities concerned about the quality of the academic staff, but also about recruitment and retention of the best talents, including lecturers, researchers and students in Singapore.
Quality assurance
For university education in Singapore, quality assurance is widely understood as a means to ensure that universities are managed wisely in response to increasing pressure for accountability and efficiency. Business management concepts and practices have been imported into the university sector. The introduction of quality audit and control is aimed at ensuring improvement in the quality of teaching and research and distributing resources more rationally.
In practice, quality assurance and enhancement in universities is partially achieved by the recruitment of talented local and foreign academic staff. The quality of university education is also reinforced by four main strategies: first, a stringent tenure policy; second, rewards for good teaching and research performance with incentives and recognition; third, favourable staff–student ratios accompanied by well-equipped teaching, research and modern accommodation facilities; and finally, the provision of staff training to upgrade skills and performance.
The reforms of university education in Kenya should therefore not merely stop at the management structure but come down to the lecture halls, to the actual teaching and learning, and to encompass the welfare of both teacher and student.