Thousands of teachers lose millions to cartel in fake jobs syndicate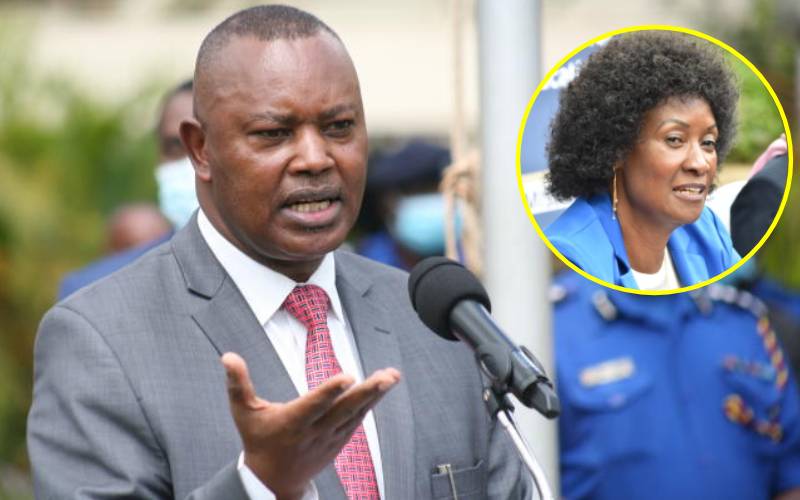 Well-connected individuals have infiltrated the Teachers Service Commission (TSC), stolen the identity of its Chief Executive Officer Nancy Macharia and conned thousands of teachers out of millions of shillings by offering bogus promotions, transfers and fast-tracking of pension payment.
Yesterday, police said they had finally cracked the cartel that has been swindling teachers millions of shillings.
This follows the arrest of four men who detectives linked to the con racket that has left several teachers poorer after being conned out of their hard-earned money.
In a related development, a Kiambu court detained four suspects among them a senior employee at TSC secretariat for 14 days for allegedly receiving over Sh5 million from unsuspecting Kenyans with a promise for jobs.
The four, Japhet Kioko, Jeremiah Musyoka, Lawrence Mutunga and Nathaniel Jambuya, who appeared virtually before Kiambu Chief Magistrate Patricia Gichohi, are also set to face impersonation charges once investigations are complete.
Defraud victims
The investigating officer Milton Mwanzi told the court that Kioko, Musyoka, Mutunga and Jumbuya have been using different phone numbers since 2019 to defraud people.
"The suspects were arrested on Wednesday with TSC employment forms among other crucial government documents which they have been using in what is believed to be a con syndicate," Mwanzi told court.
While asking the court not to release the suspects on bond, Mwanzi said the charges the four are likely to face are serious and they are likely to interfere with investigations and witnesses.
According to a public notice by DCI, the racket involved generation of employment, promotion and transfer letters, which were used to solicit money from desperate and gullible teachers.
The cartel was able to infiltrate the TSC registry and access teachers' details, which they used to obtain money falsely by pretending that they were in a position to influence either employment, promotions or transfers.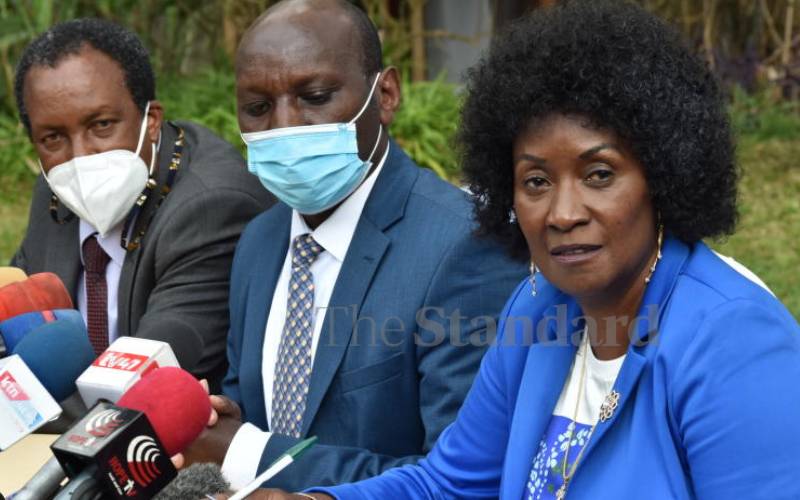 Following rampant complaints from some of those who fell victim to the cons, TSC conducted an internal investigation that pointed to the fraudulent scheme orchestrated by a former employee at the commission in the records section.
Probe allegations
The discovery prompted Macharia to invite sleuths from the Directorate of Criminal Investigations (DCI) on May 21, 2021, to probe the allegations.
"The syndicate involving current and a former employee at the commission has left hundreds of teachers, including the retired, poor and hopeless after defrauding them of their hard earned money," said DCI.
A retired teacher from Webuye lost Sh700,000 after the fraudsters promised to fast-track his pension. He was to be assisted on condition that he parts with some money to bribe officials at the pension department.
The man took a loan from a Nairobi-based shylock. Meanwhile, the con artists had obtained his details from TSC, which they used to open a bank account in Webuye where his pension money was wired without his knowledge.
"However, the money was immediately redirected to an account operated from Nairobi, from where it was withdrawn. The retiree died shortly thereafter. Detectives are currently investigating 14 such cases, involving retirees who have lost their entire savings," said the DCI.
Recently graduated
Investigators have established that the fraudsters target recently graduated teachers whose chances of being hired are slim. With the enticing offer of securing a teaching position ahead of their seniors who graduated earlier, the fresh graduates part with the money demanded, ranging from between Sh100,000 and Sh400,000.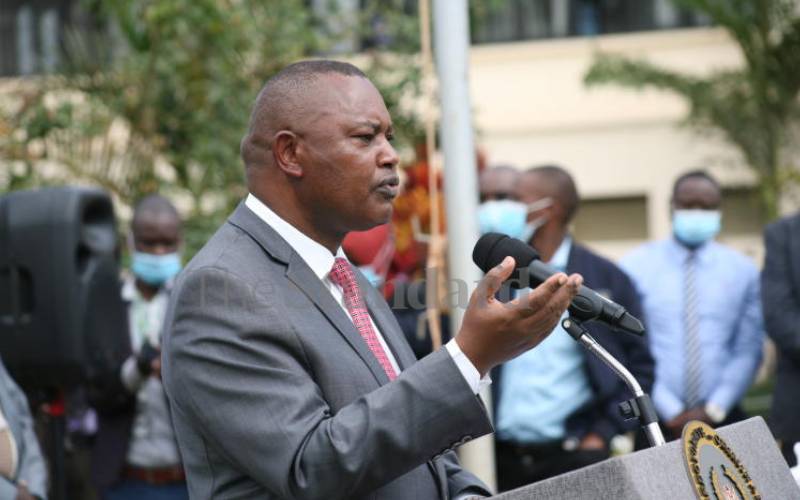 Principals and the deputies eyeing managerial positions were also not spared. Some are promised transfers to schools considered prestigious at a fee while their deputies in the hope of ascending to the top, also part with huge sums of money.
Detectives indicated that an insider accessed the database and extracted details of their victims either looking for employment, promotion or transfer. The insider was introduced to the scheme by a former employee who was dismissed from the commission in 2014 over integrity issues.
Head of Serious Crimes Unit Obadia Kuria said yesterday that more suspects are being sought. "It is a complex web involving many beneficiaries and accomplices. I wish not to delve into details at the moment," he said. Victims fall for the cons after the fraudsters convince them by sharing the teachers' personal details with them.
"They are asked to part with hundreds of thousands of shillings to secure the scarce opportunities, lest they are offered to other deserving applicants," said the DCI.
A primary school teacher reported at the office of the Bomet County Director of Education armed with a letter of posting. The director posted the teacher to a school within the county where a vacancy existed.
Fake letter
It was later discovered that her employment letter was fake after yet she had rendered her services for almost one term.
A similar case was also reported at a secondary school in Thika, where a teacher from Kisii travelled all the way and took up a teaching position at the school. It was discovered that he had not been hired procedurally after covering lessons for a whole month.
Yesterday, Kuppet Secretary General Akello Misori recalled how sometime last year he received a phone call from someone who said he worked at TSC.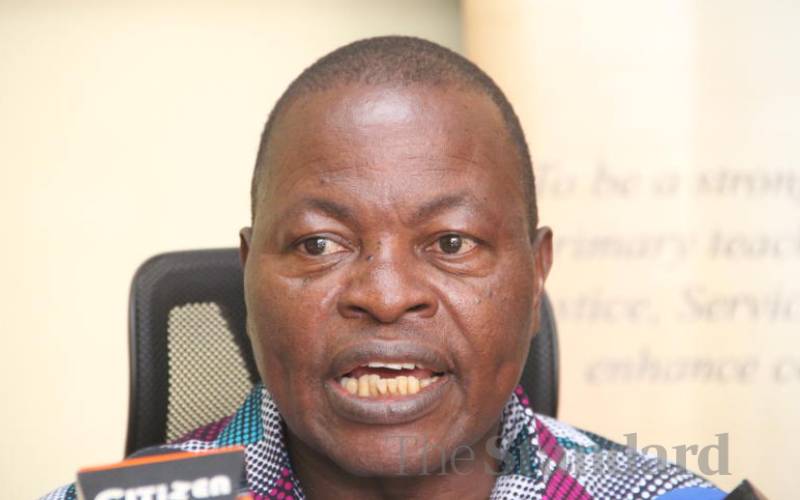 The stranger said he had noted that Misori's sister was among those shortlisted for promotions and requested for some 'goats' to ensure she was in the shortlist. The official disconnected the call.
Weeks later, another person called the sister, this time to inform her that her interview was successful, but there was a small problem: a crucial document that could cost her the promotion was missing.
"At that point my sister called me to ask if that is the way TSC engaged its staff during promotions. I cautioned her not to fall for the cons," Misori added.
Misori said that around the same time he received two similar complaints from persons close to him.
"These persons either hack the TSC system or have information from the directorate of Human Resource of the Registry," said Misori.
"It is here that we can know who applied for a job, who was shortlisted, who attended interviews, who is to get a promotion and even those are due for retirement."
Insiders at the TSC said that due to the growing cases of collusion among secretariat staff and con artists, the pensions department was streamlined with most staff redesigned and others subjected to disciplinary process.
It also emerged that in response to these developments, the commission has shifted recruitment, transfers and promotions online.
In a statement early this year, Macharia said TSC had successfully migrated services related to recruitment and promotions to an online system, and cautioned that there would be no more manual services.
[Additional reporting by Fidelis Kabunyi]