Form One selection: Boy admitted to girls' secondary school seeks Magoha's help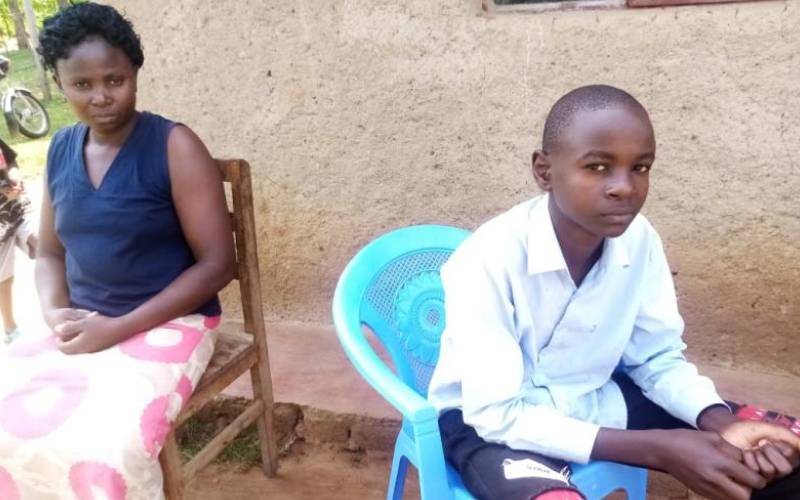 A boy in Bungoma County who was admitted to a girls' secondary school has petitioned Education Cabinet Secretary Prof. George Magoha to help him secure a Form One slot in a boys' school.
Spencer Wangila, who scored 370 marks in 2020's Kenya Certificate of Primary Education (KCPE) examination at Misikhu Friends Primary School in Webuye West, was shocked when he learnt that he was selected to join Naromoru Girls' Secondary School in Nyeri County.
"I don't know how I was mistakenly admitted to a girls' school which was not among the high schools I selected in the first place, I call upon CS Magoha to come to my aid," said Wangila at his home in Bunjosi village, Webuye West.
Wangila's parents Benard Mukenya and Ann Misiko said they were shocked when they received a text message indicating their 14-year-old son had secured a slot at Naromoru Girls'.
"The family was happy when Spencer scored high marks but the fact that our son was mistakenly admitted to a girls' school in last week's Form One selection by the Education ministry has robbed us of the joy we had," said Misiko.
"I noticed the anomaly after we sent a text requesting details about our son's new school, we were taken aback because we did not expect such a thing to happen," she added.
The couple said they had earlier told their son's former school to help address the problem after KCPE result slip identified Wangila as a female candidate.
"I met my son's former headteacher and asked him for help long before the form one selection exercise and he promised to act. We also took up the matter with Webuye West Education office," said Mukenya.
According to Misiko, Sh300 was paid to facilitate the correction.
"The school told us that the corrections would be made just within one week, unfortunately, the damage has been done before we get the issue fixed," she said.
She told journalists that her ailing husband, and the son, are in anguish over the mix-up. "I don't know where to run to for help, we urge relevant authorities to intervene and have Wangila secure a slot in one of his dream boys' school before things get out of hand."
They noted that the mistake could force their son to stay at home longer while his colleagues report to their respective secondary schools beginning next month.
Officials at Webuye West Education office and Misikhu Friends Primary School headteacher could not be immediately reached for comment.