Accountant recounts journey to establish multi-million school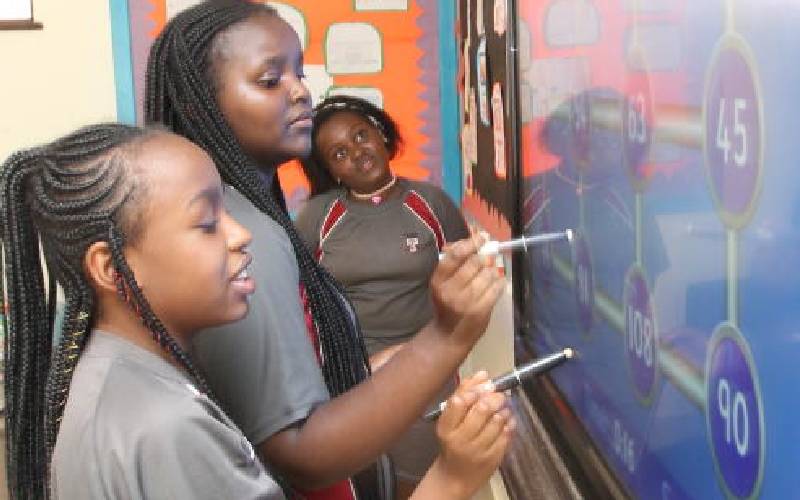 Having trained as an accountant, Peter Karoki never thought he would end up being an influential investor in the education sector.
He says his daughter's education journey pushed him to try something different from what other schools were offering, about 15 years ago.
"She was barely 10 years old but would be picked up as early as 6am and spend two hours on the road before getting to school, as the bus made trips picking up other students in the area," says Karoki.
The idea to start Woodcreek School came after Karoki moved his family from Eastlands to the west part of Nairobi.
Just like most Kenyans he had previously not been exposed to the international education system.
"Initially I thought international schools were just only meant for rich kids, I thought they were unaffordable," says Karoki.
Having been a board member and an investor in the school where his daughter studied, Karoki had a clear idea of what he wanted out of his dream to build an international school.
Take a quick survey and help us improve our website!
Take a survey
"I was not impressed that she could not transition to secondary school since the school did not have the secondary education section. I didn't have a good know-how about education but I offered to invest in the school, so we could expand to all the class levels for a complete international school," he said.
Karoki, 56, immediately resolved to convert 11 acres of land he had set aside for real estate business to construct the multi-million-shilling Woodcreek School along Kamiti Road near Kahawa West in Kiambu County.
After he invested close to Sh200 million in construction of the school by December 2017, there were more worrying uncertainties.
"It used to stress me coming to a place that is supposed to be a school, but there was no single child. When opening the school, one of the questions we grappled with was whether people would buy into our idea and enroll their children," he says.
Karoki's only hope was that he knew he had done everything right; from installation of modern furniture, modern technology equipment in all the classes to training the teachers on international curriculum.
The school grew from nine students in the first admission in January 2018 to 270 by March this year when schools closed.
"Our big vision is to train a big group of assertive students in what they do... students who can competitively apply what they have learnt from the international curriculum," says Karoki.
"We have embraced an approach where we all celebrate and reward every child's achievement."
Even as the country and the entire world suffer the effects of the Covid-19 pandemic, for Karoki and his school administration, it is a blessing in disguise.
"It was in the middle of the crisis that we got our breakthrough. Virtual learning started a week after schools were closed after the first case was reported. We have admitted more than 100 students since the advent of coronavirus," he says.
When the school's architectural design will have been completed with an amphitheatre, a model A-level transition campus, and art and music centre, Karoki says the cost will be about Sh1.5 billion. So far, he has spent over Sh850 million.