Better infrastructure, course revision and staffing headline varsity reforms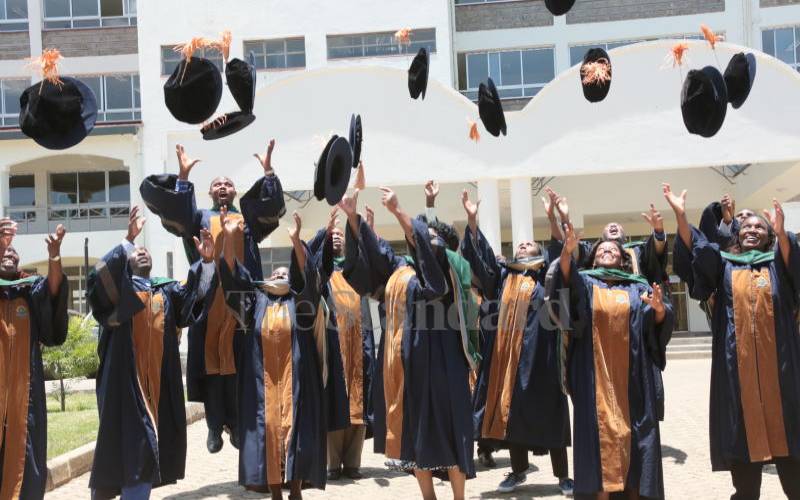 Details of proposed reforms in universities and colleges under the new 2-6-3-3-3 education system are out.
A task force report on Competency-Based Curriculum (CBC) seen by The Standard has revealed huge infrastructure and staffing gaps that must be addressed ahead of the transition.
The proposed reforms include revising courses, expanding infrastructure, hiring more staff and a review of the funding regime.
The government will also need to institute changes that will facilitate a smooth transition of learners from secondary to universities and colleges.
The implementation roadmap for the report, titled Enhancing Access, Relevance, Transition, Equity and Quality for Effective Curriculum Reforms Implementation, recommends that students' funding, under the Differentiated Unit Cost (DUC), must be reviewed by 2022.
It also proposes that loans and bursaries given to students should be enhanced by 2021 to cater to the anticipated rise in university enrolments.
The report recommends that budgetary allocations to Higher Education Loans Board (Helb) be increased by December 2023, to expand loans, bursaries and grants given to learners in Technical and Vocational Education and Training (TVET).
Helb must also enhance the provision of loans and bursaries to cater to the increasing number of learners joining universities.
Also proposed is the establishment and operationalisation of the TVET Funding Board which must be completed by December 2023.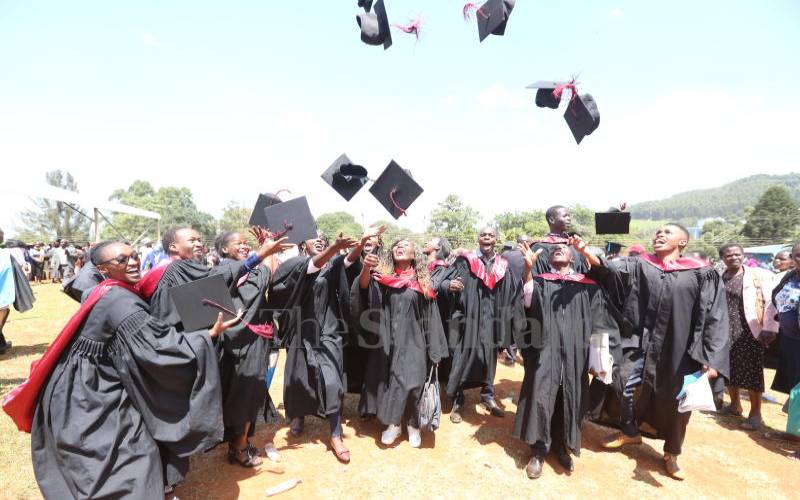 Expansion of infrastructure, reviewing of courses and hiring more qualified staff however remain critical reforms that will determine success of the transition under the CBC.
The first cohort of Senior Secondary Education learners is expected to transition to universities and colleges by 2029.
Universities are also expected to review the existing curricular and align them with the Basic Education Curriculum Framework (BECF) and the national agenda.
The report shows that Education (Arts) had the highest number of students' enrolments at 110, 433, constituting 20 per cent, followed by Business and Administration with 106, 544 or 19.9 per cent.
Humanities and Arts followed with 44, 779 students.
What is worth noting is the finding that even though these courses are cheap to mount by universities, few of the students get jobs after graduation.
This compares to low enrolments in academic fields listed as expensive to mount. They include law, which has the lowest admissions of 8, 950 students followed by Information and Communication Technology (ICT) with 27, 037.
Agriculture, forestry, fisheries, veterinary, engineering, manufacturing and construction and health are also listed as high-cost programmes.
The report proposes that Commission for University Education (CUE) develops and reviews university programmes to align them with the three pathways offered at senior secondary schools.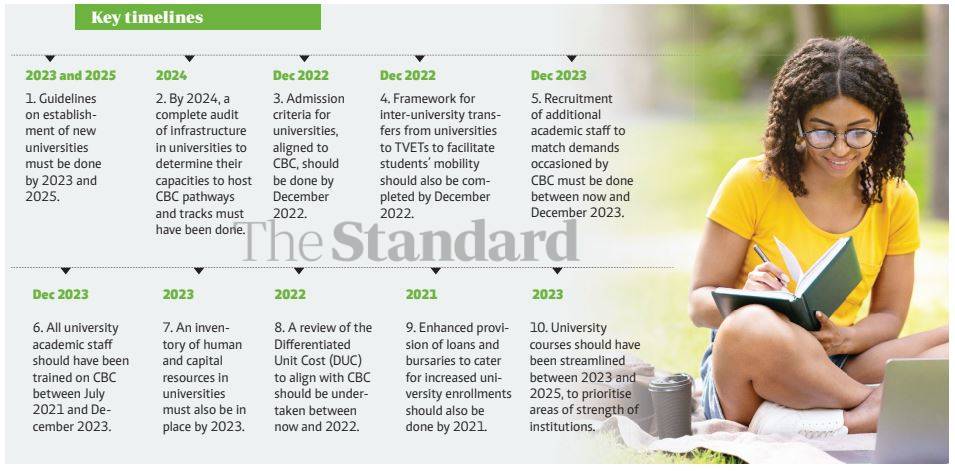 Key sector reforms
Chacha Nyaigoti, the CUE chair, said talks are underway to assess areas of reforms ahead of time. "We have already started talks with the university vice chancellors, chairpersons of councils and managements of private institutions on these reforms," said Prof Chacha.
Under the new education system, university education is expected to last a minimum of three years as opposed to four presently.
"We do not expect so much to change in terms of content but it is about aligning the same with the CBC," said Chacha.
CUE is also expected to develop a policy for credit accumulation and transfer. The report has outlined key sector reforms that must be undertaken complete with timelines.
Report says between now and 2024, an audit of universities' infrastructure must be done to determine capacity to host CBC pathways and tracks.
"The Ministry of Education to expand infrastructure to offer courses in the three pathways within identified niche areas and localized specializations," reads report.
The task force finds that about 300,000 students may miss slots in universities if infrastructure is not expanded.
The report projects some 1.2 million CBC learners, presently in Grade Four, will join universities in 2029. "About 420,000 students will be expected to join university with the assumption 33 per cent will transit as the remaining 67 per cent join various tertiary institutions," it says.
It says that with projections that the universities absorb about 122,000 annually through the Kenya Universities and Colleges Central Placement Service (KUCCPS), many learners would miss out.
"Given this scenario, it is important that additional resources be allocated to universities," reads report, which, on staffing, says, some of the teaching staff working in universities are not qualified.
Report finds that only 30 per cent of the teaching staff have PhDs, the requisite to teach at university level.
And now, it wants CUE to rationalise lecturer recruitment to meet the changing educational needs in a cost effective way.
The implementation schedule proposes that recruitment of additional academic staff to match demands occasioned by CBC must be done between now and December 2023.
All university academic staff should have been trained on CBC between July this 2021 and December 2023. An inventory of human and capital resources must also be in place by 2023.
The report proposes a review of the DUC to ensure funding is aligned to the CBC framework.
The biggest transition headache is expected to be at university level. But on the other hand, the report foresees seamless transition from Basic Education to TVET under CBC.
This is because some courses in the TVET sector have already adopted Competency-based Education and Training (CBET) closely aligned to the CBC approach, the report says.
Senior Secondary School level will be specialised in relevant areas, including dual certification, depending on learner's ability and career interests, says the report.
The report recommends that Curriculum Development, Assessment and Certification Council (CDACC) and Kenya Institute of Curriculum Development (KICD) review all TVET curriculums, which are yet to adopt the CBET approach.
It also proposes that capacities of Kenya Technical Training College (KTTC) and technical universities to train trainers of TVET be strengthened.