Magufuli and Education: He banned pregnant girls from schools, urged caning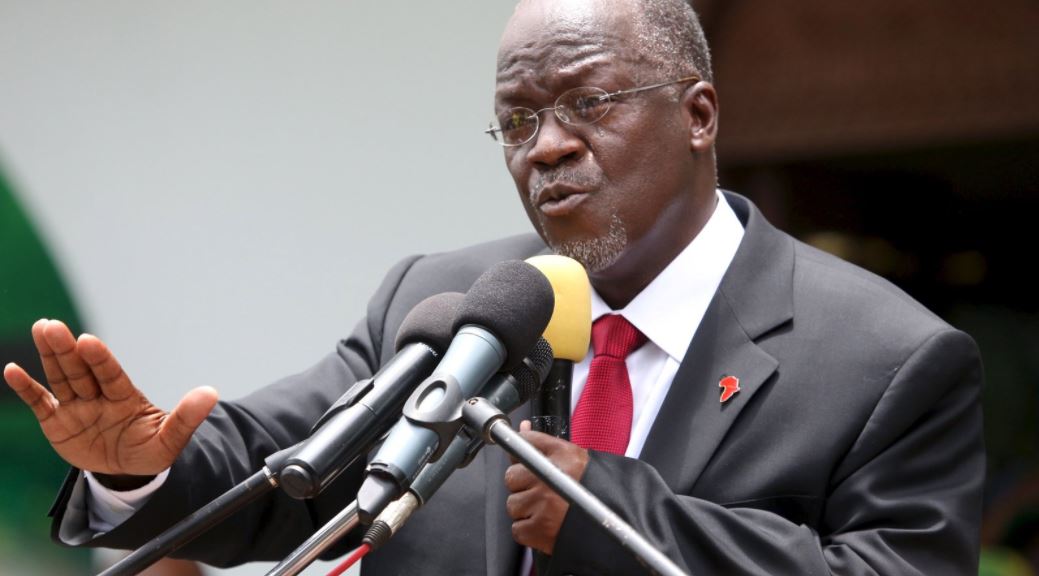 In one of his last public appearances, President John Pombe Magufuli (pictured) promoted corporal punishment in schools and banned readmission of students who got pregnant.
In a tough message to parents and Tanzanian education officials, Magufuli said his administration would not allow students who had given birth back to class.
His decree shocked many Kenyans because theirs is a country where the cane is outlawed and every effort is made to ensure girls go back to school after giving birth.
He also sparked outrage back at home when he advised his officials to introduce the cane both in schools and at home to instil discipline.
Justifying the reintroduction of the cane, Magufuli said it would streamline the learners, instil values and secure a bright future for the nation.
This is despite an existing law outlawing corporal punishment by any teacher.
He said that the law should be changed.
Corporal punishment is legal in Tanzanian schools, but only a headmaster or designated teacher can administer it.
What shocked many was his directive on schoolgirls who get pregnant.
"No one with a child from Class One to secondary school will be allowed back to school. If they chose to rear children, let them stick to that," Magufuli had said.
"But after giving birth, the idea of going back to school is banned. If this is allowed to continue, we shall have an entire class of breastfeeding mothers."
Magufuli cautioned non-governmental organisations (NGOs) and human rights activists championing the readmission of pregnant girls to schools to keep off.
"Let me warn you and all the NGOs who lecture us that under my administration, no child will get back to school after giving birth," he said.
In a long lecture to parents, his government's policymakers and education sector players, Magufuli cautioned against listening to contrary ideas.
"I wish to tell you that if we make those kinds of jokes by listening to NGOs, we shall be messed up," he said.
He said all children who become pregnant – deliberately or by accident – must stay away from classrooms.
"They will teach those who have not given birth because when she gets pregnant again, she is sure to return to school.
"When she gets a third one she again goes back to school. Are we educating parents?" he posed.
He said the girls should pursue alternative paths after giving birth.
"But even for those who accidentally get pregnant, there are many things that they can do, which are available to those who have given birth, such as tailoring, farming and many other things," he said. The late president said only students who in university can be tolerated if they get pregnant.
"They are allowed from First to Fourth Year. But from Class One to secondary, we shall be losing our morals."
On corporal punishment, Magufuli sparked another storm in Tanzania and in Kenya when he congratulated one of his regional commissioners for caning the students.
The students had burnt a section of the dormitory after their mobile phones were confiscated.
"I congratulated the regional commissioner for caning the students.
"I told him that he didn't beat them hard enough," Magufuli told a public rally in Songwe region in the southern highlands.
The late president had also directed that the students be expelled from school, the real perpetrators jailed and parents made to pay for the damages.
He also directed that the school board be disbanded, saying they shared the blame because of inaction.
"Then they talk of human rights, what human rights when children are undisciplined to that level?
"Time must come when we do not mess up with development matters.
"These funds have been contributed by poor parents so that children can go to school," Magufuli said.
He however appeared to explain his controversial directive thus: "My countrymen, I am not saying this because I am not remorseful. It's with love. And I have been a teacher so I do understand.
"I think where we erred is when we banned corporal punishment and the should law be changed for these children to be caned. Even in Europe, they cane students."
Nevertheless, the late Magufuli is credited with expanding access to education and shielding parents from unnecessary levies.
In 2015, during his first term, his government re-introduced a fee-free education policy that abolished all school fees from basic primary and secondary education to allow all children, especially those from poor families, to access basic education.
This move increased the net enrollment rate in primary schools to almost 90 per cent.
Magufuli also gets credit for abolishing unnecessary contributions that were a burden to many parents.
His move gave many children access to education.
"I should not hear cases where children have been sent home for any levies.
"And I directed that no teacher should take any money from children," he said.