Kwaheri Magufuli, the popular bulldozer of Tanzania politics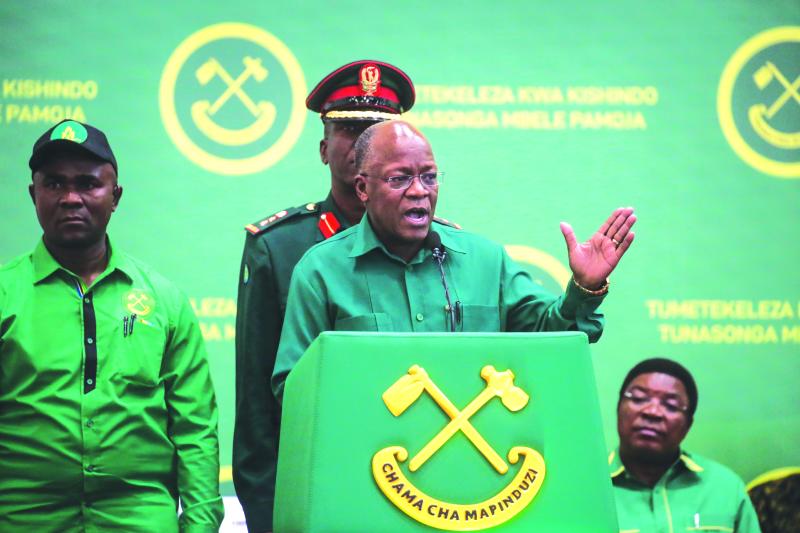 John Pombe Magufuli, Tanzania's fifth president, was pronounced dead last night, bringing to an end weeks of uncertainty in the East African nation and its neighborhood.
Magufuli died in Mzena Hospital in Dar es Salaam, where he was receiving treatment for a heart condition, a shaken Vice President Samia Suluhu Hassan told the nation in a television address.
The official announcement of his death followed days of speculation over his health and his whereabouts after being out of the public limelight for two weeks.
Although his death was a hushed-up affair, with many believing that the former head of state died at least a day before the announcement was made, it is the loudness of his presidency that he will be remembered for.
A loudness that was punctuated by a fierce, near manic defending of Tanzania's sovereignty that sometimes came with too high a price tag for the people he had promised to defend and protect.
Many outside Tanzania first saw Magufuli in the run-up to the 2015 General Election when he was announced as a preferred successor by his predecessor Jakaya Kikwete.
On that August 23 day in 2015, Magufuli, buoyed by an electric performance by Tanzanian pop star Diamond Platnumz, vowed to instil discipline and encourage prudent management of funds within the public sector.
As a former Public Works minister, Magufuli was known to bulldoze his way through whatever policies he had in place, and like many Tanzanians, one nickname was never going to be adequate for the man who would later become Head of State. He was hence called Bulldozer.
His nomination to be CCM's flag bearer in the 2015 elections almost led to the split of the giant independence party with equally ambitious stalwarts such as Edward Lowassa electing to jump ship to the opposition party, Chama Cha Demokrasia na Maendeleo (CHADEMA).
It was understandable. Although Magufuli had been a card-carrying party member since 1977, he had only been elected MP in 1995. And while Magufuli served as a Cabinet minister in later years, Lowassa served as the country's Prime Minister.
With Magufuli in the driving seat, Lowassa stood little chance to dethrone the grand old party of Tanzanian politics, coming in a distant second. The victory gave Magufuli something else apart from the presidency. With well over 80 per cent of Tanzanians voting for him, Magufuli embarked on a journey of consolidating his grip, not just within CCM, but within public life as well.
The transition for Tanzania from the charm and diplomacy of Kikwete to the hardnosed, policy driven era of Magufuli was not an easy one. There were casualties along the way. One of them, at least according to foreign human rights groups, was democracy.
Take a quick survey and help us improve our website
Take a survey
"Tanzania's human rights record continued to deteriorate under President Magufuli, who was elected into office in 2015. The government lifted some restrictions on the publication of independent statistics, but continued to restrict media and critics of the government, deregister civil society groups, arrest journalists, restrict civic space, and undermine the rights of women and of children, rights group Human Rights Watch said of President Magufuli in their 2019 report.
And there were incidences to support these observations.
In February that year the Ministry of Information, Culture, Arts and Sports suspended the Citizen Newspaper for violating the Media Services Act. The newspaper was accused of publishing two biased articles. One was about United States lawmaker Bob Menendez raising concerns about "the gradual downward spiral of respect for civil liberties in Tanzania," and another that the Tanzania shilling was falling against the US dollar.
On April 25, authorities at the Julius Nyerere International Airport in Dar es Salaam detained and eventually deported Wairagala Wakabi, director of the Ugandan-based Collaboration on International ICT Policy in East and Southern Africa (CIPESA), as he was on his way to receive a human rights award.
On July 29, 2019, six plainclothes policemen arrested investigative reporter Erick Kabendera at his home in Dar es Salaam. He was later charged with nonbailable offenses related to money laundering, tax evasion, and leading organised crime. Kabendera had written for several international publications critiquing Tanzanian politics.
The high handedness that defined his presidency was not just limited to critics of his style of governance. Sometimes, there was collateral damage too.
In 2017, President Magufuli banned pregnant girls and mothers from attending school. Police arrested pregnant girls and their families to force them to reveal the identity of the men or boys who impregnated them.
It was not all bad though. Many Tanzanians found a sense of pride in Magufuli's style of leadership. Known for decades as the unwilling third wheel in the East African Commission, Magufuli's stances on regional trade imbalances made him adopt a Tanzania-first approach, a move that saw him pull out of previously negotiated treaties such as the LAPSETT project that had Kenya, Tanzania, Uganda and South Sudan as key players in defining the region's infrastructural needs.
But he also encouraged long held stereotypes such as Tanzanian's mistrust of their Kenyan neighbours through vicious and sometimes guerrilla-like acts of corporate sabotage. In 2017, in the middle of a supremacy battle, Tanzanian authorities burnt some 6,400 chicks imported from Kenya.
Abrasion defined his leadership style. Magufuli would fire state officers on the spot, deport foreign workers and detain human rights defenders, journalists and even popular musicians. He had zero chills in revoking government to government contracts too.
In March 2017, the country's largest gold mine, London-listed Acacia Ltd, was accused of flouting a mining ban. President Magufuli ordered the seizure of more than 250 of its containers at the port of Dar es Salaam, then ordered a government investigation into the Canadian company.
After being presented with findings from the investigation, Magufuli's government slapped the company with Sh190 trillion tax bill covering the 17 years it had been operating in the country.
Towards the end of his first term, Magufuli blocked the International Monetary Fund from releasing a report critical of his government's management of his then fledgling economy.
Ultimately though, the Magufuli story is also one of triumph. Triumph over a humble upbringing as a son of peasant farmers on the shores of Lake Victoria to a government employee, a minister to key ministerial posts and eventually to the presidency and to controlling one of the last remaining African independence political parties.
"Our home was grass thatched and like many boys I was assigned to herd cattle, as well as selling milk and fish to support my family," he said on the campaign trail during his campaigns in 2015. "I know what it means to be poor. I will strive to help improve people's welfare," he added.
His story will also be that of a president who set out on the path of trying to get his country to fulfil the incredible potential it has.
His attempts to shock the system into an automatic reboot may not have been successful, but they forced Tanzanians to have difficult conversations about themselves. Conversations about democracy. About governance. And conversations about their place in the world economy.