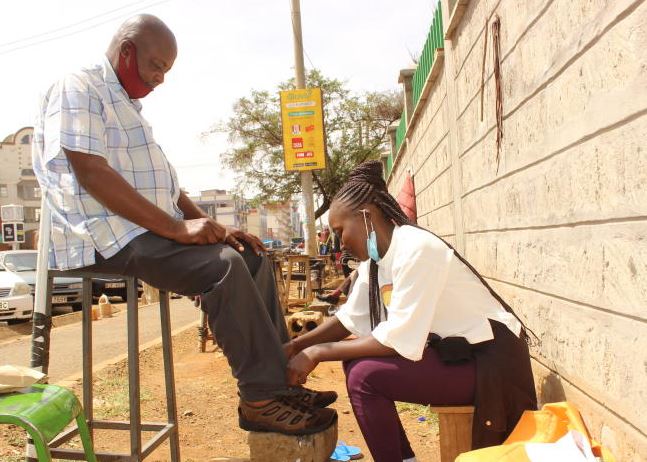 When schools took a break due to Covid-19 in March, last year, Beryl Matunga lost her source of livelihood.
Matunga, 25, a teacher of English and Literature who graduated from Moi University in 2018, lost her job. Her private school in Kitale could not sustain her Sh15,000 monthly pay.
After staying for three months at home, Matunga began looking for any job to earn a living to care for her one-and-a-half-year-old daughter.
She resorted to shoe shining in July, last year, and secured a strategic location adjacent to Zion Mall parking lot in Eldoret town, Uasin Gishu County.
Read More
Her friend, Hellen Mahonja, had invited her to Eldoret where she opted to try the new opportunity.
"Initially, I could not see myself doing that job. I mean, brush peoples' shoes all day, week and even for months? I thought no! What will people think of me?" said Matunga.
She was eventually convinced and made up her mind to roll up her sleeves.
Her mother, a nurse, was shocked to learn of her daughter's resolve but vowed to support her whenever she needed help.
Mahonja housed her for three months and took her through every procedure – from cleaning shoes, kind and colour of cream for various shoes.
Her venture was initially challenging. Being the only woman in the trade in the area troubled her. Male customers, who are the majority, doubted her ability and skills. They would choose to be served by her male colleagues instead.
But Matunga was not about to give up.
She would then welcome the customers, serve them well to the best of her ability and slowly but surely, won them over.
Christopher Wandati, her customer, says hers is a perfect job. He said he believes she would definitely do a better job, stating that women pay more attention to little details than men.
John Otieno, who has been operating a nearby shoe shining stall for three years, described Matunga as very 'hardworking and committed.'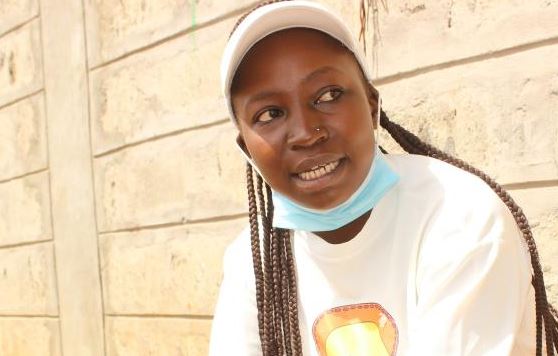 Matunga (pictured) says she earns about Sh300 on a low day. On better days, she earns between Sh500 and Sh700.
However, since she has no shelter or shade, she has to bear the scorching sun. When it rains heavily, she is forced to shut her business.
Despite having a Teachers' Service Commission registration number, she says getting a job in public school is not easy since employment criteria is based on the year of graduation.
Matunga studied at Muthurwa Primary School in Nairobi before joining Kipsigis Girls' High School where she scored a B plain in her KCSE exams.
She joined Moi University for Bachelor of Education and graduated with a second class honours, upper division.
She says she will continue working as a shoe black and has plans to start a second-hand clothes business.