Kabarak cherishes Moi's love for God, vision for education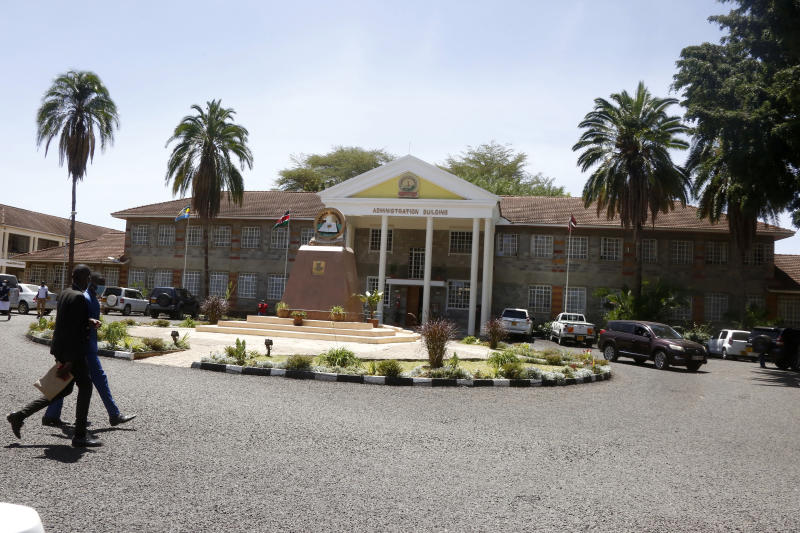 As the country marks the first anniversary since the death of former President Moi, the firm foundation he laid in various fields continues to inspire many.
The Kabarak community remembers him as generous, visionary, caring and forgiving.
Kabarak University Vice-Chancellor Henry Kiplagat said the former President always wanted the best for the public.
Prof Kiplagat noted that memories about Mzee Moi are still fresh and the institution continues to excel because of the firm foundation he laid.
"One year down the line his memories in our minds are still so fresh because everything in this place and around this place is about him. By the grace of God, Kabarak University has been going on well because of the firm foundation that he laid," he said.
Attention to detail
He added: "I still imagine he is still around and definitely he is because he laid a good foundation and he handed over to his children who have taken over the leadership of the institution at the trustee level even at the board of management as is the case with the high school."
The VC said the former Head of State's attention to detail was evident every time they had a function at the institution as he would personally get involved to ensure all goes to plan. He revealed that Moi would tour construction projects in the institution to assess progress.
Kiplagat recounted that in the last days, Moi would be driven around and observe from the car the goings on at the institution.
"He made trips up to three times a day depending on his availability and he had a very keen eye for geometrical alignment, he would see things that are bending and he wanted things to be orderly,'' said the VC.
The VC said Moi cherished education and he left behind a good legacy in the sector.
"Moi was a very kind person, he sympathised and empathised with those who had challenges in life and that is why he paid fees for a number of students in various schools and would take the sick to hospital," he added.
It is for his love for the needy that Moi in March 1985 led a funds drive to enable a girl with a hole in her heart to seek treatment at a British hospital. Though the girl passed on later Moi directed that a school be named in her honour.
Kiplagat describes Moi as a courageous leader who never turned away from challenges.
"One thing I remember, he would say leadership requires tolerance, is not about taking it easy, sometimes you are abused, how many times have I been abused," Kiplagat quoted the late former president.
Actualise the vision
The VC noted that the former President was God fearing and would never miss attending church whenever he had a chance.
Though Mzee is gone, Kiplagat says the former president's family Mzee is involved in the running of the institution.
"Baringo Senator Gideon Moi is now the Chancellor of the university and takes time to walk around and ensure projects that were started by his father are on track. Rongai Member of Parliament Raymond also pops in to see what is happening, there is no gap left. The sons are doing quite well to fit in," he said.
Kiplagat assured that as Kabarak University, their role is to actualise the vision and the mission of Mzee Moi as captured in the institution policies.
"Mzee's mission was to ensure every student and staff members who join Kabarak University know the Lord Jesus Christ," he said.
He said the institution holds service on Wednesday and Sunday. The VC noted that all university students take Bible courses to inspire them to be persons of integrity.
The VC said although they might not do much to mark Moi's first anniversary they will ensure they uphold his values.
"We need to see the institution take a trajectory that will not depart from the vision established by Mzee Moi," he said.
He revealed that the former President started an online centre that came in handy after Covid-19 disrupted physical learning.
Kabarak High School chaplain, Rev Dr Paul Ombati, noted that the former president was always ready to help the needy.
Ombati said Mzee Moi had commitment and love for God.
He recalled a time when Mzee called him early in the morning and encouraged him to serve the Lord. The chaplain said Moi nurtured him as a young pastor and always reminded him it is good to serve God faithfully.
"Kabarak community picked many attributes from Moi including the love for God. The students also learnt the attribute of giving and time keeping," he said.
He said Mzee made reference to John 3:16 each time he was addressing students and pupils and reminding them that it is because of God's love that He send His son to die for our sins.
Mzee Moi's favorite hymn, Because He lives I can Face Tomorrow, he said, still rings in his mind. He called on leaders to emulate Mzee Moi and demonstrate love for one another.
Former Internal Security Minister Julius Sunkuli said Moi had a rare attribute of caring for all.
Mr Sunkuli recounted that his friendship with the former President began before he joined politics and even after he took the reigns of power he would visit them at the University of Nairobi.
"He was like a father to us," he said.
He recalls Moi reciting for them a poem If by Rudyard Kipling.
"Mzee was wealthy but he did not keep the wealth to himself, he paid fees and medical bills for many," said Sunkuli.
The former minister said Moi always sent troops to peacekeeping mission and related well with international communities.