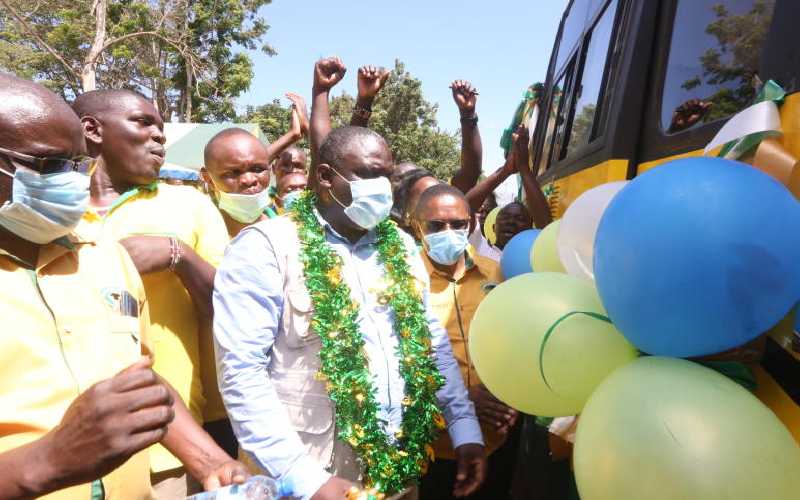 Kenya Union Post Primary Education Teachers (Kuppet) has given the government a seven-day ultimatum to address insecurity in Kapedo, Baringo, Pokot and its environs failure to which they will withdraw their members.
The union said their teams carrying out elections in the region were unable to have safe elections due to insecurity.
Speaking in Siaya town where he launched a 51-seater bus for Siaya Kuppet branch which will be used for teachers' welfare, national union chairman Omboko Milemba said the government's role was to provide security for its citizens.
Milemba asked the government to deploy enough security personnel in affected areas to enable teachers to continue with their work
"We will be forced to ask Teachers Service Commission (TSC) to withdraw all teachers from these high-risk areas," noted.
Milemba also asked Kenya National Union of Teachers (Knut) secretary-general Wilson Sossion to sit down with TSC and agree to withdraw all the court cases that have led to differences between them.
The legislator said he was ready to mediate between Knut and TSC to ensure they come to an agreement so that teachers who were removed from Knut can return to make the union stronger.
"We do not want Knut to die and we don't want a weaker union. We do not have any members of Knut in our union as being said by people and we are not welcoming any," he added.
Harassment
He condemned the Ministry of Education for writing show-cause letters to school heads in Siaya for being ill-prepared to deal with Covid-19.
Milemba accused the ministry of harassing principals because their schools are not having anything in place.
"The preparedness of our schools depend on the government. It is the business of the Ministry of Education to actually bring masks, running water points and even infrastructure, not teachers," he added.
He argued that it beats logic for the government to harass teachers who are expecting help from them.
"The government should be reminded that teachers are under TSC and not ministry. What they did was illegality and those letters have no meaning in the structure of teachers' discipline," he explained.
He told all school heads who received the show-cause letters to forward them to the union's national office for action.