Woe unto officials who interfere with the desks project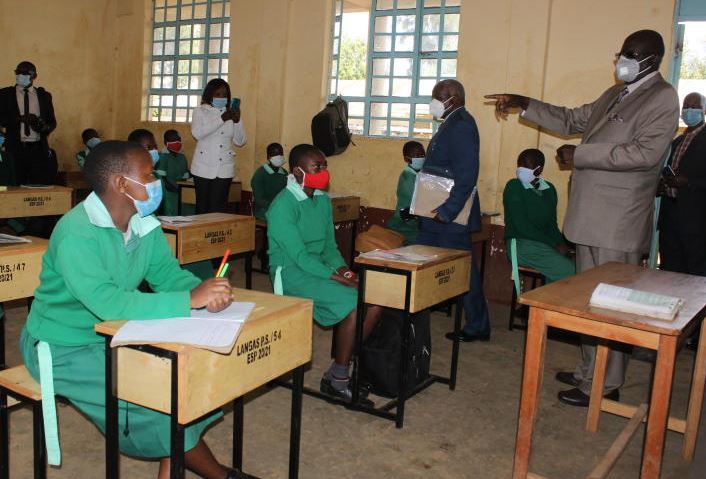 Teachers and education officials will not be accorded any sympathy if found tampering with delivery of desks to schools provided under the economic stimulus programme.
Education Cabinet Secretary George Magoha (above) said a few "unscrupulous" officials were colluding to frustrate the government's efforts by diverting quality desks for their selfish interests.
"I have learnt regrettably that a few unscrupulous officers are colluding with a few teachers to split delivery and take some elsewhere," said Prof Magoha.
He said jua kali artisans identified to make the desks did excellent work and the government will not allow greedy individuals to interfere with the intended goals of supporting needy children and schools.
"Every desk made shall go to the child in the designated public school. We will not be sympathetic to anyone or handle with gloves those who steal from children and I warn them in broad daylight," said Magoha.
Without being specific, he added, "Those teachers in Migori area who together with some education officers think they are smarter than the government, I give them 24 hours to reverse the process that they are trying to do and ensure the desks go to the appropriate schools or we shall arrest them. We are not going to argue with anybody."
The CS spoke at Langas Primary School in Eldoret, Uasin Gishu County during an inspection tour to assess the desks programme.
He asked education officials to work with the Interior Ministry and other government agencies to ensure children are safe in schools amid a rise in Covid-19 infections in the country.
"I have noticed that my field officers, especially at the lower level, follow me when I come to inspect schools. We are going to act swiftly to ensure they work and inspect schools no matter who they are, as long as they are paid with taxpayers' money," he said.
Magoha said some officers were "sleeping on the job" and only deliver reports.
"I don't deal with reports but with measurable outputs. If you have not been doing inspections over the last seven months, why join me when I come? I don't need you," he said.
Magoha, who was infuriated by what he termed poor environment at Langas Primary School, gave a dressing down to Uasin Gishu County Director of Education Mbaga Gitonga who wanted to hand him a report.
"He does not understand the problem, and he is talking about a report. Step away from this meeting," the furious CS ordered the officer.
Magoha also gave the school head teacher two hours to ensure the school compound was clean, promising to revisit after another meeting at the Eldoret National Polytechnic.
He said the Kazi Mtaani initiative is ongoing, and school heads, education field officers can liaise with the Interior Ministry to ensure schools are hospitable. The CS said the school desks programme is currently at between 50 and 60 per cent complete and the government expects to attain 100 per cent and deliver 653,000 desks to designated schools by the end of next week.
He said learning programmes are in good progress for Grade Four, Standard Eight and Form Four learners. He said Grade Four pupils will move to Grade Five and if there will be a double class next year, it will not interfere with the Competency Based Curriculum (CBC) programme.
Magoha said the ministry is crafting the next school timetable so that any decision will be made in good time.
He also toured the ongoing Sh100 million Kapsisiywa Library funded by the government in honour of marathon record holder Eliud Kipchoge.
"Work is in progress and the library will be concluded and equipped within stipulated time and President Uhuru Kenyatta will inaugurate it," he said.