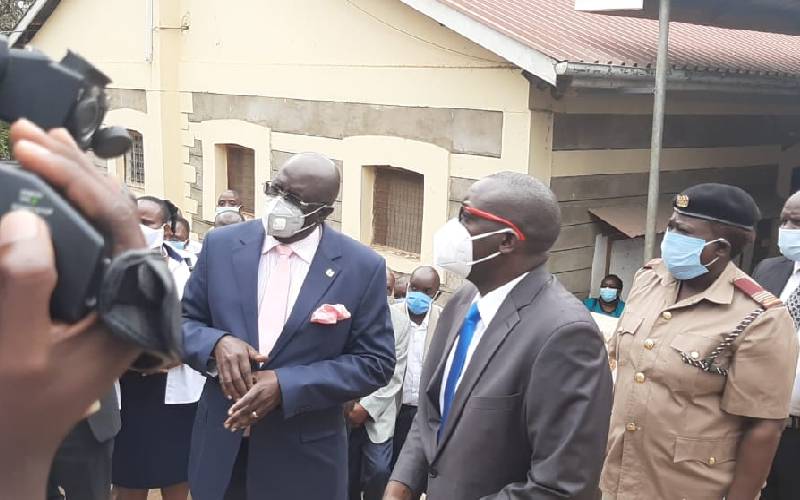 Education Cabinet Secretary Prof George Magoha on Friday read the riot act to administrators of the Wote Technical Training Institute on its preparedness to deal with Covid-19.
He said the college principal has not taken the necessary measures to make the school safe for learners.
According to Magoha, the borehole put up at the college two weeks ago is not sufficient.
"I addressed them more than six weeks ago and if their strategy was to get a borehole done, it should have been done earlier than that."
The CS added that without flowing water, the need to keep the school safe during the pandemic would be problematic.
The institution students have to fetch water from outside the facility as there is no running water.
Magoha also criticised the lack of water harvesting material at the college.
The general outlook of the school was also wanting, according to the CS, who urged the administrators to take advantage of the Kazi Mtaani project that would accord them cheap labour.
"If you are not ready to do it, we shall get somebody else to do it...it is not a threat, but we really must get our children back to school."
The government has warned that any private teachers training college that will not have its staff members tested for coronavirus will not be allowed to open.
CS Magoha said testing of staff for the virus will be mandatory for all public and private colleges. "If you don't test your teachers and other staff members and you are operating a private college, you should rest assured that we will not allow you to re-open," said Prof Magoha.
He spoke in July at the Kenya School of Government, Embu Campus, during a consultative meeting on re-opening preparations for principals of teachers training colleges.
University lecturers have expressed fears of catching coronavirus if proper measures are not put in place to protect them before learning resumes.
The more than 10,000 teaching staff said a number of them, especially professors, are already in the risk category by virtue of age.
Most of the professors fall within the age bracket of 50 years and above.
The lecturers, through University Academic Staff Union (Uasu) want those with underlying conditions, and who will be in direct contact with students to be afforded greater protection.
Colleges are scheduled to open in September and schools in January with strict adherence to health protocols like social distancing to curb spread of coronavirus.