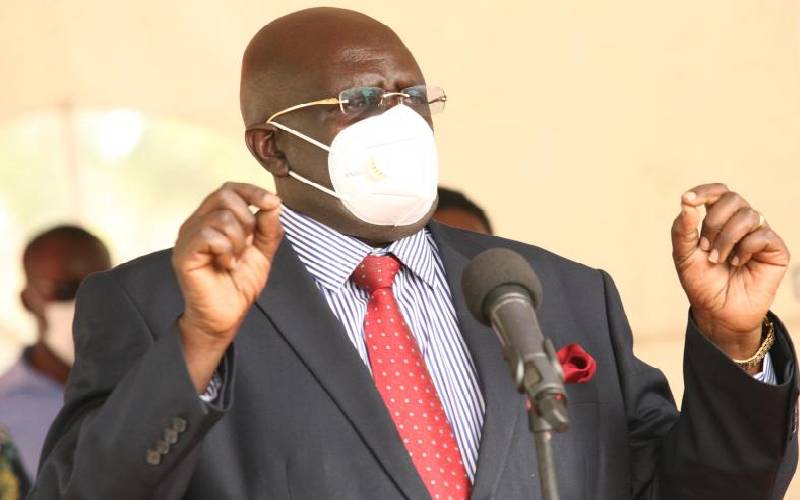 The Government is ready to roll out community-based learning in primary and secondary schools across the country, Education Cabinet Secretary George Magoha has said.
Prof Magoha said his ministry in conjunction with the Teachers Service Commission (TSC) and Ministry of Interior were ready to start mounting the programme. He said TSC had mapped out teachers to be involved under the programme.
The minister also clarified that the programme is not tied to the payment of their salaries.
"Teachers' participation in the programme is not tied to the payment of their monthly salaries," Magoha said, clearing fears of holding the salaries of teachers who would not take part in the exercise.
Already, government has released guidelines on how the exercise will be implemented. He encouraged teachers who are yet to enrol to do so to facilitate the running of the programme.
According the guidelines that were developed by the Ministry of Education, Kenya National Examinations Council (Knec), TSC and the Kenya Institute of Curriculum Development (KICD), teachers are supposed to engage primary and secondary school learners differently in the programme which starts on September 1. The programme is targeting learners who are not able to access the digital and mass media learning platforms already in place.
The expected outcomes at the end of the programme is that learners should be able to cope with the social and emotional effects of Covid-19 and identify the right information about the disease.
They are also expected to undertake basic and numeracy outdoor games, express themselves through different ways such as poems, songs, drawing, presentations and posters and participate in community service learning.
The teachers are expected to develop learning activities around life skills, values, guidance and counselling, and psycho-social support.
Core competencies
The tutors should integrate core competencies in all learning activities. According to the guidelines, the competencies include communication and collaboration to ensure learners communicate effectively, both orally and in writing.
Other aspects are critical thinking and problem solving, creativity and imagination, digital literacy, citizenship, learning to learn where teachers will assess the learners' readiness to respond to change and self-efficacy to see that learners are confident, able and willing to take on responsibilities.
The learners should also be able to identify and analyse problems and challenges and seek creative solutions. For primary schools, learning activities will be based on life skills and values, health and fitness educational activities and environment and sanitation.
For secondary school students, learning activities will be based on citizenship, environment, creative arts, languages, games and fitness, life skills, home science, mathematics and financial literacy.
Those targeted in primary schools are Grades One to Four and Standards 5 to 8. According to the guidelines, learners in this category will under life skills and values, learn about facts and impact of Covid-19. They will also learn poems, stories, songs, singing games, passages on self-awareness and self-esteem and discuss the importance of values.
Secondary education guidelines target teachers who will be facilitating learners in secondary schools. The learners are to be divided into two cohorts: Forms 1 and 2; and Forms 3 and 4. [The Writer is a 2019/2020 Bertha Fellow]