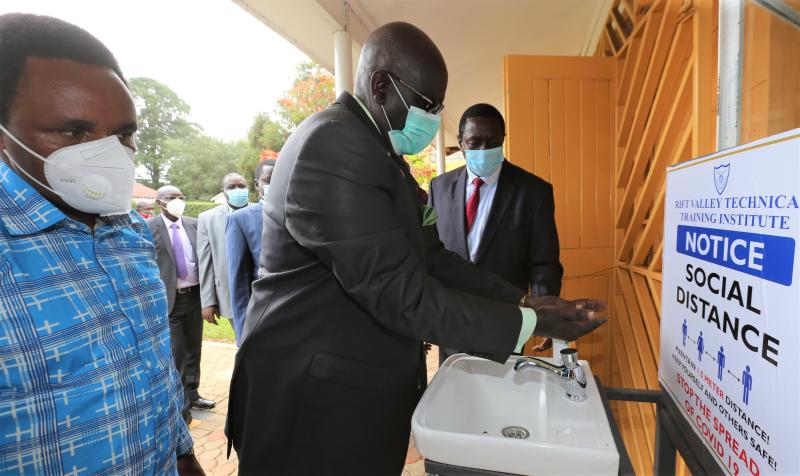 Education Cabinet Secretary Prof George Magoha has accused critics of community-based teaching and learning model of misinforming Kenyans.
The concept has been introduced to engage learners currently at home following suspension of learning in March in a bid to stem the spread of Covid-19.
Speaking yesterday in Eldoret after touring Eldoret National Polytechnic and Rift Valley Technical Training Institute to assess the institution's Covid-19 preparedness, the CS said the community-based model had been approved by all education stakeholders.
Read More
"The concept of community-based teaching is tailored to engage learners during this extraordinary time and was sanctioned by the parliamentary education committee, teachers' unions among other stakeholders," said Prof Magoha.
He accused critics of the model of "twisting" the concept.
"It is regrettable that people have decided to twist the idea of community learning. It was meant to teach students within the locality they live in.
"If you live in a gated community that has about 30 children and there is one teacher there, why are you saying that you want Personal Protective Equipment? If you do not want to teach our children then don't. This noble concept was brought up to engage our children," said Prof Magoha.
He maintained that schools would remain closed, and that the ministry would continue to rely on the Ministry of Health statistics to determine when learning resumes.
"In countries like the US, where there has been an attempt at reopening, over 100,000 children have been infected with the virus. Going by the statistics, between 500 and 1,000 children might die. We do not want our children to go through such (a scenario)," he said.
The Teachers Service Commission (TSC) earlier this week directed all teachers to submit details of their current location and immediately start teaching small groups of students in their neighbourhoods under the community-based learning programme.
On payments for teachers hired by school boards, the CS blamed head teachers for giving incorrect data, saying this had delayed disbursement of cash.
Loss of money
"As a ministry we will not allow the loss of any money, that's why we are verifying data received. If need be, we shall visit individual schools," he said.
He said money to pay school board-hired teachers as directed by President Uhuru Kenyatta was ready.
However, suppliers of schools will have to wait longer.
According to the CS, the ministry was wary of releasing cash to pay suppliers out of concerns about possible graft.
"I will not address the issue of supplies now because there is a lot of corruption allegations about it and I am not ready to go to jail," said the CS.
He was accompanied by, among others, the ministry's Principal Secretary Dr Belio Kipsang, cabinet administrative secretary Zack Kinuthia and MPs William Chepkut (Ainabkoi) and Silas Tiren (Moiben).
The CS said reopening of colleges and universities would depend on whether they meet all the requirements of the Health ministry to contain the virus.