It's no pay, no gain for teachers in all private schools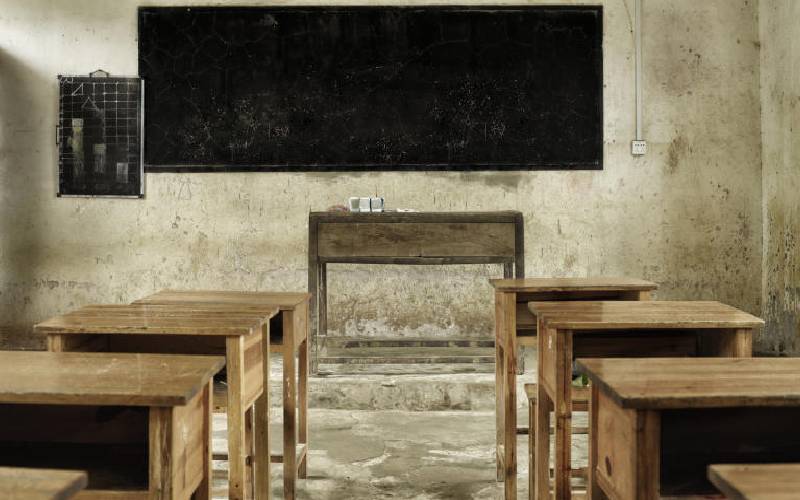 Hundreds of teachers and other staffers in private schools have lost jobs, while others have been sent on unpaid leave or subjected to huge pay cuts as Covid-19 threatens to bring down the institutions.
The financial crises in the schools have resulted in ejection of the tutors from their rented homes, some unable to take care of their medical bills after the institutions also stopped remitting statutory deductions to the National Hospital Insurance Fund (NHIF) due to the cash crunch.
The devastating economic impacts of the viral disease have consequently forced others to do menial jobs, even hawking in the streets, while others have been pushed into depression.
At the same time, proprietors of the schools spread countrywide are reeling under the weight of huge running bills in what could push them to permanently shut down.
The pronouncement by Education Cabinet Secretary George Magoha that schools will remain shut till next year and that the institutions return school fees paid for second and third terms has further pushed the institutions to the wall.
In Kisumu, Elite School sent home all the 18 teachers on unpaid leave in May.
Director Michael Oliech, who is also the Kisumu County Secretary for Kenya Private Schools Association, said they had no option but to send the teachers on leave. "We understand that every business is feeling the pain, and we thought we could also benefit from the Covid-19 fund to cushion businesses, which we could have used to cushion teachers. But currently we can't help and will wait for the reopening of schools," said Oliech. For Methusael Fidah of Victoria Breeze Academy, most of his staff have been forced to venture into other alternative income-generating activities in order to survive. Some have resorted to fishing while others are farming as they wait for schools to open.
With more than 10 staff, Fidah says he cannot pay them because they entirely depended on school fees. "I've now stopped remitting levies such as NHIF and NSSF for my staff because of the prevailing condition," he said.
Eagele Apex Hill School in Subukia has since sent home 30 per cent of its teaching staff. The school was forced to house six teachers since they could not raise rent after schools were closed.
The school's director Peter Kibunja said the biggest challenge remained the unavoidable expenses such as security and electricity. "Without learners, the same level of security has to be maintained. Electricity bills have dropped by a negligible percentage. With heavy rains and no learners, grass in the playgrounds is growing fast and has to be maintained," said Kibunja. He said the school continues to give partial payments to teachers, and only when funds are available.
Prof Mirriam Kinyua, the proprietor of Kagaki Schools, said she has spent much of her savings on unavoidable expenses such as insurance policies and statutory deductions. "I had a discussion with my staff. I am still remitting their NHIF and NSSF deductions on humanitarian grounds. I am avoiding a situation where one would fall sick and lack access to healthcare," said Kinyua.
St Ninian's School, sponsored by PCEA church, last month appealed to parents for advance payment of fees. "Our humble request is for your financial support of Sh2,000 as advance school fees payment to facilitate urgent school programmes. The fees paid will be factored in the term during which the schools will reopen," a circular to parents read.
According to headteacher James Gathoga, the institution has been struggling to meet its recurring expenses. In Embu, some private schools sent teachers on unpaid leave while others effected pay cuts.
Tenri Primary School effected a pay cut of between 50 per cent and 70 per cent, and removal of all allowances on its permanent staff. Casuals were laid off.
To stay afloat, the school encouraged parents to pay fees for future terms to qualify for a discount of between 10 per cent and 20 per cent. The school also resorted to online teaching to get some money from learners.
Head teacher James Kariuki said after schools closed, they opted for online learning for Standard Seven and Eight, which they later extended to Standard Five and Six.
"We would offer three lessons every day at no cost. However, after the ministry announced that schools would reopen in January, we have introduced online learning to all classes at a fee," said Kariuki.
Closed down
Mukundi Mwai, director of St Teresa Kanyange in Othaya Town, said they had closed due to the pandemic but were ready to resume when government directs.
Mwai said the pandemic and closure had not been anticipated, but the school retained 70 per cent of its teachers. "Most of our teachers live in staff houses, so they have been spared the burden of rent and utilities," he said.
Chairman of Murang'a Private Schools Association Elisha Ndung'u urged the county government to bail schools out. "If the schools will open, there is a need for a bailout from the government to help private ones remain in business," said Ndung'u.
John Baidoo, a director at Ripples International School in Meru, said they had been adversely affected. "Austerity measures are becoming the order of the day. Teachers are being offered half salary because schools are no longer making profits. This has led to some of the teachers switching to 'side' jobs to survive," Baidoo said.
He said private schools were not prepared to do a switch from regular school meetings to virtual platforms. "There have been huge cost implications for these schools in terms of investment in new equipment and training of staff. Assessing pupils' work has not been easy," he said.
A spot check by The Standard in western region yesterday established that schools had also been forced to send support staff home on unpaid leave.
Some have resorted to closing down schools and even notified parents to consider transferring children to other institutions once schools reopen. "Private schools have been hard hit and we are now not able to meet operational costs given that pupils are not in school and parents are also not paying fees. Everyone has been affected and the situation is dire," said Ruth Minish, the Fesbeth Academy director.
Western Region Private Schools Association Secretary General Constance Ambasa said with the prolonged shutdown, many schools risked closing down permanently, as they will not be able to comply with the Ministry of Health set protocols on social distancing before they are allowed to reopen.
"We rely on school fees and when schools were closed in March, we used the little we had to run the school, hoping that by May the situation would have normalised... We have put our teachers and workers on unpaid leave," said Dr Ambasa, the proprietor of Exceed Academy in Ikolomani, Kakamega.
Economic reality
Ambasa has, however, allowed teachers who have been unable to pay rent as well as providing for their basic needs to stay within the school premises and get food.
"We need grants from the national and county governments under the social protection fund to enable us stay afloat and cushion the teaching and non-teaching staff from the adverse effects of Covid-19. The ripple effects of closure of schools are very devastating," said Ambasa.
Field of Life Academy, Mumias may not reopen in January. The school head teacher Zainabu Osinga said its bank accounts ran dry in April.
"Since the closure of schools in March, it has been challenging for private schools because we have been starved of fees and the situation is expected to worsen come January," said Osinga.
The academy sent its 23 teachers on unpaid leave after the institution's management failed to raise salaries. "We could not cater for our staff so we explained the situation... they agreed to unpaid leave," said Osinga.
The management has, however, continued to pay for the teachers' health insurance.
At Junior Academy Manyulia in Khwisero, its 13 teachers and five non-teaching staff were last paid in April.
The school's director Lilian Pesa said its future would depend on how the government chips in to help private institutions. "The government is the only savior remaining for private institutions. If they allocated a loan or even a grant to be given to the schools, that will save the sector," said Pesa.
The Standard has established that some schools still paying their staff half salary, like Nambale Magnet, are contemplating stopping.
The school's director Evalyne Wakhusama yesterday said should the situation remain as it is to next year, they will be at risk.