Schools opening headache for CS Magoha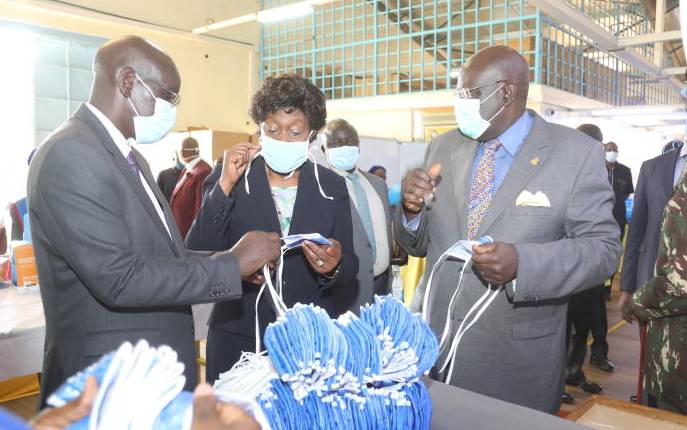 The government is facing a major challenge of ensuring social distancing will be achieved among learners when schools open in September.
With inadequate classrooms to accommodate the current high number of students in public schools, a proposal to have between 15-20 learners per class presents a serious challenge considering the already overcrowded institutions.
Education Cabinet Secretary George Magoha yesterday admitted that implementing this proposal will be a challenge and hinted that the government may rely on facemasks for each learner to lessen the impact.
"You know and I know and everybody knows that this is going to be a challenge. The more reason we must make sure that masks are made of the right material and that they are of good size for the learners," said Magoha.
Prof Magoha announced yesterday that each learner will be given two masks, adding that enhancing proper usage will also be a challenge.
The CS spoke yesterday in Kitui town after touring Kitui County Textile Centre (Kicotec), where some of the masks are being made.
Magoha also toured Rivatex East Africa in Eldoret where he inspected the progress of manufacturing of the face masks.
Kitui Governor Charity Ngilu said Kicotec has enough capacity to produce high quality masks and in large numbers, noting that a single tailor was currently producing 1,500 masks per shift.
Magoha said his ministry had held discussions with five different face mask manufacturers in the country, including the National Youth Service (NYS), to ensure they are ready before school's re-open.
The CS said the ministry will also avail thermo-guns and sanitisers to schools in line with the laid down safety measures before learners are allowed back to school.
He said preparations had already started across the country by a joint team from his ministry and the Ministry of Health to ensure they comply with established safety measures.
"The elephant in the room is implementation of social distancing because our schools are already filled to capacity," he added.
Sources familiar with schools opening plans revealed that with limited facilities to effectively implement social distancing, Education ministry might implement a shift system to avoid overcrowding.
Magoha revealed that there were plans to increase the number of classes, but questions have emerged on whether this will have been realised by September.
Some education stakeholders have proposed use of tents as short-term measures to achieving social distancing.
Some Sh2.1 billion has been allocated for the construction of additional classrooms in secondary schools and another Sh700 million towards improvement of infrastructure in low-cost boarding schools in arid and semi-arid areas.
Also allocated is Sh1.9 billion for the provision of at least 250,000 locally fabricated desks for secondary and primary schools.
Having enough teaching staff for the split classrooms will also pose a serious challenge for the ministry. In primary schools, one teacher presently mans a class of about 50 children. This means that this class will be split into two, requiring two teachers. Teachers will be trained on safety measures ahead of reopening.