Train teachers to produce quality e-learning content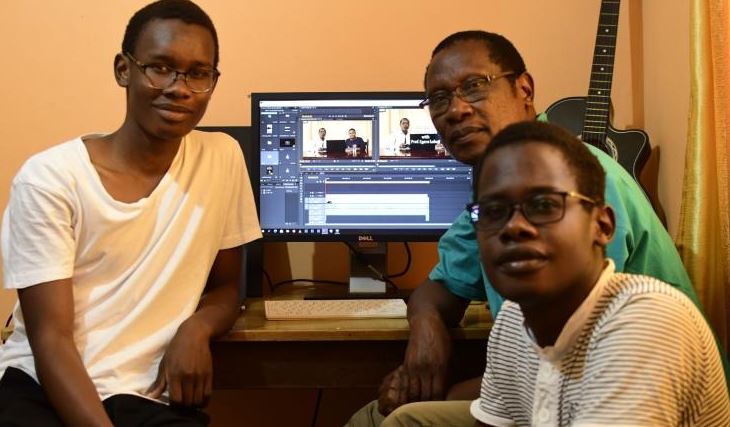 When Covid-19 struck, the government ordered the closure of schools and learning was paralysed.
Following the closure of learning institutions, and in line with the presidential directive on containment of the spread of the coronavirus disease, 15 million primary and secondary school learners are at home.
To ensure learning goes on, the Kenya Institute of Curriculum Development (KICD), a State body under the Education ministry, has intensified delivery of school programmes through radio and television broadcasts.
And as the country waits for the implementation of recommendations given to Education Cabinet Secretary George Magoha by a nine-member technical team for re-opening of schools, some parents, teachers and other stakeholders have devised ways of teaching learners idling at home.
Egara Kabaji, a renowned university lecturer of communication and literature, has launched Egara Kabaji TV - a television channel to support online learning by providing digital educational content.
Prof Kabaji, a lecturer at Masinde Muliro University of Science and Technology (MMUST), says he saw the need to intervene and make his contribution, specifically in the area of teaching the English language.
He argues that he is equipped to conduct the lessons, given that he is a trained teacher of the English language and literature, and licensed by the Teachers Service Commission (TSC) to practice.
Kabaji has co-authored a variety of teaching resources, including the famous Test it & Fix It English text book, and Spot on Comprehension, among other learning resources.
He has a small studio in his house in Kahawa Sukari estate where the programmes are produced. He also uses his studio to teach his students at MMUST.
He produces his videos with the help of his children. His sons, Nneka and Pambi, provide technical support.
Nneka, 22, is a final-year film technology student at Kenyatta University while Pambi, 16, is a Form Three student who is 'madly in love' with software development.
His daughter, Brenda Midika, a teacher of the English language who holds bachelors and master's degrees in English, often lends a helping hand.
Language skills
"At Egara Kabaji TV, we are interested in supporting digital learning, and to support learners to learn literary texts and language skill pleasurably for free. The videos on the channel are professionally produced because I have been in broadcasting for a long time," Kabaji said.
The channel comprises four play lists, namely KCSE English, which is dedicated to teaching and preparing high school students for the English exam, Matters that Matter that deals with moral, economic and cultural and economic issues, The Story Behind the News that highlights researched background information about contemporary news, and Writers Clinic that teaches creative writing skills.
The lecturer said plans are underway to introduce another playlist called African Tales that will focus on children's stories to support digital learning under the competency based curriculum. Kabaji argues that the traditional grandmother who used to tell children stories is gone and storytelling has to move to the digital platform.
Kabaji, who also serves as president of the Creative Writers Association of Kenya, is passionate about open and distance e-learning.
"I studied at the University of South Africa (UNISA) which is the largest open and distance learning university in Africa and ranks among the best 10 universities in Africa. UNISA is defined as a mega university with over 480,000 students. It has more students than all students in Kenyan universities put together," he says.
He continues: "If such a university is established here, it would enable Kenya to play a modest role in contributing to the resolution of global problems of providing educational access to the masses and training of teachers on e-learning. Modern technology has made it necessary to shift from the traditional face-to-face classes. Teaching can now be done through experts situated anywhere in the world. This drastically reduces the operational costs in provision of educational services."
Kabaji is critical of detractors of open distance and e-learning. "Those who argue that there are some disciplines that cannot be taught online are ignorant of modern day pedagogical methods."
The prolific writer of children's literature with over 30 fictional books argues that the exorbitant charges for online learning at all levels are unrealistic. All his programmes are free and can be used for educational purposes.
His approach to teaching KCSE English is guided by a strong belief that guidebooks should never be used during an English lesson.
"What I do is open the text for the student to engage the ideas being discussed and that is what all teachers should do."
Kabaji believes that literature should be made applicable to the learner's lives.
"Teachers have to appreciate the fact that as they teach Henrik Ibsen's 'A Doll's House', Ole Kulet's 'Blossoms of the Savannah' or John Steinbeck's 'The Pearl', they should domesticate the ideas and apply them to the learners' experiences. Literature should help learners acquire life skills and knowledge, and not just enable them pass examinations."
Kabaji acknowledges the heavy input that goes into production of the online courses. "We need to empower teachers to learn how to prepare these materials."
He also says he is aware of limitations of e-learning due to infrastructure gaps in terms of electricity and internet connectivity.
Kabaji's plea is that all efforts should be made not to disadvantage any of the children especially the under-privileged. His view is that all efforts should be made to support e-learning because that is the future of education.