MKU recalls retired VC to lead varsity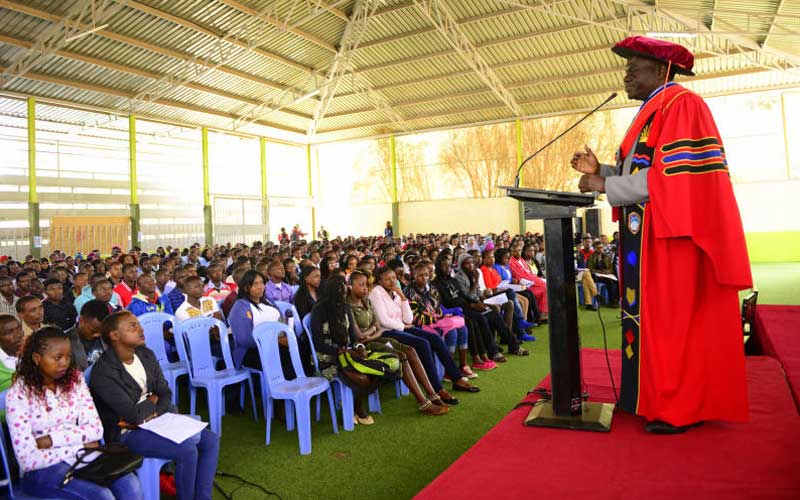 Mount Kenya University has extended the contract of former vice chancellor Prof Stanley Waudo until further notice.
Communication from the university council chairman Prof David Serem explains that the newly appointed VC is holed up in one of the East African countries and is unable to travel back home due to the Covid-19 pandemic.
Serem also said that the VC Prof Peter Wanderi, who stays outside Nairobi metropolitan area and whose contract also expires today is also unable to access the premises.
Consequently, the university recalled the outgoing Prof Waudo to serve until further notice.
"In view of the above and in consultation with the board of directors, the university hereby extends your appointment as VC with immediate effect until we announce the new vice chancellor and the situation enables you to hand over the office," said Prof Serem in a letter to Prof Waudo.
The university granted Prof Waudo six months terminal leave on October 28 last year pending expiry of his contract today.
Process of recruiting a new VC had started and Prof Waudo was due to hand over to the new person today.
"However, due to the current global situation owing to the Covid-19 pandemic that has led to movement restrictions and international entries and exits, the incoming VC is unable to report to the university as he locked down in a foreign country," reads the letter.
Prof Waudo makes a comeback after serving the university for 11 years.
Speaking to The Standard before his retirement, Prof Waudo said under his leadership, MKU had witnessed tremendous growth.
"The university is well-grounded in terms of necessary strictures to maintain offering of quality training. Kenyan university education has become very competitive but I am happy to say that MKU has an edge above the rest" he said.
Waudo listed major growth in students' population, creation of campuses, infrastructural development and improved quality of education.
He also cited the establishment of seven campuses and four teaching centres across the country approved by the commission for University Education (CUE) as major milestones.
Prof Waudo said under his tenure, the university had been very keen on quality guidelines set out by various regulatory bodies.
This he said led to the university in 2012 being granted ISO 9001-2008 certification by the Kenya Bureau of Standards (KEBs).
The university was also awarded the revised standard ISO 9001:2015 QMS – in September 2015.
The VC also says student population has under his watch grown from the initial 2, 000 to more than 40, 000.
He said that MKU has sent out 95, 880 graduates to the job market thus being a leading contributor to human resource development.