More teachers utilising Sh9b medical scheme, says report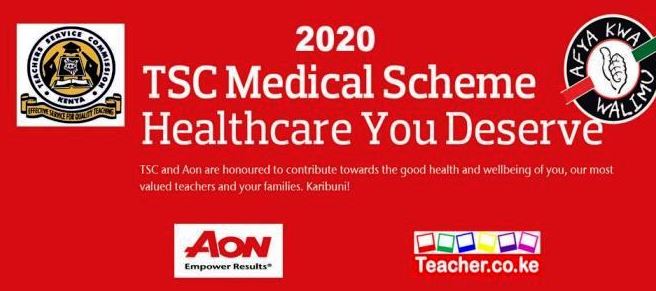 Seven counties have accounted for nearly half of the total hospital visits by teachers in the last six months, a new report shows.
Analysis of data for the Sh9 billion teachers medical scheme also shows that for the sick teachers, malaria was the most common ailment followed by pneumonitis, anaemia and gastritis.
Nairobi, Uasin Gishu, Meru, Nakuru, Bungoma, Kisumu and Kakamega had the highest hospital visits by teachers from September 1, last year.
These counties had a total of 122,344 hospital visits by ailing teachers, or 44 per cent of a total 273,534 hospital visits during the period.
Data from the Teachers Service Commission (TSC) medical scheme shows majority of the tutors who fell sick during the period were from Nairobi.
By end of last month, some 21,024 teachers had visited hospitals in Nairobi for treatment or check-ups. At least 20,972 hospital visits were recorded in Uasin Gishu.
Meru registered 19,297 hospital visits as 18,106 were recorded in Nakuru and another 17,083 in Bungoma.
Kisumu recorded 13,840 visits while Kakamega had 12,023 to cap the top seven counties with the highest hospital visits by teachers.
Other counties were Migori (9,223 hospital visits), Kisii (8,612), Nyeri (8,494), Embu (7,947), Mombasa (7,850), Kiambu (7,334), Kilifi (7,310) and Siaya (6,987).
Kericho recorded 6,065, Kwale (5,937), Busia (5,729), Baringo (5,626) and Nandi had 5,223. The other 27 counties had a total of 58,453 visits.
The TSC medical scheme report attributes the high number of hospital visits in the seven counties to the many existing predisposing factors to various ailments in the regions and in some cases, the huge number of beneficiaries.
Common ailments listed under the scheme are malaria, pneumonia, gastritis, fracture, gastro enteritis, septicaemia, anaemia, peptic ulcers, hypertension and tonsillitis.
Rift Valley region has the highest number of listed beneficiaries at 278,467. Eastern region is second with 178,967 while Nyanza has 175,495, Western 137,568 and Central 111,466. Others are Coast with 63,529, Nairobi 19,678 and North Eastern 16,511 beneficiaries.
"Since inception of the scheme in 2015, an average of hospital visits per year is 159,060, which translates to 5,302 visits per day," says the report.
Data from the medical providers show under the current (2019/2020) financial year, a total of 273,534 hospital visits have so far been recorded by teachers and their dependents.
Of these, 153,046 teachers, who are the principal members, have visited hospitals for various medical reasons.
At least 125,750 teachers sought outpatient services, 6,677 were admitted as 1,934 maternity cases were recorded by last month. Some 10,674 teachers went for optical services as another 8,011 went for dental check-ups.
This means that the teachers are the biggest beneficiaries of the cover with many of them – principal members – visiting the hospitals.
Teachers' spouses recorded only 42,329 visits with 38,495 daughters and 39,664 sons of the principal beneficiaries treated over the same period.
The medical scheme is designed around pooling of medical allowances from teachers into a consolidated fund to provide a comprehensive medical cover for eligible teachers and dependents.
The TSC scheme began in July 2015. TSC contracted AON Minet on July 1, 2015 to manage the multi-billion shilling medical plan. The contract has been renewed annually since then.
Last October, Minet got a new three-year deal to manage the cover under enhanced benefits for all teachers employed by the government.
Teachers and their dependents enjoy enhanced inpatient, maternity, dental, optical, group life and last expense (funeral) covers.
Under the enhanced cover, inpatient was increased to between Sh750,000 and Sh2.5 million. Previously, this cover ranged between Sh500,000 to Sh1.5 million across the various job groups.
Outpatient cover, which was unlimited until last year, is now capped between Sh100,000 to Sh375,000 across job groups.
Teachers are only required to pay Sh50 as co-pay for dental, optical and outpatient doctor consultation services.
This, however, does not apply on repeat visits for the above services within seven days from the date of previous visit, or when picking medication for chronic conditions.
Other enhanced benefits are under optical cover, for which teachers and their dependents have a total of Sh45,000. Previously, it ranged between Sh10,000 and Sh25,000. Dental cover is presently capped at a flat rate of Sh35,000 up from between Sh10,000 and Sh25,000.
Maternity cover, previously capped at Sh75,000, has been enhanced to between Sh100,000 and Sh200,000.
The scheme started with 288,060 teachers and offers inpatient, outpatient, maternity, dental, optical services as well as death in service benefits to surviving dependents.
Latest data reveals that the scheme today covers a total population of 1,005,786 members. Among these are 323,499 teachers who are the principal members and 178,190 spouses. The scheme covers 257,031 sons and 247,066 daughters of principal members.
Other benefits within the cover will include psychiatric and counselling services and provision of psychosocial support programmes for employees.
Services such as psychosocial counselling, on site counsellor in some special instances and referrals for face-to-face counselling by specialist counsellors are also provided.
Also included will be stress and post-traumatic counselling, relationship difficulties, anxiety and depression, parenting, legal or financial distress and telemedicine – where doctors are consulted through videos or mobile phones.
Some 284 beneficiaries have been taken abroad for treatment under the cover. The report reveals cancer tops the list, at 38 per cent, of cases taken abroad. Heart surgery is second followed by aneurysm, leukemia, kidney transplant and nervous system disorder.