Relief for needy students as fund releases Sh30m bursary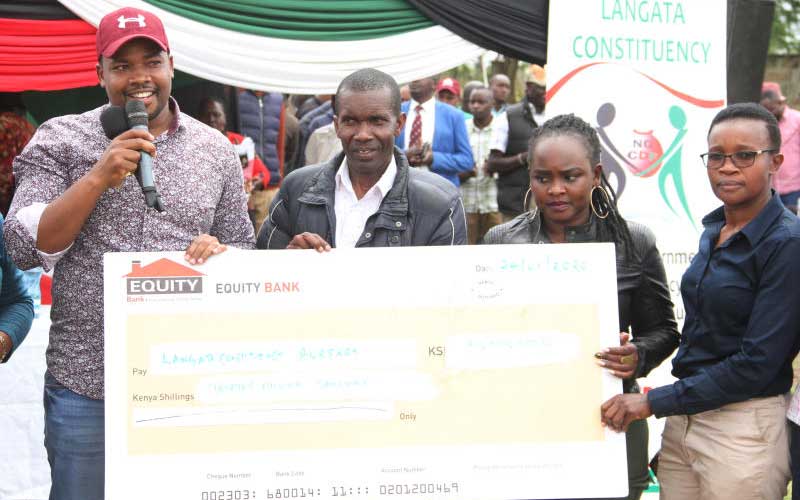 The Lang'ata National Government Constituency Development Fund (NG-CDF) has released Sh30 million in bursary to learners in various schools and tertiary institutions.
Area MP Nixon Korir issued cheques worth Sh20 million to 3,400 secondary school students at Uhuru Gardens, Nairobi, yesterday.
Sh10 million will be released to more than 1,000 students in tertiary institutions next week.
Parents and guardians of applicants for the bursary in the constituency received the cheques.
Langata NG-CDF chairperson David Muchai noted that about 4,000 students applied for bursary but about 500 were rejected for not being residents of the constituency.
The committee said it was working on the need basis with slum areas in High Rise, Raila Village and South Land in Mugumoini taking the largest proportion.
"One of our pillars is transparency. Several years back, there were accusations of bursaries being sold but we have weeded out of the system that is why we issue them in an open manner," said Donny Langat, a committee member.
He said the NG-CDF committee was focused on community based projects where there was public participation to ensure all residents are involved in development agenda.
The MP said the cheques for amounts ranging between Sh5,000 and Sh10,000 depending on the level of need of the parents, were issued.
Mr Korir said needy cases that stood out, especially where children joined national schools, will have their concerns addressed separately by the committee to ensure learners' education is not interrupted for lack of fees.
"We have bright students who have also received full scholarship through other forms of funding including my (Nixon Korir) Foundation," the MP said.
The legislator further announced that through the NG-CDF, he was planning to construct more secondary schools and Technical and Vocational Centres to ensure residents access affordable institutions.
Langata Constituency has 12 public primary schools churning out hundreds of students that do not correspond to the vacancies in the three secondary schools in the area.
"We are planning to construct at least three secondary schools in the next three years so that we can have more opportunities for candidates transitioning to secondary schools," said Korir.
He noted that the NG-CDF committee has already allocated Sh10 million for construction of Kongoni Secondary School and was awaiting approval from the Slum Upgrading Project.
"We are waiting for them to allocate us land and we start the construction," he said.
However, Korir decried the change of laws through the CDF Act that limit the use of the funds to national functions alone saying that made it impossible for MPs to intervene in other areas of development.
"In the past, CDF could be used to support businesses for women and youth but now we cannot do that. We are forced to do it at individual capacity and through other support channels," he said.