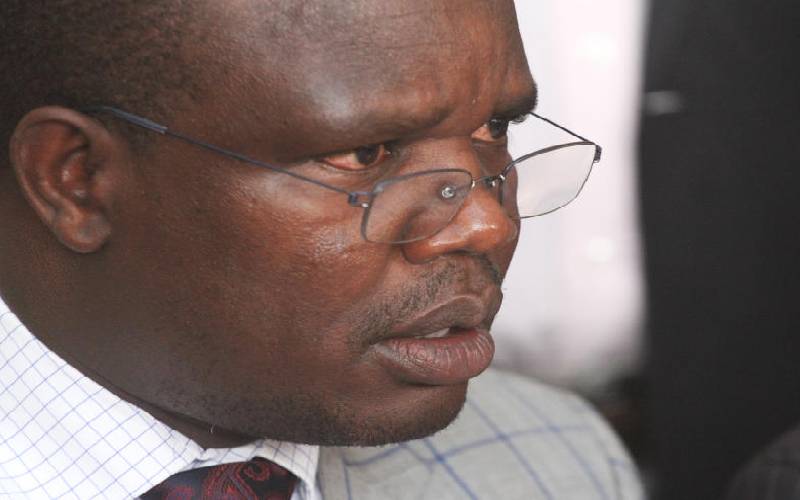 Vice Chancellors will today hold a crisis meeting after the Salaries and Remuneration Commission (SRC) rejected a Sh14 billion salary increment demand for university workers.
The SRC maintains that based on staff numbers and agreed percentage salary increments, the total amount for the 2017-2021 Collective Bargaining Agreement is Sh8.8 billion.
The Standard has established that disquiet has hit the Inter Public Universities Councils Consultative Forum (IPUCCF) joint negotiation committee after the SRC contested staff numbers submitted by the VCs.
This comes as University Academic Staff Union (Uasu) is already piling pressure on VCs to honour the CBA agreement they signed on October 28, 2019 with a strike threat hanging over the institutions' management.
Read More
Uasu Secretary General Constantine Wasonga (pictured) yesterday faulted the SRC for rejecting the mutually computed figures.
"SRC issued the salary structures to IPUCCF which in turn gave it to us. We agreed and signed it. After calculations, the figure came to Sh13.8 billion we do not know any other figure and they must put their house in order," said Wasonga.
He said SRC is insincere in its argument, noting that calculations were done in the presence of commission's officers.
"They cannot run away from their salary structure. Everyone was present during computations and they should tell us how they arrived at Sh8.8 billion," said Wasonga.
It emerged yesterday that the strike threat from Uuasu has caused panic among public universities management with original plans made in December to pay up the Sh8.8 billion shelved.
"A meeting was held last year in December and we agreed to pay the amount available to us as we negotiate the balances," said one of the VCs.
According to the 2017-2021 CBA signed by Uasu and IPUCCF, the workers were to get adjusted salaries backdated to 2017.
Implementation notes of the CBA say that the money was to be paid on or before November 30, 2019.