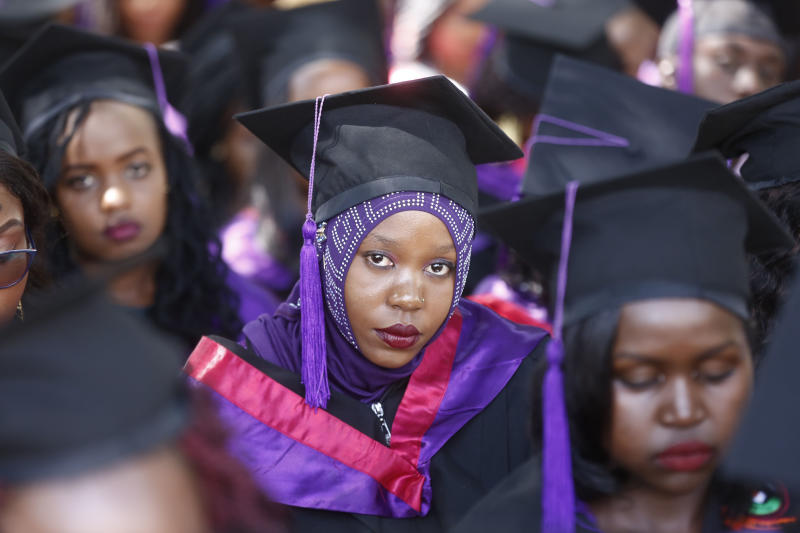 Kabarak University has been hailed as hub of innovation, technology and research in the region having represented Kenya in international competitions.
During the 15th graduation ceremony, the university was hailed for taking leaps as a regional academic giant currently rivaling renowned international universities.
In it's rising trend in conquering the international arena, Kabarak was recognised for representing the country five times in Hult Prize competition, also rising to become Centre for Christian Bioethics in Africa, a conferment by Trinity International University.
Leading competitor
Hult Prize, said Vice Chancellor Henry Kiplagat, is one of the world's most acclaimed entrepreneurship programmes bringing together more than 1,500 universities across 21 countries.
Kabarak University has raised Kenya's flag high, ranking as one of the leading competitors in Hult Prize, with it's latest presentation placing them second after Harvard University.
The presentation that propelled the university to second position, and top in the region, was a project known as E-Biz. The project seeks to promote environmental conservation through collection and recycling of electronic waste.
The university has since qualified for the 2020 Hult Prize in it's quest to become the ultimate global winner of the prize.
"In 2016, Kabarak University represented the country, ranking 12th. In 2017, the university ranked ninth, in 2018 we came fifth and in 2019, we came second after competing with universities like Harvard, Brown, Metropolitan, University of Waterloo and Pennysilvania," Prof Kiplagat noted.
While rising to claim global recognition in research and innovation, the university has made strides to emerge among academic giants in the region with one of the best two teams from Africa.
The project, dubbed Icropal Solution, utilises Artificial Intelligence (AI) to help farmers know and understand diseases attacking their crops.
The project made it to Imagine Cup, Microsoft's premier international competition that gives young developers a chance to show off their biggest and boldest AI solutions to address world's biggest social, environmental and health challenges.
Constant exploration on innovations has also seen students from the university develop a pioneer electronic voting system to arrest cases of divisions in student elections.
Research, technologies and innovations in the university, Kiplagat said, are geared in line with the Big Four agenda, Vision 2030 and UN Sustainable Development Goals (SDGs) through fighting global warming and producing green energy.
Kabarak University Chairman of University Governing council and West Pokot Governor John Lonyangapuo said the university has since experienced growth to become synonymous with quality.
"That is why Kabarak University was the institution of choice by the Ministry of Education to host 2019 edition of the National Music Festivals, and that is why it has qualified five times to represent the country in Hult Prize competition," Prof Lonyangapuo said.
World class
Kabarak University Pro-Chancellor and Baringo Senator Gideon Moi said the 922 graduants have trained with unique and quality virtues that are helpful in a competitive world.
He also urged learners to desist from the scourge of corruption and instead inculcate integrity and sincerity.
"These students have had the opportunity of training in a world class university that upholds dear the core values of integrity, excellence, professionalism, patriotism and being mindful of others, innovativeness and creativity," Senator Moi said.
The university has also been recognised as one of academic giants making leaps internally in the training of law.
Kabarak School of Law has made exploits participating in two international moot courts, a widely recognised process of training lawyers.