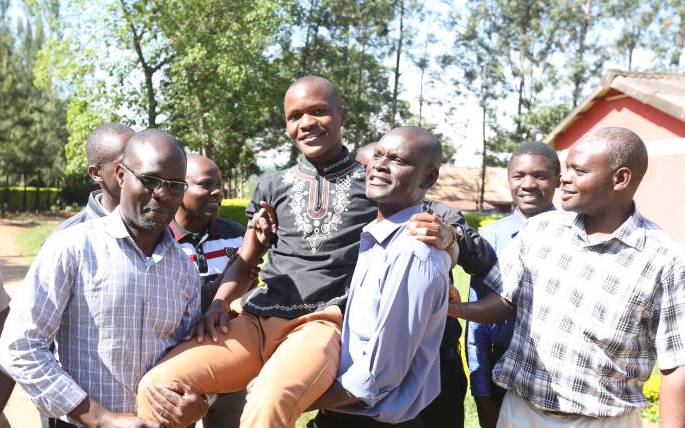 Kisii's former academic giants, Cardinal Otunga High School Mosocho, Nyabururu Girls and Riokindo Boys bounced back to reclaim their place among top performers in KCSE exams.
Cardinal Otunga recorded a mean score of 7.289 up from 5.895 they managed in 2018. Ayiera Gerald, the school's deputy principal, said they registered 191 students, with 122 candidates attaining university entry grades.
"It has been hard work and patience. This is the best results we have attained in the recent past," he said. Nyabururu Girls, with a record 501 candidates, also recorded an A plain with more than 24 A- (minus). Joyce Orioki, the school principal, said the 501 candidates had shown determination and perseverance.
Some 346 students got direct university entry, having attained the pass mark C+ and above. "We are destined for better results in the coming years. Our priority will always remain on giving our students the best," she said.
Read More
Ms Orioki attributed the performance to discipline in the school and a dedicated team of teachers. The national girls school recorded a mean score of 7.514.
Orioki's former school, St Charles Lwanga Inchuni Girls posted a mean score of 7.65, with 10 students attaining grade A- (minus). Some 259 students out of the total registered candidates in 2019 will be joining various universities.
"Riokindo Boys High School posted a mean score of 7.5 having registered 195 candidates. Of these, 168 students got direct university entry.
School principal Fred Mogaka said the results had put the school back on track. "This is exemplary and unexpected. We have a wonderful year and opportunity to show that we are capable despite the challenges, including lack of enough infrastructure."
Mean score
Mr Mogaka explained that it was through hard work and determination from the teachers and students that they achieved success.
Their sister school Riokiondo Girls also earned themselves a position among the top schools in the county, with a mean score of 7.3.
At Kereri Girls, Sparrow Manoti scored an A plain of 82 points to emerge among the top candidates in the county. The school also posted six A- (minus) and more than 32 B+ (plus). The school registered 368 candidates and managed a mean score of 6.861 up from 6.2 they posted in 2018 examinations.
School principal Teresa Atieno said they are optimistic that they will record a better mean in future and will keep improving now that they have gotten their act together.
"Our school is getting back on track because of the support we have received from all our stakeholders. The support has been immense. We had higher expectations, but still we thank God for the performance. Things will get even better in future," said Atieno.