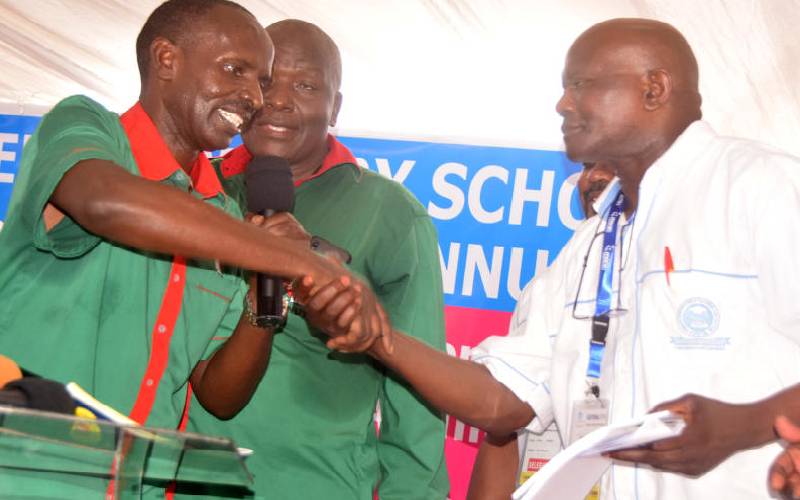 A fresh standoff has emerged between the teachers' employer and union over impending massive transfers of headteachers working in their home schools. The Kenya National Union of Teachers (Knut) yesterday vowed to fight the transfers planned to be executed just before the opening of schools in January. It is understood that the Teachers Service Commission (TSC) has compiled a list of headteachers and principals serving in their home counties for another round of the delocalisation. Headteachers meeting in Mombasa told The Standard that TSC started compiling the list in June.
SEE ALSO: Teachers get more hospitals in medical scheme
Delocalisation of teaching staff started in January 2018, with massive transfers being witnessed in April and August last year. "We are told that TSC decided to conduct the exercise (delocalisation) in December to avoid disruptions," said a headteacher who sought anonymity for fear of reprisals. TSC CEO Nancy Macharia, who is scheduled to address the headteachers today, has defended the policy saying it will improve teaching administration in schools. She said headteachers will not serve in their home counties or be in one school for more than nine years. According to the policy, deputy headteachers and deputy principals will not serve in the same institution for more than six years.
SEE ALSO: Seize Covid-19 induced learning hiatus to improve education system
Yesterday, Knut Secretary General Wilson Sossion said teaching was an "ethnical and cultural practice" and that the decision to move headteachers was misguided. "TSC should not pretend that it can solve a political problem of this country (tribalism) by using teachers. This cannot bring about national cohesion," said Sossion. He said delocalisation was among the retrogressive policies that the union was opposed to as it has led to several teachers resigning or absconding duties. "We should encourage communities to have teachers from their midst. We need teachers who understand their culture and language, especially now that we are talking about Competence-Based Curriculum," he said. According to TSC, only sick teachers or those aged 56 and above will not be affected by the delocalisation programme.
SEE ALSO: Pay CBA deal or brace for war, Knut tells TSC
The State has in the past defended the delocalisation policy, saying it is aimed to address the shortage of headteachers in some parts of the country.