Engineers blame stagnation on tough board rules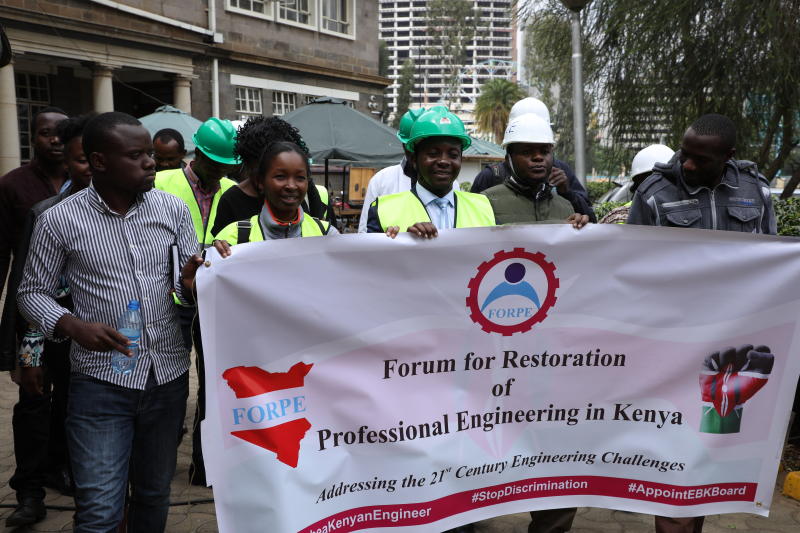 Engineering is one of the coveted courses and only a select few who meet the requirements get admission to university to pursue it.
However, it's note all rosy for many graduate engineers.
Engineers say that the degree does not guarantee one an edge in the job market unless you meet the stringent requirements by Engineers Board of Kenya (EBK) and the Institute of Engineers of Kenya (IEK) that regulate engineers in Kenya.
The situation, they claim is worsened by foreign engineers who are not accounted for mainly from China.
Engineers trained in Kenya are required to undergo three-year internship under supervision of a professional after graduating from engineering school, which takes at least five years.
"After internship, the graduate engineer makes an application to the EBK to become a professional engineer. However, it's the frustration one faces during the process that affects many of us," says Martin Aluga, the organising secretary of Forum for Restoration of Professional Engineering in Kenya (FORPE), which fights for rights of graduate engineers.
Aluga notes that any practising engineer in Kenya must be a member of the regulatory agencies.
Recently, a section of the 13,178 graduate engineers, organised a press conference in Nairobi on September 3 under the Kenya Engineering Sector Working Group, to air their grievances.
Later they marched to the office of Transport, Infrastructure, Housing and Urban Housing Cabinet Secretary James Macharia, to present a petition.
They want Mr Macharia to order an audit of foreign engineers in the country.
"We have many Chinese engineers in Kenya now working on major projects but the question is, are their numbers known, are they documented? An audit should be done on all foreign engineers working in Kenya and the findings made public," says FORPE coordinator Constant Wanyonyi.
Wanyonyi claims that foreign engineers, some of them diploma holders, earn Sh200,000 a month yet locals get about Sh18,000.
But according to the Gazette Notice No. 3127 of 2019 by EBK Registrar, none of the five foreign engineers working in Kenya is Chinese.
However, while responding to our queries on email, the board failed to divulge the number of foreign engineers in Kenya.
The graduates further allege that the Kenya Engineering Technology Registration Board (KETRB) and EBK have similar mandates. "We ask the National Assembly to review the two Acts and we propose the formation of an Engineering Council of Kenya (ECK)," he says.
They have unsuccessfully tried to register Kenya National Union of Engineers to champion their interests, welfare and stop discrimination based on age and status of engineers of all cadres. The matter is subject to a pending court case.
"Interim certificate was issued. All requirements of Labour Relations Act, 2007 were fulfilled. Later on May 24, its registration was denied. An appeal on the decision of Registrar of Trade Unions has been done at Nairobi Commercial Court," said Aluga.
Structured training
But EBK says: "We are not aware of an application for registration of Kenya National Union of Engineers and therefore, claim that we have frustrated the same is unfounded."
The engineers claim that unnecessary rules hamper professional development. "We have more than 13,178 registered graduate engineers in Kenya versus 2,046 professional engineers. This number includes those in management positions, those in businesses, those in diaspora, those working in finance sector, politicians, lecturers, tourists etc. This means, we have less than 2,046 professional engineers in active practice. This means each professional engineer should have at least seven graduate engineers under him/her," says Aluga.
On apprenticeship, EBK says: "In order to facilitate graduate engineers to transit to professional status, the board has developed a graduate engineers internship programme (GEIP) to be applied in public and private sectors to offer structured training for graduate engineers."
"Within the resources availed by government the board will be having at least 100 graduate engineers benefiting from the programme this financial year. Already, 40 engineers are in the programme," the board notes.