Report unveils varsities five-year reforms plan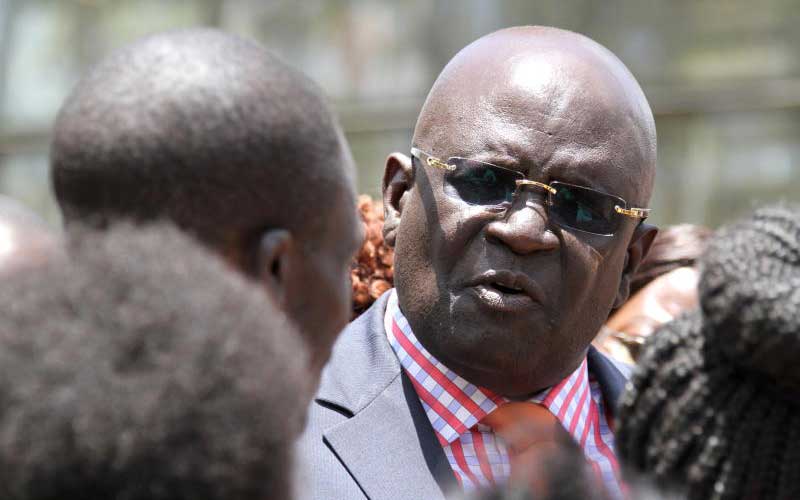 A Ministry of Education report has proposed expansion of existing infrastructure in universities to increase enrolment.
The report deviates from the initial strategy fronted by Education Cabinet Secretary George Magoha (pictured) to shut down or merge some of the non-viable public universities.
Under the new plan aimed at increasing student enrolment in universities from 15 to 25 per cent, the capacity of new and old universities will be expanded.
The National Education Sector Strategic Plan (2018-2022) that was launched yesterday proposes to provide libraries, lecture halls, laboratories, tutorial rooms and ICT facilities, with priority given to new universities.
"This will ensure that all universities meet the minimum infrastructural requirements provided in the universities standards and guidelines," reads the report.
Budgetary estimates project that some Sh16 billion will be used to expand infrastructure in all public universities in five years.
Another Sh62 billion will go towards improving access and participation in higher education.
The report further says the move will help the institutions of higher learning cope with the recent increase in the number of students by providing conducive learning environment.
Part of the package will include a review the Differentiated Unit Cost (DUC) criteria to cater for students admitted under affirmative action.
It will also increase capitation to Government sponsored students, provide bursaries to students from disadvantaged socio-economic backgrounds and provide scholarships to students in programmes related to the ?government's key priority areas.
Overall, the report, which also proposes policy priorities, programmes and strategies for the entire education sector suggests an ambitious Sh4 trillion budget between 2018-2022.
The report seems to diverge from the view held by Prof Magoha to reduce the number of universities through a well-thought out reforms plan.
Speaking yesterday at the launch of the report, the Education Cabinet secretary, however, criticised the huge number of universities, and questioned if it translates to quality education.
"Even in South Africa that is the bedrock of higher education only has 26 universities," said Magoha.
He said university reforms are a must even if some stakeholders are against it. "I will push for rightsizing and downsizing in universities.