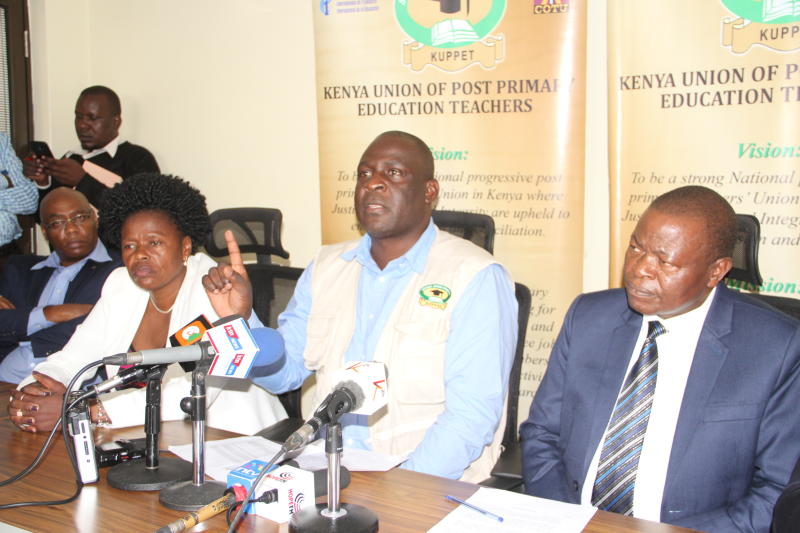 A union yesterday criticized the teachers' employer for not paying members of a rival association salary increment.
Kenya Union of Post Primary Education Teachers (Kuppet) said it was wrong for the teachers' employer to exclude Kenya National Union of Teachers (Knut) members in the third phase of the Collective Bargaining Agreement (CBA), whose implementation began on July 1.
The 190,000 Knut members missed out on the July pay increment with reports indicating they would miss out in August as well.
Teachers Service Commission (TSC) cited orders issued by Labour Court judge Byram Ongaya that set aside career progression guidelines it was already implementing, and reintroduced the old Schemes of Service it had abolished.
Subsequently, TSC ran parallel July payrolls locking out Knut members from the CBA benefits, saying the court orders made it difficult to run a single payroll without discriminating against non-Knut members.
Illegal deductions
But yesterday, Kuppet said it was wrong for the employer to withhold pay for staff.
"Kuppet's position is that the deductions by the employer are unacceptable and illegal. All laws governing employment prohibit reversal of earnings already gained by an employee," said Misori.
Kuppet national chairman Omboko Milembna and Vice-chairman Julius Korir were present.
The union asked TSC to release salaries for all teachers irrespective of their affiliation as reports emerged that they may again miss out on the August pay.
Misori said schools are set to open next week on Monday for third term, and cautioned TSC that it must motivate teachers to return to work.
"The employer must sustain teacher motivation in the interest of industrial peace and harmony," said Misori.
He said third term must remain peaceful as it was an examination term.
Kuppet officials said that even though they were not party to the case, they would not allow TSC to punish teachers over a mistake they never made.
TSC Chief Executive Officer Nancy Macharia said in order to comply with the court order without disadvantaging Knut members, the commission had to run two parallel payrolls.
"…one for members of Knut under Schemes of Service and the other for non-members of Knut under career progression guidelines," Macharia said.
Justifying TSC's actions, Macharia said the payroll under Schemes of Service posed numerous challenges, which the commission hoped, to side step if stay orders were granted in court.
Under the 2017-2021 CBA, all the 318,000 teachers were expected to receive revised payment for the third phase of the agreement from July.
The lowest paid chief principals under grade D5 (T-Scale 15), who takes home Sh111,201, will now earn Sh121,814.
And the highest paid chief principal currently earning Sh152,937 will now take home Sh157,656.
Salary scales
Senior principals (T-Scale 14), who fall under grade D4 currently earning between Sh99,730 and Sh114, 632, will earn between Sh109,249 and Sh118,169.
Principals who fall under grade D3 (T-Scale 13), who currently earn between Sh77,840 and Sh90,612 will move to a salary scale of between Sh93,850 and Sh102,807.
Deputy principals under grade D2 (T-Scale 12) will also move up to a new salary band of between Sh82,717 and Sh87,900. The teachers currently earn between Sh71,565 and Sh85,269.
Senior masters II, deputy principals III, senior head teachers and curriculum support officers I who fall under grade D1 and earn between Sh66,177 and Sh80,242 are also set for higher pay.
The officers' new salary scales are set to move to Sh74,703 and Sh82,717.
In a shocking development last month, Macharia said it was inevitable to recover monies paid to teachers for the past two years when the CBA was implemented.
"It translates to overpayment of salaries which the commission is bound by the law to determine and recover as Government liability against the respective teachers," said Macharia in a statement last month.
Yesterday, Kuppet national officials said that teachers must not suffer because the union is locked in a legal tussle with their employer.
"We cannot sit and watch individual teachers who are not responsible for certain decisions suffer just because their union officials are at war with their employer," said Akello Misori, Kuppet secretary general.
Misori said Kuppet now speaks for all teachers irrespective of their affiliation.
"Kuppet was the initiator of the CBA that both teachers unions signed in 2016. We will do everything in our power to safeguard the benefits that all teachers have enjoyed under it," he said.