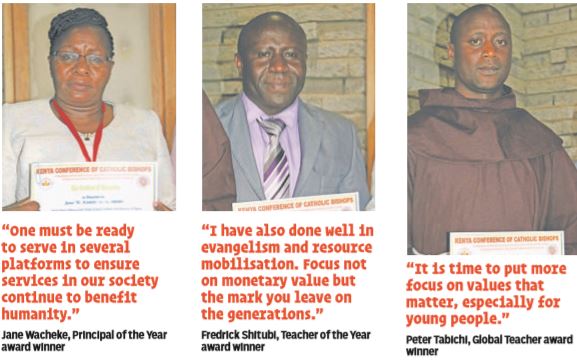 Award-winning teachers say it takes more than classroom work to be a good tutor. While narrating their envious journeys to recognition, the winners spoke of sacrifice, dedication, patience and consistency in all aspects among other values that made them stand out. As they took to the dais of the hall at Pope Paul VI Learners Resource Centre, principals and guests who attended the Kenya Conference of Catholic Bishops at the Catholic University of Eastern Africa applauded and listened keenly.
SEE ALSO: TSC ordered to return 130,000 union members
Jane Wacheke, winner of the Principal of the Year Award, could not hide her joy for making her first win in her 25-year stint in the teaching profession. The Chief Principal of Stella Maris Othaya Girls High School in Nyeri County considers herself a "go-getter," boosting the school's mean score to 9.08 during last year's national examinations. But it is not merely the sterling performance in the Kenya Certificate of Secondary Education (KCSE) examinations that thrust the Moi University and University of Nairobi graduate to the limelight.
Rescuing children
Among key projects that guaranteed her high marks included her role in rescuing children from deprived families in Kianjai slums when she was head of Bongo Girls Secondary School.
SEE ALSO: Six teachers win pay, promotions case against TSC
"We admitted many girls who were unable to attend school due to lack of fees. At the time, there was also a threat of girls being coerced into female genital mutilation," said Ms Wacheke, who teaches Christian Religious Education (CRE) and History. In 2011, Wacheke won the heart of then President Kibaki, who awarded her Head of State Commendation. While heading Kiganjo Secondary School in Nyandarua County, Wacheke disclosed that the school recorded high performance and in 2004 when she was leaving, 62 candidates joined universities through government sponsorship. Apart from her role in promoting excellence in academic performance, Wacheke said the transformations she has initiated at Stella Maris Othaya Girls High School gave her stronger points. "My school engages in pig and dairy farming, cabbage growing and other ventures. The proceeds from the farm are what we use to pay teachers contracted by the board of management," she said.
SEE ALSO: Fresh push for March exams to resolve school lockdown
At the same time, she has striven to set up a technology hub at the school through use of information and communication technology (ICT). "We have virtual classes where we can teach several classes at once. Other schools come to learn from our institution. One must be ready to serve in several platforms to ensure services in our society continue to benefit humanity," she said. On his part, Fredrick Shitubi, 44, who was named Teacher of the Year evoked laughter when he attributed his success to his prayerful wife whom he said was popularly known as the "Bukhusu Darling." Shitubi, a Kenyatta University graduate who teaches English and Literature at St Mary's Yala High School, also made fun of his old Subaru car, which his students have nicknamed "antelope." He said the car served as the school's ambulance during emergencies. Shitubi is national coordinator in drama owing to his students' exemplary performance in the discipline after his school won three consecutive competitions at national levels. "I train drama and elocution. Last year, the drama team went to East African competition in Uganda and excelled," said Shitubi. He also attributes his success to his role of coordinating Kenya Anglican Parish Association, where he serves as the chairperson. "I have also done well in evangelism and resource mobilisation. Focus not on monetary value but the mark you leave on the next generations," said the Senior Head of Department of Languages, who has been teaching for the past 20 years. The conference was also attended by Global Teacher Award winner Peter Tabichi, who was recognised by the Catholic Church. Mr Tabichi was rewarded for his contribution to education, where he was celebrated for donating 80 per cent of his salary to help students from deprived families. The 36-year-old Egerton University graduate, a teacher at Keriko Mixed Day Secondary School in Nakuru, won Sh100 million when he was declared winner of Varkey Foundation Global Teacher Prize 2019. "It is time to put more focus on values that matter, especially for young people," Tabichi said. Unfortunately, the Information and Communication Technology Teacher of the Year (iToya) 2019 Catherine Wanjiku was unable to attend.