Absenteeism, drop-outs and indiscipline still rife: Knec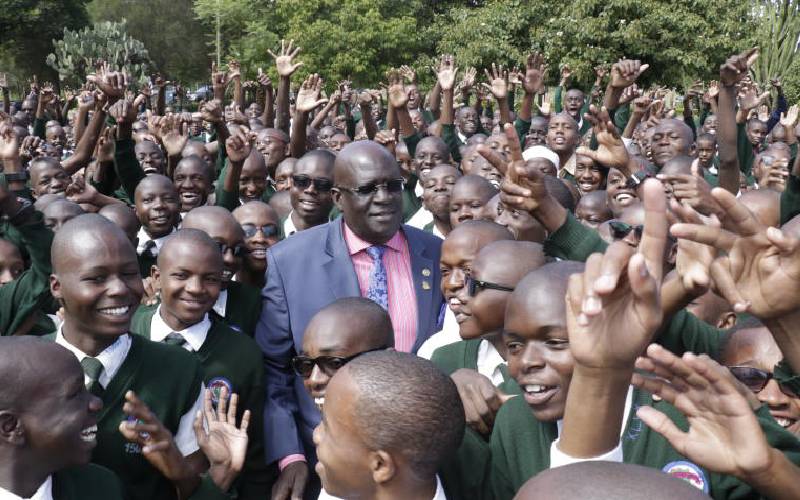 Teachers are still missing classes in an unacceptable manner and children are dropping out of school in high numbers, a new report shows.
The report dubbed 'towards a competency based quality education in Kenya: collective responsibility' was released yesterday by Education Cabinet Secretary George Magoha.
It also reveals that learners are being forced to repeat classes against government policy.
Other findings that have been noted are high cases of indiscipline among high school students, and the fact that many teachers are not qualified enough to offer quality education.
The report assessed Class Two and Three (lower primary), Class Seven (upper primary) and Form Two (lower secondary).
Based on the assessments, the report prepared by Kenya National Examination Council (Knec) found out that many teachers still miss classes.
In the Class Seven Study, the report reveals that nine out of 10 teachers were reported to have missed one or more ?lessons in a typical term.
And in the lower primary, 25.2 per cent of the head teachers reported that some teachers were away from school without permission.
In the class three study, an average of 21.1 per cent of the head teachers cited chronic absenteeism, negligence of duty and missing lessons as the most common forms of indiscipline among teachers.
"In the Monitoring Learner Achievement for Form Two study, about 5.2 per cent of the principals reported lateness, missing lessons and negligence of duty as the most common forms of indiscipline among teachers," the report reads in part.
It lists other forms of teacher indiscipline to include sexual harassment of learners and fellow teachers, as well as alcohol and substance abuse.
What is shocking however is that despite the government's policy of 100 per cent transition from primary to secondary schools, children are still repeating classes.
"Kenyan children are repeating classes due to, among others, school policies that encourage the vice, parental pressure, transfers to other schools and poor academic performance," reads report.
It further states despite the fact that nearly nine out of 10 teachers had undergone pre-service teacher training courses, and had the requisite qualifications, most of them did not show notable ability to instruct learners.
To curb these challenges, the report proposes that teacher training must be improved and absenteeism cases checked.
In cases where teachers are absent, the report advises that stand in tutors should be contacted.
On teacher preparedness, it says the Ministry must evaluate programmes undertaken at teacher training colleges.
Aukot law review bid on course
Okango affirmed that the Third Way Alliance had met all the constitutional requirements to push for the popular amendments.