CBC teachers laud new curriculum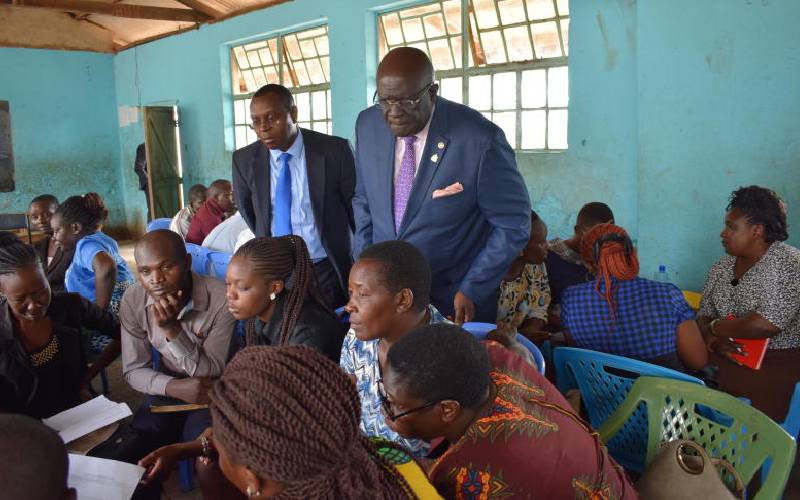 Teachers implementing the new education curriculum from Early Childhood Development (ECD) to Grade Three are in support of the change.
Although the teachers are backing the implementation of the Competency Based Curriculum (CBC), they are of the opinion that the system has added more work.
Cynthia Mwende, a teacher at Early Bird School in Machakos County, said teachers have a lot of work to do in keeping the records of each child since marks are not awarded based on academics only but on extra-curriculum activities.
Ms Mwende further explained that the CBC has come with new cost that must be shouldered by the parents which could further drive many learners out of school.
"The CBC is good but it requires a lot of input from the parents as well as adds more work to the teacher who must keep records of a child from ECD to Grade III," said Mwende.
The lower primary teacher also explained that resources needed in school for the learners to take their practical is pushing the cost high.
"CBC is good but it should be given time. The learners are supposed to write inside the textbooks. This means that each year, a parent must buy new books," added Mwende.
Her sentiment are echoed by a champion teacher at a public school in Nairobi who said that the CBC is good and focuses on the learner as opposed to the 8-4-4 system which is exam-oriented and favours highly cognitive learners.
Kenya Primary Schools Heads Teachers Association (Kepsha) chairman Nicholas Gathemia defended CBC, arguing that it is the best curriculum in the 21st century.
Mr Gathemia said although there have been challenges in training implementers, the capacity building for teachers is gradual and not a one-off exercise.
"We as Kepsha have done our survey and in full support of the roll-out of the CBC. This system is good as it takes away the exam-oriented system and focuses more on the practical skills of a learner," said Gathemia.
Kenya Union of Post-Primary Education Teachers (Kuppet) Secretary General Akello Misori differed with his Knut counterpart that CBC will be implemented by the same teachers who need capacity building.
"He Sossion passed through the old system but undertook his Masters with the 8-4-4 system graduates and was taught by those who followed the 8-4-4 system. This new change is good for our children," said Mr Misori.
On the cost of improving the infrastructure, based on the 100 per cent transition, Misori said the Government can improve and allocate more resources to ensure that learners study under conducive environment.
National Assembly Education committee chair Julius Melly (Tinderet), while supporting the new curriculum, said there is need for dialogue to ensure the implementation process is smooth.
Melly urged Education CS George Magoha to iron out issues and bring on board Knut, Kuppet, Kenya National Association of Parents and other stakeholders to ensure CBC is fully implemented.
"As a committee, we fully support the new system of education. I call upon Education CS to involve all players in the sector so that it is fully rolled out without a hitch," said Melly.
He noted that unlike the current system of Education, CBC will be more practical and will churn out graduates who will be self-reliant in the job market in the technical fields.
"Learners in the present system of education have been looking upon the Government to employ them but lack of basic competencies has led to high unemployment rates. CBC will train learners in primary schools the basics that will enable them to be job creators," he said.