Student death: Teacher cleared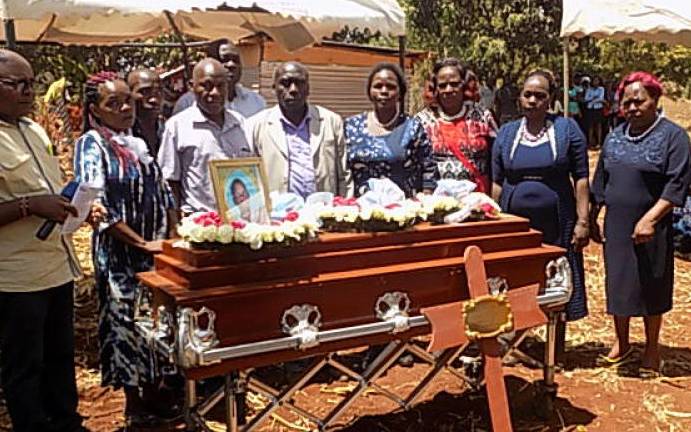 A postmortem examination has cleared a high school teacher suspected of beating a student who later died.
Kennedy Fundi, a Form Three orphaned student at Kangaru School, died on March 11.
His guardian had claimed that before his death, Fundi linked his deteriorating health to being beaten by a teacher for arriving in class late.
But a postmortem report signed by Daniel Zuriel, a consultant pathologist, dated April 15, 2019, states that Fundi died of respiratory failure due to severe pulmonary infection with tuberculosis.
According to the report, excess pus was found in Fundi's chest cavity. The pus had infiltrated his heart and lungs.
"There is also presence of pus-forming infection within the muscles of the left thigh. These are features of a severe infection," stated the report.
The report stated that there was no evidence that trauma was involved in the death, as there were no fractures and no evidence of tissue injury where Fundi is said to have been beaten.
"There is no evidence that the cause of the death in this young man was due to any other pathology than the above mentioned," concludes the report.
Fundi died at the Nairobi Women's Hospital, where he had been referred after his condition deteriorated. He had first been admitted to Embu Children's Hospital-Tenri.
The Teachers' Service Commission (TSC) has since interdicted the teacher and the case is still under investigation.
The examination seems to absolve the teacher of blame that he hurt the student leading to illness and death.
Fundi was buried on March 25, at his aunts' home in Riandu village of Embu County, where he was eulogised as brilliant, obedient, disciplined and hardworking.
His schoolmates were not present during the burial; neither was there a representative of Kangaru School.
Meanwhile, a Form Four student was found dead in a school dormitory in Nyeri County.
The body of the student at Ruthagati Boys Secondary School in Mathira West sub-county was found by his classmates on Saturday morning.
Mathira West Deputy OCPD Evarlyne Musyoka said police were yet to establish the cause of the student's death. The body, she said, did not have any injury.
She said the student had been scheduled to join a group discussion with his classmates but did not turn up. "His classmates thought he had overslept but he did not respond when they tried to wake him. The school administration said he did not have any known health problems," she said. [Additional reporting by Jacinta Mutura]