Uhuru's fury over curriculum hitch startles officials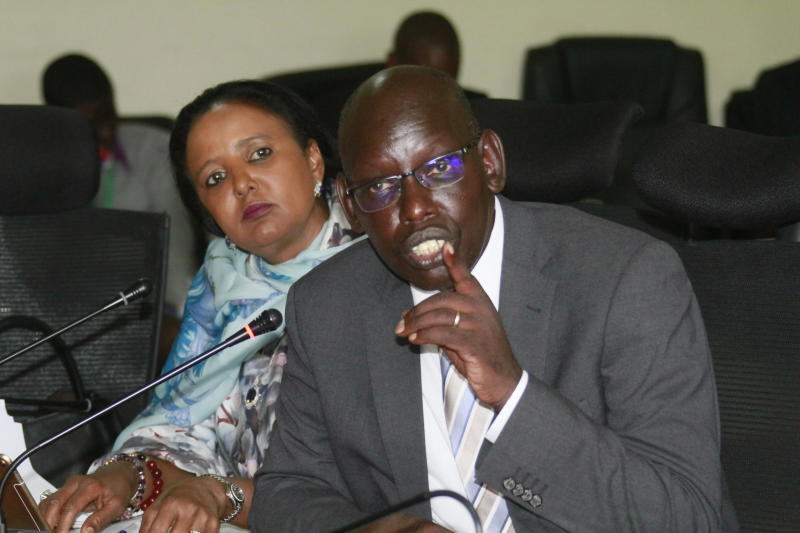 President Uhuru Kenyatta intervened in the ongoing new curriculum implementation row that has created anxiety among parents, learners and stakeholders.
The Saturday Standard has established that a furious President Kenyatta summoned his Education Cabinet Secretary Amina Mohammed to a meeting on the sidelines of his Nyanza tour and put her on notice over the confusion.
The session with the President is said to have triggered a wave of actions that prompted Jogoo House to call two crisis meetings to give direction on the fate of the new curriculum implementation.
Roll out plan
Sources familiar with the intrigues surrounding the matter said the president acted on the basis of a short brief presented to him with details of the state of curriculum preparedness and the roll out plan.
He was concerned by the confusion occasioned by an announcement made by Amina in Parliament this week, that indicated the national roll out of the 2-6-6-3 education curriculum had been suspended.
Appearing before the Senate Education Committee, Amina said the ministry was not ready to roll out Competence Based Curriculum (CBC), overruling an assurance already rendered by her technocrats.
"We are not ready to roll out the curriculum across the country. The curriculum will be introduced in teacher training colleges so that those coming out are well versed with it," she said.
Amina said the new curriculum, which was supposed to be launched in January, had been put on hold.
"The worst thing that can happen is for us to roll out something that we are not all comfortable with. A little discomfort is acceptable but huge discomfort is unacceptable," Amina said.
Amina said the roll-out of the new curriculum is important "but cannot be rushed".
"The design is fantastic but the devil is in the detail of implementation. We are doing all we can as a ministry to bring stakeholders on board," said Amina.
Amina spoke just days after Basic Education PS Belio Kipsang and KICD Chief Executive Officer Jwan Julius, in a live television interview at the University of Nairobi, affirmed the roll-out was on course and plans complete. "We have gone through a process preparing teachers and engaging parents and other stakeholders. We have done what we were required to do," Kipsang told the public.
Ministry officials who spoke to Saturday Standard expressed shock at the turn of events, with parents and education stakeholders expressing concern over huge investments already committed to the reform process.
Signs of a major crisis however arose yesterday after it emerged that a team from the ministry were tasked to review statements made by Amina at the Senate, to establish if indeed she said the curriculum roll-out would be stopped.
"The team reviewed the footage from Senate and confirmed that at no point did the CS say the curriculum roll-out had been stopped and it's back to 8-4-4 system," said a senior Ministry of Education official not authorised to speak to the media. The revelation came as Amina convened an urgent meeting at her Jogoo House office bringing together internal and external stakeholders to lay ground for a bigger meeting scheduled for today.
Top ministry officials, publishers and private schools representatives attended the meeting.
Another communication from KICD invited the National Curriculum Steering Committee to a major morning meeting today.
The steering committee comprises senior ministry officials, Kenya Secondary Schools Heads Association, books publishers and the two teachers' unions.
The Kenya Private Schools Association, National Council of Churches of Kenya and Supreme Council of Kenya Muslims are also members. The rush to convene the two crisis meetings pointed to serious concerns, given that Amina had earlier told journalists that she would only make a comprehensive statement on Monday after receiving the report of the external evaluation team.
It emerged that after today's meeting, Amina would make an official statement to clarify the actual ministry position.
Road map
Sources familiar with the details hinted that a new roll-out roadmap would be established and communicated today.
It also emerged that a team may be set up to oversee the implementation modalities, relieving parents of growing anxiety.
While pushing for delayed implementation, Amina told senators that teachers were not well trained and cited inadequate infrastructure for roll-out.
Some 170,000 teachers have, however, been trained and Teachers Service Commission allocated further funding from the World Bank to train additional teachers.
The Prof Laban Ayiro team recommended implementation to be done in Grade One and Two, and put on hold Grade Three and Grade Four.
The team cited numerous gaps including lack of a curriculum policy, inadequate teacher training, lack of books and proper infrastructure.