Expedite exams cheating cases, Attorney General tells Maraga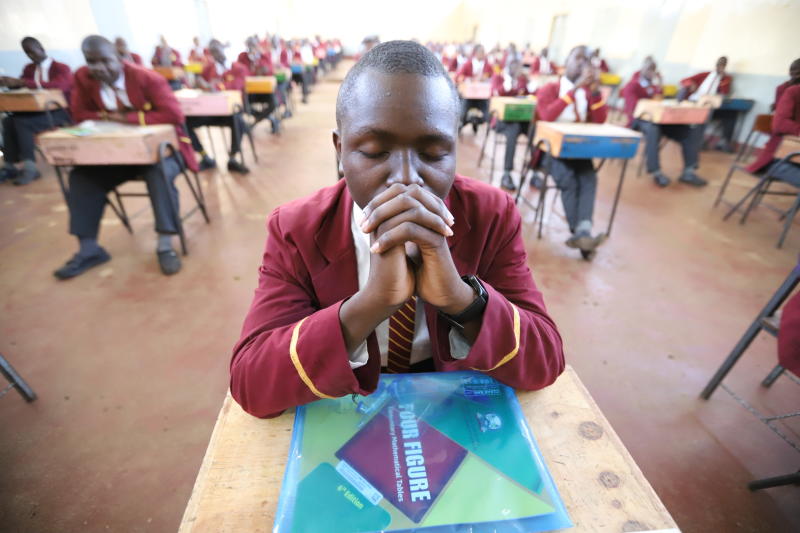 The noose on examination cheats is tightening fast as the government pushes for speedy determination of exam related offences.
The Sunday Standard has established that Attorney General Kihara Kariuki has written to Chief Justice David Maraga expressing the urgency to fast track all examination related cases.
In his letter dated November 5, Kihara says Education Cabinet Secretary Amina Mohamed made the plea as reports emerged that the cases drag, frustrating efforts to administer credible examinations.
Cheating ring
"The purpose hereof is humbly to request that your lordship be pleased to avail a mechanism to fast track any and all cases that are filed arising from the ongoing or previous Kenya national examinations," said Kihara.
Sources familiar with the details revealed that the plea to push for speedy determination of the cases is meant to expose more players in the examination cheating ring.
"Serious arrests were made last week. And we can get more suspects of the elaborate ring once the cases start so that the missing links are plugged," said a senior government official.
Two people were arrested on Wednesday in an operation against leakage during the ongoing KCSE.
The two identified as Emanuel Nkonina and Shaban Omar Ouma were presented in separate courts as investigations and hunt for more suspects go on.
Nkonina, who was arrested in Kajido, was detained at Ngong police station until November 12 while Ouma, arrested in Karen, Nairobi, was presented in Milimani Court and released on a Sh200,000 cash bail.
Amina said the two suspects were responsible for irregularities over the last two years and are expected to face various charges.
A university student was arrested and charged for sitting a KCSE examination in Kisii as the crackdown on examination cheats mount.
Davis Ongiri, the Maseno University student, was arrested on Thursday, booked at Ogembo Police Station and produced before Senior Resident Magistrate Margret Nafula.
The student was charged with falsifying information that he was a genuine KCSE candidate registered at St Joseph Nyansakia Mixed Secondary School in Bomachoge. The magistrate ordered that he be detained until November 19, when he will return to take a plea.
Another candidate was arrested in Nairobi with a mobile phone containing Chemistry examination material. Police reports indicate the student was in possession of a smart phone on his desk, which was immediately taken away.
Major milestone
Amina however seemed to indicate that the arrest of Nkonina and Shaban Omar were a major milestone in the fight on examination cheating. "We expect these suspects to face the full force of the law in a manner that will send a perfect warning to evil-minded people that their days are numbered and that all their efforts will come to naught," she said.
The CS said there will be no mercy for anyone intent on messing up the lives of innocent children and collective future.
"Having sealed all the loopholes, a few unscrupulous people have over the last three years devised new tricks of opening examinations a few minutes before the start time, in what we call early exposure," said Amina.
She said the ring's game-plan is to smuggle all or some of the questions, take them to hired goons outside who are expected to answer the questions and then smuggle the 'answers' back into the examination rooms.