State dangles counter offer to halt crippling lecturers strike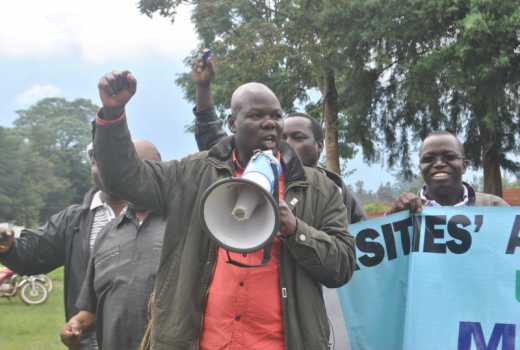 Learning could resume in all public universities next week as government meets unions to table a counter offer.
The Saturday Standard established that the Ministry of Education has presented to universities a monetary counter offer that will be tabled during the meeting.
The chairman of the joint negotiations committee, Prof Isaac Mbeche, Friday confirmed that the Vice Chancellors have an offer to the unions but noted that ground rules for talks must be set.
"They have been asking for a counter offer. We have it now. But we must sit and agree on timelines and some guidelines for the talks," said Mbeche.
Sources in government hinted to the Saturday Standard that allowing students to resume classes would be part of the rules of engagement that VCs may present to the unions' representatives.
University Academic Staff Union (Uasu) and Kenya University Staff Union (Kusu) have however maintained that no learning will resume until the 2017-2021 CBA is negotiated and signed.
The contents of the counter offer were not immediately clear. "We have something they can take home. What we need is a conducive environment for goodwill for talks," said Mbeche.
Vice chancellors had requested Sh6.8 billion from the Government to cover first phase of 2017-2021 Collective Bargaining Agreement (CBA).
The total cost of the CBA was put at Sh38 billion. But Vice chancellors said their proposal would only cover 2017-2018, with the balance paid based on annual capitation increments.
Inter-Public University Councils Consultative Forum officials made the revelation last month when they appeared before the National Assembly's education committee. Prof Mbeche Friday said he has called a meeting today of all union officials at Jacaranda Hotel.
"If we agree on ground rules we shall come up with negotiations timelines to the talks. Counter offer will be given once we have agreed on these," said Prof Mbeche, who is also University of Nairobi Deputy Vice Chancellor Administration and Finance.
To fight drought, involve communities
According to the latest information from the Meteorological Department, rainfall will be poorly distributed in April, May and June, and this will have a serious impact on agriculture