Tough times for universities as funds dry up, admissions drop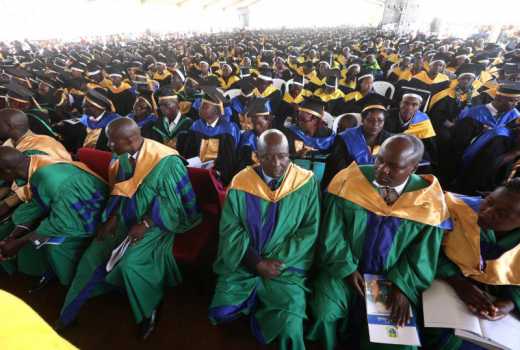 Details of how majority of universities are struggling financially can be laid bare today as they prepare to admit the second lot of students under strict reforms introduced two years ago by then Education Cabinet Secretary Fred Matiangi.
With less than half of the declared capacity of students set to be admitted for the second time come next month, several universities are struggling to stay afloat and could find it harder to operate unless they devise ways of raising money.
Worse, the government is yet to disburse at least half of the Sh65 billion set aside for universities this financial year. This is supposed to fund programmes based on the number of students admitted through direct entry and are currently pursuing their studies.
"What everybody wants is that once they have given you their student numbers they want to get all the cash in advance," Prof Kinandu Muragu, the chair of Universities Fund told the Sunday Standard.
"I have to get the figures but we have paid out the first 50 per cent, the rest is supposed to be disbursed per quarter but the reality is universities must not rely solely on student fee," he said.
Downsizing of campuses
The result of this mix of events has been a downsizing of campuses, disposing off assets, laying off staff, deterioration of services amid recurrent industrial action by lecturers and workers holding their cash strapped employers by the neck.
The universities which had borrowed billions of shillings to finance expansion hoping to cash in on a demand for higher education in the last two decades, have found it hard to adjust to strict reforms by the government introduced in 2016.
At the University of Nairobi (UoN), security lights at the main campus are no longer being switched on at night and water supply is erratic just a year after it opened a Sh2.5 billion 22 storey tower.
When you add this to the fact that students in all public universities have not been studying for the last one month due to a lecturers' strike and you have on your hands an all-out crisis.
Indications are this pattern of unfortunate events is expected to heighten next month when first years start reporting to campus. In total the country's 65 public and private universities had declared to the Kenya Universities and Colleges Central Placement Service (KUCCPS) that they had capacity to admit 132,686 students. The government however admitted 62,851 students or just 48 per cent of total capacity.
Some institutions like the International Leadership University (ILU) as revealed by The Standard on Friday got no student at all. Turkana University College with a capacity of 320 got only four students. A similar pattern was repeated countrywide last year when all the students who got C+ (plus) and above for the first time in two decades got admitted through direct entry to universities.
Grouped into 14 clusters
In essence this cut the cash flow for universities who have over the years relied on the massive numbers of students who don't qualify to get a direct entry in order to survive. The worst hit are private universities who depend entirely on school fees in order to survive.
Government universities get funding from the State based on the number of students admitted through direct entry. However before last year they used to get more than two thirds of their revenue from the module two programme which is now two academic years away from being wiped out.
A new policy was introduced this financial year by the government to fund private universities using the model applied to public institutions. Under the new system known as the Differentiated Unit Cost (DUC), all university academic programmes were grouped into 14 clusters and the cost of teaching each fixed.
Under the plan, the University of Nairobi was to receive Sh4.5 billion, Egerton University (Sh2.1 billion), Kenyatta University (Sh2.8 billion) and Jomo Kenyatta University of Agriculture and Technology (Sh1.7 billion). Private universities too which began admitting government sponsored students last year were supposed to get money based on the same formula.
Half of this money however is yet to be disbursed and with a halved student population, universities are staring at a financial crisis. The Kenya Methodist University (Kemu) for example has put up for sale its iconic Kemu hub on Koinange Street in Nairobi in order to clear a Sh1.7 billion loan it took from Cooperative Bank.
The university used the building as security in order to take the loan and now want to be allowed to sell it in order to repay the bank. Part of the money from the sale according to a letter sent by Vice Chancellor Maurice Okoth to the bank is supposed to pay Kemu's creditors, the Kenya Revenue Authority and staff.
"Upon the sale of this property it is our proposal that we utilise part of the proceeds to clear Sh135 million the Co-operative Bank advanced Kemu in June 2017," said Prof Okoth in a letter dated March 13.
"In the event the value of the latter (tower) is not adequate to cover the loan, additional security will be provided to enable the release of Kemu Hub for sale," he said.
Cash strapped Catholic University of Eastern Africa has put up for sale its Kisumu Campus a few months after it closed the entire facility due to lack of students and pressure from government to put its house in order or face closure. The university which is also struggling to pay lecturers is selling three storey former Kisumu campus building on Ogada Street plus the 0.1055 hectare piece of land on which it stands.
The University of Eastern Africa, Baraton recently closed satellite campuses in Kisii, Nairobi, Eldoret and Kisumu. In a statement sent to newsrooms and signed by Vice Chancellor Phillip Maiyo the university said, "The decision was the result of decreasing student enrollment."
Moi University which was intending to put up a 36-storey building near Laico Regency hotel to host its Nairobi campus has shelved the plan due to lack of funds while the Presbyterian University of East Africa has put on sale 34 acres of land in Kikuyu at Sh40 million in order to solve its financial crisis.
The Technical University of Kenya (TUK) has not been spared of this financial crunch after the National Hospital Insurance Fund (NHIF) stopped the institution's employees from accessing treatment in hospitals. This was after it emerged that the university had failed to submit over Sh55 million in deductions and penalties.
Some administrators are however putting a brave face about the challenges facing the sector like the Kenya Association of Private Universities (Kapu) national chairman Mumo Kisau. "This is just the second year under the reforms so I cannot say what the effect on our finances is conclusively because all private universities received government sponsored students," he told The Sunday Standard.
Those in the know however say the financial woes facing universities which were brought to the fore last year by Auditor General Edward Ouko are worsening by the day and if nothing is done most of them will become insolvent. The government has already asked the universities to fire some of their staff in order to cope with reduced funding.
"Maybe the DUC should have been implemented in phases but universities may now have to adopt new measures and this may include cutting staff numbers as they adapt to the new funding formula," the Treasury Cabinet Secretary Henry Rotich told Parliament last month.
In order to sort the mess the government has formed an inter-ministerial committee to, among other things, review human resource management policies and practices. The committee will also review student enrollment and advice on how to correct the situation. All public universities have submitted to the Treasury an audit of their capacities and challenges in order to aid the government to come up with a way forward.
Universities Academic Staff Union Secretary-General Constantine Wasonga said, the government has not been able to provide the required funds through capitation in order to enable the institutions to respond to higher demands.
He said if the government maintains strict rules on admission, a number of universities will be closed down as most of them are insolvent. [Additional reporting by Kepher Otieno]