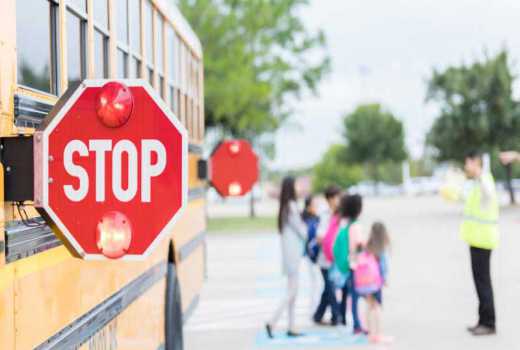 The school transport system will face a major overhaul to make school buses safer for the millions of children who board them during their daily commute.
A raft of changes have been announced by acting Education Cabinet Secretary Fred Matiang'i (inset) in a bid to guarantee safety of minors as they commute between learning institutions and their homes.
Matiang'i, already pushing through reforms in different spheres of education announced yesterday that all school buses were to be painted yellow in line with existing laws.
"This is in line with Traffic (Amendment) Act 2016 which requires all school buses to be of this colour," he said.
The laws were amended in 2016 following complaints from parents over the unregulated school transportation sector.
The colour of the bus is one among the numerous changes that ought to be enforced before a March 30 deadline issued by the Cabinet Secretary. A 2016 report by the Traffic Department paints a gory picture.
It states that majority of school-going children perish on the roads while traveling to and from school.
The report indicated that about 400 pupils, mainly in urban areas die in road accidents annually.
If he follows the law to the letter, Matiang'i is also mandated to determine the number of children that a bus will carry as well as how frequent the buses will be inspected.
The country has recently witnessed fatalities attributed to errors by institutions as regards the state of the school buses.
Mid last year, a six-year old boy in Mombasa was crushed by a school bus on which he was riding.
The pupil from St Augustine's Preparatory School died instantly when he was ran over by the rear wheels of a school bus after he fell through an opening on the bus' floor.
Parents have long sought the regulation of this industry claiming operators, some in collusion with school heads, provide sub-standard transport for their children at prohibitive prices.
"Many children are packed in these contraptions with little care. It is not uncommon to see a van meant to transport 11 passengers carrying more than 25 children packed like books," Nicholas Maiyo said.
Although Matiang'i's announcement was well received, some feared that this was just another road side announcement.
"Who will ensure these laws are enforced? What happens if the transporters do not repaint their vehicles?" Paul Sabwami, a father of three posed.
If followed to the letter, this will mean that the buses may be required to be fitted with appropriate seats and have safety belts among other requirements.
"A vehicle meant to ferry children to any school or non-school related activity shall be fixed with safety belts," the Act says.
Matiang'i, who is the Interior Cabinet Secretary also restricted the movement of school transport to between 6am and 6pm and ordered the police to ensure the directive is upheld.
The National Transport and Safety Authority also recommends that school driver recruitment should involve representatives of the Parents Teachers Association and the school administration.
The authority says the selection and training of school drivers should be rigorous.
School bus drivers should also successfully complete a written or oral test covering driver duties, bus operating procedures, traffic and school bus regulations, road emergency and crash-related procedures such as First Aid.
However, parents are hardly involved in the determination of such matters at the centre of their children's safety.