UASU vow to continue with strike till their demands are fully met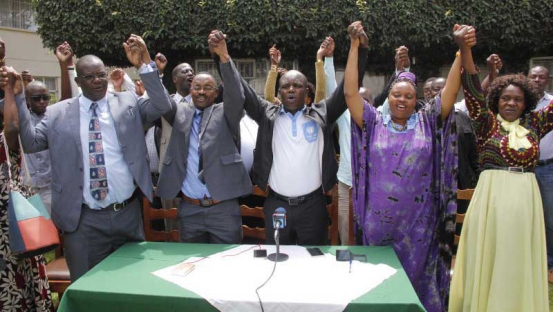 The University Academic Staff Union (UASU) has vowed to continue with the nationwide strike until the National Executive Committee and National Delegates Conference decide on when to call it off.
National Secretary General Constantine Wasonga said the union gave three irreducible minimums in the 2013 Collective Bargaining Agreement (CBA) that has not been considered by the Ministry of Education.
Irreducible minimums
The irreducible minimums, according to the union, include salary and house allowances that were to be enhanced as negotiated in the 2013/17 CBA, that was also signed by the government and labour relations.
Dr Wasonga added that in the agreement, all 31 universities were expected to negotiate and sign their internal agreement, an issue that has not been implemented.
So far, only five universities have signed their internal CBAs, among them the University of Nairobi, Kenyatta University, Jomo Kenyatta University of Agriculture and Technology, Jaramogi Oginga Odinga University and Pwani University.
Dr Wasonga said the union is clear that the strike would not be called off until all public universities negotiate their internal CBAs, as well as sign the register and implement it to the letter. He said word that the government released Sh5.2billion to university academic staff was false.
"Information about academic staff having been issued with money remains a rumour that I have only read in newspapers," he said.
He said the Interpublic Universities Councils Consultative Forum should avoid wasting tax payers' money on advertisements and instead engage union officials.
Speaking during the Laikipia University Annual General Meeting held in Nakuru County, Dr Wasonga noted the union officials will not call off the strike without a return-to-work formula.
CBA incomplete
He added that the 2013/2017 CBA is incomplete because they have only dealt with the national CBA that comprises of basic salary and house allowances but they have not considered promotion criteria, mileage allowance, medical and pension scheme.
The union noted that there are universities that deduct money for pension but the money is not remitted and that there are members who have retired but have not received pension from their employer.
Members of the union, he said are frustrated while seeking medical services because of a medical scheme that is not quite operational.
The secretary general said members are directed to seek medical attention in their preferred hospitals and later be reimbursed - yet they do not always have money for treatment.
"It is unfortunate that union members are unable to seek quality health services because the medical scheme has collapsed," he said.
The dons also complained of lack of a mechanism on promotion of qualified employees, an issue that has seen many lecturers serve in the same position for more than 20 years.
He regretted that a section of vice chancellors call for review on promotions and visit the Salaries and Remuneration Commission (SRC) to negotiate non-financial items.
"Universities have been trooping to SRC to instruct the union to negotiate non-financial items, yet each item has financial implication.
UASU shall not negotiate internal CBA and university management should also understand implications of what they sign with SRC," he said.
The union further took issue with the recent directive by Education Cabinet Secretary Dr Fred Matiang'i that universities provide permanent employment to staff.
"As a union, do not engage in roadside policies, no policies formulated shall be implemented under our watch. All councils are aware about policy making that requires public participation," he said.
To fight drought, involve communities
According to the latest information from the Meteorological Department, rainfall will be poorly distributed in April, May and June, and this will have a serious impact on agriculture