Teachers face burden of enrollment surge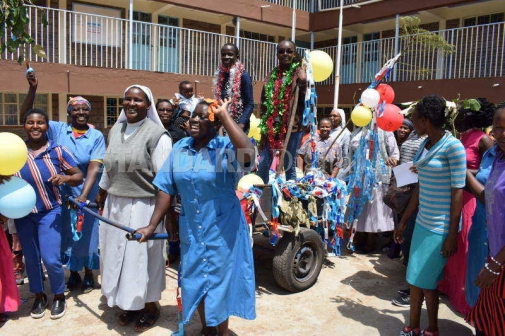 Teachers are bracing for a major task as enrollment in all the 8,000 secondary schools hits three million next year.
The government projects that 246,133 students will join secondary schools as it implements free secondary education and pushes for 100 per cent transition. Education Cabinet Secretary Fred Matiang'i said this week that the Government had set aside Sh56 billion to roll out free secondary education starting January 2018.
"What this now means is that from January, no child will be required to pay tuition fees in any public secondary school," said Matiang'i.
This means that the day school fees will be fully catered for while boarding schools are set to charge between Sh40,000 and Sh53,000.
Parents will only be required to buy school uniforms, meet lunch costs and the boarding-related levies that will only be reflected on fees structures.
A circular released by Education PS Belio Kipsang on Free Day Secondary Education says students who sat KCPE in the past as well as those who had dropped out of school may want to join secondary schools.
Kipsang further said some students may also wish to transfer from one school to another. Already, all the 900,000 learners who sat this year's KCPE are expected to transit to Form One.
Under the programme, the Government will increase capitation per child by Sh9,374 per year, bringing to Sh22,244, the total amount the government will release per child per year in all secondary schools.
This means schools will experience a huge surge in student numbers. The enlarging admissions in public schools will stretch the current teaching workforce.
A government document seen by Saturday Standard says that 4,923 classes will be required next year to accommodate additional students.
The 2017 paper prepared by Teachers Service Commission (TSC) to explain teacher needs says next year alone, 12,626 teachers will be required.
TSC says that a single streamed school with four classes (Form 1 – Form 4) will require nine teachers, including the head of the institution.
"Any additional class will therefore require two additional teachers," reads the document sent to The National Treasury.
The document–proposal on teachers' requirement for the implementation of 100 per cent transition of learners from primary to secondary covers 2018-2022.
According to TSC, the additional number of teachers required for 2018 is 9,845. "This number is expected to grow to 63,130 in 2022. This translates to an annual average teacher requirement of 12,626," reads the document.
This means that if the teacher needs are not addressed, the current workforce will be overstretched. It also means that quality learning will be affected as student teacher ration will be grossly affected.
The confidential document reveals two levels of teacher recruitment needs that must be bridged to ensure full transition of pupils from primary to secondary schools. First, TSC says there must be a plan to bridge the current teacher gap that stands at 101,430.
Of these, 43,177 teachers are needed at primary level and 57,005 required at secondary level. Another 1,248 teachers are needed at tertiary institutions.
Secondly, TSC proposes an annual recruitment of new teachers to support the full transition of all KCPE learners to Form One. To meet both needs, TSC proposes that there should be an annual recruitment of 12,626. The commission further says there should also be another hiring process of 11,401 teachers annually to support the transition. Overall, TSC proposes that 24,027 teachers be recruited annually, translating to 120,135 new teachers for the next five years.
This means that the commission will require Sh15 billion annually to recruit additional teachers over the five-year period. A breakdown of the financial implication shows that Sh8 billion per annum will be used to recruit 12,626 teachers for the 100 per cent transition. And some Sh7 billion will be needed to recruit 11,401 teachers to address the existing shortages.
The TSC document says the teacher shortage is a result of rapid growth in school enrollment arising from government policies aimed at improving access to basic education and training.
Huge deficit
TSC explains that the current teacher shortage dates back to 2012 when the deficit stood at 36,536. This rose to 57,005 teachers in 2017, depicting an annual average growth of 9.37 per cent.
"During the 2012/2013 financial year, the government recruited 10,000 additional teachers under the economic stimulus programme, cutting the shortage from 16.15 per cent to 6.86 per cent in the subsequent year under Medium Term Plan II (2013 – 2017)," it says.
Overall, the teachers' employer explains that over the last five years, the government under the Medium Term Plan II (MTP II) has provided for recruitment of only 5,000 teachers annually. And the recruitment drive has always been spread for both primary and post primary institutions. Yet the number of secondary schools increased from 6,310 to 8,592 over the period 2012 to 2017 respectively. Students' enrollment, similarly, increased from 1,765,531 in 2012 to 2,704,030 in 2017, according to data from Ministry of Education.
"It is worth noting that despite the government initiative of recruiting additional 5,000 teachers annually for the last five years, this provision has not matched the increase in enrollment and rapid expansion of learning institutions," says the TSC document.