Atheists in Kenya threaten to sue school for expelling boy over 'demonic' drawings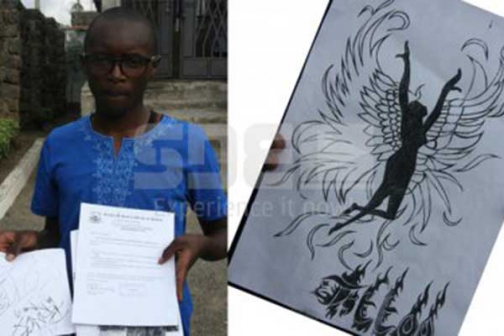 Atheists in Kenya (AIK) society has issued Bahati Boys' High School Principal a seven-day ultimatum to lift the exclusion letter to Ian Njenga Mwaura, a student who was expelled for drawing a scorpion or move to court.
The society threatened to sue the school for interfering with the studies of Ian Mwaura Njenga who is a form four candidate.
In a letter addressed to the school Principal and copied to the Teachers' Service Commission, Ministry of Education and Kenya National Commission on Human Rights, the society said reasons for expelling the boy from school are 'unreasonable, repulsive, objectionable and abhorrent'
"It is unfortunate that a school in Kenya, in this day and age, would expel a student who is simply exploring various artistic themes instead of growing and nurturing this talent. You are negating the very reason for which educations reforms in the country are being undertaken", read part of the letter dated February 16, 2017.
The letter further accused the school of frustrating the studies of the boy saying it could cause adverse effects on his talent and studies.
"This student was in form four, and the decision to expel him will traumatize him and can have far reaching effects on his performance, and talent", the letter read.
Speaking to the Standard, AIK society Chairman Mr Harrison Mumia, the school's decision to expel Ian Njenga Mwaura was harsh saying that talents are directed to certain areas and there should be no monopoly.
"Children should be allowed to explore their talents and talents should not be channeled to one direction only. They should be allowed to express themselves freely and not condemn them for expression", He said.
Expressions in form of art, he said, can go in any direction and the school's interference with the student's studies as well as discouraging his talents is a sad case.
He said the society does not allow any school management or board in Kenya to discriminate any children on basis of faith.
Ian Ngenja, a student at Bahati Boys' High School in Nakuru was expelled from school by the disciplinary committee over what the institution termed as demonic faith.
According to the exclusion letter by the school's disciplinary committee, Ian is accused for his drawing which the school allege alludes to some faith.
"He has drawings which are suggestive that he is owing allegiance to some faith", reads part of the expulsion letter signed by the school principal Mr Patrick Ombok on February 13 this year.
He is also accused of drawing a scorpion on another boy's shirt which the school says was a sign of recruiting other students to the cult.
The boy however denied the accusations saying he has a passion for art and that his drawings do not have anything to do with cult or demons.