9,000 public schools in Kenya to get water in Sh15b drive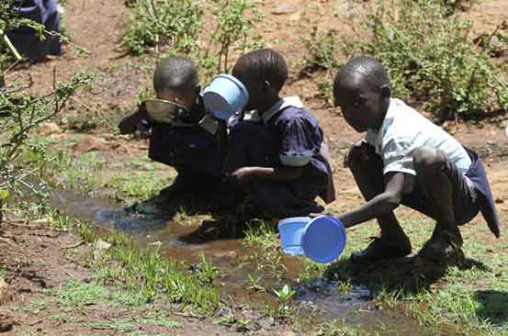 The government will roll out a Sh15 billion water programme targeting 9,000 public schools.
Water and Irrigation Cabinet Secretary Eugene Wamalwa says the three-year water-for-schools project is aimed at keeping children in schools by reducing diseases through provision of clean water.
"It is the right of every citizen to access clean water. And for children in schools, we even feel more pricked because we must bring up a healthy generation," he said.
Data from the ministry show that up to 30 per cent of children drop out in public schools every term because of lack ofwater.
It also emerged that waterborne diseases prevalent in arid and semi-arid lands (ASALs) regions have slowed down academic performance, with many learners taking many days off to seek treatment.
Speaking to The Standard on Saturday, Mr Wamalwa said the government has already set aside Sh530 million to roll out the project.
He said another Sh500 million grant has been received from Water Services Trust Fund (WSTF). Funds for the projects will be taken care of in the subsequent financial years.
Water point
WSTF is a corporation established under the Water Act, 2002 to assist in financing provision of water services to areas of Kenya, which are inadequately served.
Under the project, each public school without water will be connected to the nearest water point.
And boreholes will be dug in strategic places to make water available to the local community. "Water kioks shall be erected at the gates of all primary schools for local communities to drawwater without interfering with learning," Wamalwa said.
The CS said his ministry is working with the Rural Electrification Authority (REA) to ensure water connectivity in all schools.
REA chairman Simon Gicharu said the authority had identified other ways electricity in schools would be utulised other than powering laptops and lighting.
"We identified that we can use electricity to pump water to schools," said Dr Gicharu.
He said the water gap was identified by REA during installation of electricity infrastructure.
"We realised many children missed schools because they had gone to fetch water. And now as an authority we have decided that in every borehole dug by Water Ministry, we will extend power there to pump the water," he said.
He said power will also be extended to pump water from nearby wells, dams or boreholes.
Gicharu said REA has a budget of Sh2 billion this financial year and noted that part of the money will be used for the project. "We want children to carry water back home rather than carrying water to school because of dehydration," he said.
Wamalwa said the project will not be limited to boreholes alone. "We shall also invest in huge water tanks to ensure sustainability and consistency in supply of water," he said.
Among the many programmes the government is working on, water supply to keep children in schools is also key. "We want to allow learners to spend more time in schools rather than looking for water," he said.
The CS said there will also be an educational component of the project on capacity building of water use and conservation.
"We have already put up a steering committee and project manager tasked with setting the agenda and implementing the project. Work has already started in Wajir," said Wamalwa.
Can entrepreneurship cure the chronic unemployment in Kenya?
Kenya is one of the relatively peaceful countries in the world facing unemployment crisis. The World Bank in its report mentions Kenya as among the worst affected by unemployment levels in Africa. Just recently a would be graduate of Chuka University Patrick Muthomi carried a placard in Muthaiga area pleading for people to offer him a job, highlighting the challenges Kenyan graduates are facing in getting jobs.